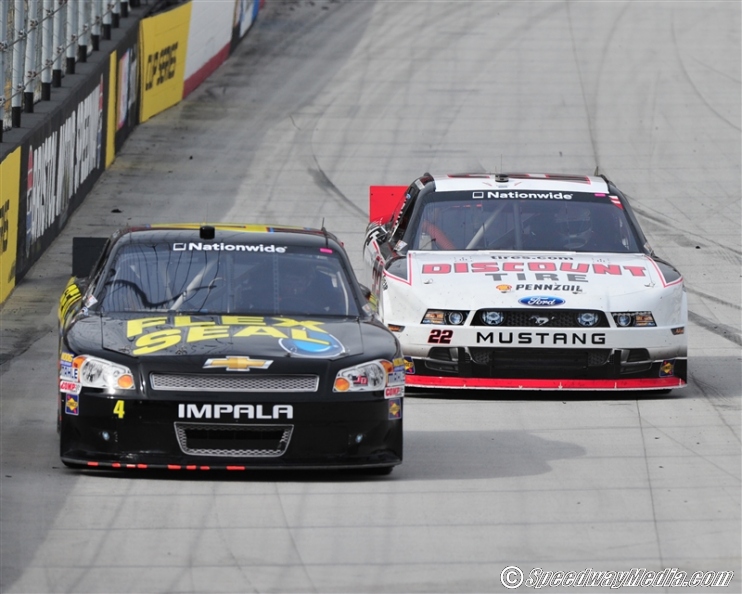 The 2013 Nationwide Series field is quite possibly the strongest in several years. In recent years Sprint Cup Series regulars have dominated most races leaving Nationwide regulars to salvage what they could. Often times the Sprint Cup regulars were driving cars that were fielded by Sprint Cup teams. These teams usually rotated their Cup drivers in and out of cars as a means of selling sponsorship.
This season, however, the strong performing Nationwide teams that are merely spin-offs of strong performing Cup teams, have taken a different approach. Joe Gibbs racing, arguably the strongest Nationwide team in the garage area, has signed full time drivers to their cars that have won so many races in recent years. Elliot Sadler who just missed winning the championship a year ago with Richard Childress Racing, has settled in nicely in the #11 One Main Financial Toyota and Brian Vickers driving the #20 Dollar General Toyota will be competing for the title. That leaves the #18 seat open to rotate other drivers such as Matt Kenseth in part time rides. Kyle Busch will be competing part-time in the #54 Monster Energy Drink Toyota. Sadler currently sits third in the points, with Vickers in seventh.
Former Daytona 500 winner, Trevor Bayne, will take over driving duties in the Roush-Fenway Racing #6 Ecoboost Ford Mustang that Rick Stenhouse Jr piloted to the championship last season. Bayne is currently eighth in the standings.
Austin Dillon returns to the #3 Advo-Care entry for Richard Childress Racing after winning the Rookie of the year title in 2012, with Brian Scott coming over from JGR to pilot the #2 Shore Lodge Chevrolet Camaro. Dillon is sixth in the points with teammate Brian Scott currently fourth.
Turner-Scott Motorsports returns with a strong lineup again this season. Justin Allgaier returns to the seat of the #31 Brandt Chevrolet. Nelson Piquet Jr will comes from the Truck series to drive the #30 Worx Chevrolet. Rookie phenom, Kyle Larson will be piloting the #32 Cottenelle Chevy. Larson made headlines at Daytona after instigating a last lap crash in the UNOH Bash at the Beach, then again in the Drive for COPD 300 when he was involved in a fierce last lap crash in which several fans were injured when parts from Larson's car wound up in the stands. Allgaier is second in the points standings, with Piquet sitting ninth.
Other notable drivers looking to contend for a title this season include Regan Smith in the Jr Motorsports #7 Tax Slayer Chevy and Sam Hornish in the #12 Alliance Truck Parts Ford for Penske racing. Smith and Hornish have had impressive runs already this season, with Hornish dominating the Sam's Town 300 last week at Las Vegas. Hornish leads the championship standings heading into Bristol.
With this much talent competing full time, the 2013 Nationwide Series could prove to be the most exciting in recent history. This weekends' Jeff Foxworthy's Grit Chips 300 will be the first short track event of the young season. Drivers are unsure if the top groove, that was so good last fall after the surface modification, will be there now that it has had time to age.
Austin Dillon led first practice with a lap of 124.186 mph, followed by rookie Alex Bowman and Regan Smith. Brad Keselowski and Kyle Busch, who both have impressive records at Bristol, round out the top 5 respectively.
Kevin Harvick led second practice with a lap of 123.889 mph. Brad Sweet suffered major damage in his #5 Great Clips Chevy, following a backstretch crash in which he slammed into Joey Gase. After the crash, Gase, driving the #52 Means Motorsports Chevy, noted that his small underfunded team did not have a back-up car and would not be competing this weekend.
Bristol has a history of shaking up the points standings, with the talent level running the full season this year, it will make for an exciting weekend at the "World's Fastest Half Mile"