Tony Stewart right about Joey Logano…..in some respects.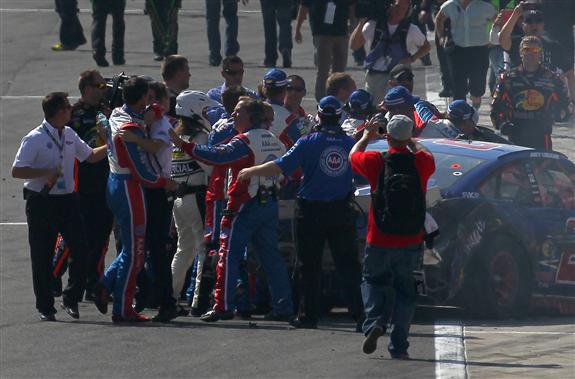 I will admit right off the top – seeing drivers mad at each other, waiting for the next action to strike, I love it. It's what adds excitement to the sport. That's why the feud between Joey Logano and Tony Stewart has me fired up. Let's see – a short track in the future, a pissed off Tony Stewart – there is no way to make this better, right?
Their little feud sparked on a restart when Logano put the block on Stewart. After the race, Stewart expressed his displeasure in letting Logano he wasn't happy, and then went on a tirade for the cameras.
Stewart's comments extend beyond that for reporters later in the day, speaking of what he calls a "double standard".
"For him to complain about how everybody else is driving and then do that, it's a double standard," Stewart said. "He made the choice. He made the choice to drive us down there and you take the consequences there."
However, while Stewart says Logano sets a double standard, is Stewart not at fault for that too? He is, if you ask Logano's boss Roger Penske.
"I've watched him from the spotter's stand quite a bit, and I think Stewart is one of the best in the business at blocking," Penske said. "Anyone is going to protect the bottom (lane). I think his comments are unwarranted, quite honestly. I think we should move on."
While Stewart wants to bust Logano's butt for blocking, Stewart is quick to forget a little incident that took place at Talladega Superspeedway last year. Stewart threw a block on Michael Waltrip for the lead, which resulted in a multi-car wreck involving most of the field. Anybody remember that?
Or how about the block that Stewart attempted to put on Kyle Busch in the final laps at Daytona a couple years ago?
As Penske said, Stewart is one of the best at blocking. Is Tony crossing the line? Hmm…
Joey Logano also made a solid point that it was near the end of the race – he was trying to protect his position to win the race.
"I understand he is upset about that," Logano said. "If it was any earlier in the race, it would be dumb to do. With it being the end of the race, I had to run him down there to protect the position to win the race. "
When it comes to these races, do we want drivers to just hand over positions? Tony wasn't to Logano's inside, Logano wanted to make sure he didn't get there so he moved down. Isn't that what we want? If drivers start handing over positions, then what is the point of watching for close competitive racing?
So with all that said, maybe we should listen to the Captain and move on, right? Not so fast. Tony Stewart isn't going to want to move on. He said he wasn't going to accept any phone calls from Logano and he is going to kick butt. That's not moving on.
Secondly, I have to admit – I want to see Stewart bust Logano's ass. Like I said at the beginning, seeing drivers mad at each other, waiting for the next action to strike, I love it. It's what adds excitement to the sport. That's why fans look for rivalries  That's why NASCAR made the commercial entitled "Rivals" with it ending "Love your rivals, cause you have to have someone to beat." 
The sport was built on that. The famous fight at Daytona with Cale Yarborough and Bobby Allison. The days of Darrell Waltrip, Rusty Wallace and Dale Earnhardt being mad at each other. The battle between the veteran Dale Earnhardt and the kid Jeff Gordon.
Also, it's time Logano gets shown a little lesson. Logano tried to show he was tough with his previous altercations with Ryan Newman and Kevin Harvick. Remember the famous "We all know who wears the pants in the family" comment?
But on the flip side, Logano has come off like a kid, whiny, complaining about this and that – without a ton of success to back-up the attitude. Why do you think Joe Gibbs let him go?
Stewart, being the veteran and one of the toughest in the sport, could set that attitude straight. Recall Stewart's post-race comments….
"He's nothing but a spoiled rich kid and it's time he's taught a lesson," he said. "He's gonna learn from us working guys who had to come up working to get where we are. He's talked the talk, but he hasn't walked the walk."
Maybe Stewart doesn't have the right reasons for setting Logano straight, but maybe it needs to be done.
Or maybe I am just saying this due to my own selfish want for some excitement. :)