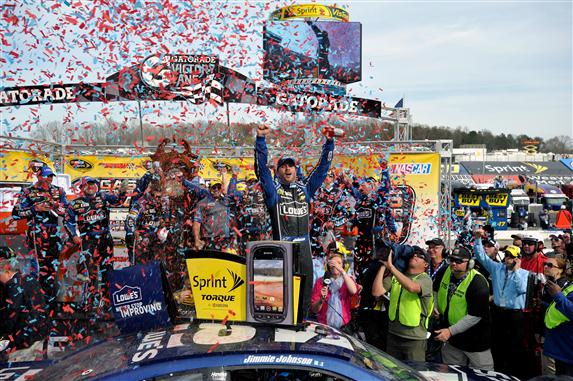 MARTINSVILLE, Va. — Jimmie Johnson made eight the easy way.
Leading 347 of 500 laps in Sunday's STP Gas Booster 500 at Martinsville Speedway, Johnson racked up his eighth NASCAR Sprint Cup Series win at the .526-mile short track and the 62nd win of his career. For the second straight event at Martinsville, Johnson won from the pole.
Clint Bowyer ran second, followed by Jeff Gordon, Kasey Kahne and Kyle Busch.
The first repeat winner through six 2013 Cup races, Johnson regained the series lead by six points over sixth-place finisher and defending champion Brad Keselowski.
If a victory at a short track can ever be called a walk in the park, Johnson enjoyed a Sunday stroll from start to finish. At no point in the race did he run below fifth.
"I think the fact that we had just such a calm weekend was the biggest part," Johnson said. "It's easy to start chasing things here and get yourself off track. We always race well, and fortunately here you pit a lot and you can make big changes to your race car to get you in the ball game.
"We've won races where we were just terrible to start the race, having no fun. (Crew chief) Chad (Knaus) is throwing spring rubbers in the car and the track bar is coming up or down, wedge in and out, all those huge, huge changes, and we get ourselves in contention.
"I don't know where we were — someone said the worst I was on the track today was fourth [actually, fifth]. We just executed from the first laps in practice to where we were at the end of the race, and that was fun. We weren't chasing a setup or track conditions or a variety of things that we've done in the past."
Danica Patrick ran 12th in her first visit to Martinsville, her career-best Cup finish at an open-motor race track. Patrick was the top finisher from Stewart-Haas Racing.
NASCAR red-flagged the race on Lap 487 after the brakes failed on Kurt Busch's No. 78 Chevrolet SS and sent the car hard into the Turn 1 wall. The car rolled along the fence, spewing flames from beneath the hood.
Busch had the presence of mind to trigger his fire extinguisher before he exited the car and climbed from the driver's-side window, apparently none the worse for the flames.
After the stoppage, Johnson led the field to a restart on Lap 493 with Bowyer beside him in the outside lane. But Johnson pulled away over the final eight laps to beat Bowyer to the finish line by .628 seconds.
To say that Hendrick Motorsports in general, and Johnson in particular, have a handle on Martinsville is an understatement. Johnson gave owner Rick Hendrick his 20th Martinsville victory, breaking a tie with Petty Enterprises for most ever at the paper-clip shaped speedway.
"There's just certain tracks where the drivers that Hendrick has had over the past, as well as now — and just our race cars — it just really suits that," said Gordon, who had a strong car on long runs but couldn't keep up with his teammate over the short haul. "Qualifying up front really can be huge here.
You get a driver like Jimmie and a team like the 48 — or ours as well, or the 15 — you put them on the pole in that No. 1 pit stall, and it's going to be really, really hard to beat them."
Bowyer's winning chances suffered a blow during an 11-car incident on Lap 180. As caution flew for a crash on the backstretch, Bowyer ran into Jamie McMurray's Chevrolet, which had checked up suddenly off Turn 4, and was clobbered from behind by his Michael Waltrip Racing teammateMartin Truex Jr.
Bowyer had been strong in practice but qualified 15th and felt the mediocre performance in time trials had hurt him.
"I qualified bad, got ourselves back there, got it wrecked — got it tore up on both ends," Bowyer said. "You get up there, and you're door-to-door with the 48 that's been enjoying clean sailing all day long, you look at him, and it's ready to go back to the next short track.
"Mine is all tore to hell and ready to go put a new body on it. You know what you're up against. You want to say, 'Bad luck,' and everything else, but you make a lot of your own luck. We did a lot of things well this week but missed it in qualifying and ultimately paid the price."
Patrick, who started the race at the rear of the field because of an engine change, restarted 20th from the outside lane on Lap 369 and promptly dropped five spots as cars in the inside lane freight-trained her.
But Patrick patiently and methodically drove back to the 17th position and was running there when Brian Vickers cut a tire and spun on Lap 448 to cause the 10th caution of the afternoon.
The yellow gave drivers a much-needed opportunity to pit for new tires. Out first after the stops, Johnson led the field to green on Lap 459 with Gordon beside him. Yellow flew again shortly when chain-reaction contact between Vickers, Patrick and Dale Earnhardt Jr. sent Earnhardt spinning in Turn 4.
Johnson passed Earnhardt as the driver of the No. 88 Chevrolet tried to re-fire and right his car, putting Earnhardt a lap down. Earnhardt finished 24th and fell from first to third in points, 12 points behind Johnson, his Hendrick Motorsports teammate.
Notes: The 346 laps led are the most for Johnson in a single race in his career. Johnson also became the seventh driver in Cup history to lead 2,000 or more career laps at Martinsville. His total now stands at 2,327. … Despite fighting the handling of his No. 11 Toyota for much of the afternoon — and despite a snafu on pit road when he left before his left-front tire was mounted — Mark Martinsalvaged a 10th-place finish subbing for injured Denny Hamlin.
Post by: Reid Spencer, NASCAR Wire Service