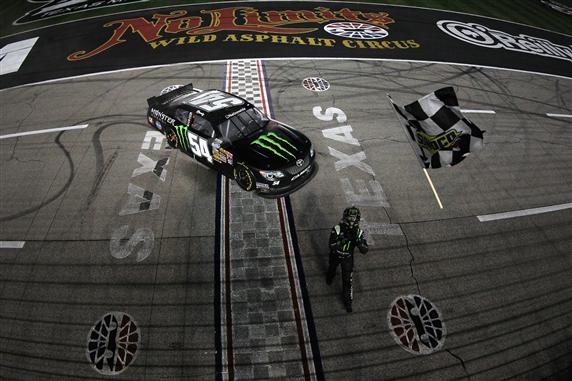 There may be no more dominant driver in the Nationwide Series at Texas Motor Speedway than Kyle Busch.
After starting Friday night's O'Reilly Auto Parts 300 from the outside of the front row, Busch went on to claim his sixth career victory at Texas Motor Speedway.
"Everything is fast, it just suits right into my style," Busch said in victory lane as to why he's so successful at Texas Motor Speedway.
"Just love running Texas and most importantly, love winning here. It's the best part of it, it's the best feeling of it."
Busch led a race-high 91 of the 200 laps en route to a two-second margin of victory over second place Brad Keselowski.
"The car was just flawless today. It's always fun to get to victory lane in the Nationwide Series."
The victory was the fourth in six races in the Nationwide Series this season which leads all drivers.
Friday night was also the 11oth victory for Busch in the top-three divisions of NASCAR (Sprint Cup, Nationwide and Camping World Truck).
Throughout the race, tire strategy played a major factor as to who had the advantage on track over the course of the night.
Crew chiefs often gambled on two and no-tire strategies, but neither had the desired results as four tires proved to be the best option throughout the night.
One of the drivers bitten by race strategy was series points leader Sam Hornish Jr.
Leading early in the race on four different occasions for 29 laps, Hornish Jr. found himself buried in traffic on a restart with 60 laps to go.
Hornish Jr. made contact with the No.51 Chevrolet of Jeremy Clements, sending both cars into the outside turn-four wall, effectively ending both drivers' nights.
"We were staying out trying to give ourselves extra tires because there's usually a caution within the last twenty laps," said Hornish Jr. after finishing 34th.
"We were trying to be smart about it. What happened was, we were in the back of the pack, trying work our way forward.
"At the end of the day, we need to keep ourselves up at the front as much as we can."
Hornish Jr. holds a two-point advantage over Regan Smith heading in the next series race at Richmond International Raceway on April 26.
O'Reilly Auto Parts 300 Unofficial Results 
Kyle Busch 

Brad Keselowski
Austin Dillon
Dale Earnhardt Jr.
Kevin Harvick
Matt Kenseth
Regan Smith
Kasey Kahne
Brian Vickers
Justin Allgaier
Brian Scott
Parker Kligerman
Elliott Sadler
Alex Bowman
Reed Sorenson
Kevin Swindell
Chris Buescher
Nelson Piquet Jr.
Joe Nemechek
Mike Bliss
Mike Wallace
Jeffrey Earnhardt
Dexter Stacey
Blake Koch
Jamie Dick
Trevor Bayne
Johanna Long
Kevin Lepage
Juan Carlos Blum
Eric McLure
Robert Richardson Jr.
Kyle Larson
Travis Pastrana
Sam Hornish Jr.
Jeremy Clements
Landon Cassill
Josh Wise
Hal Martin
JJ Yeley
Jeff Green