Busch powers past in Texas triumph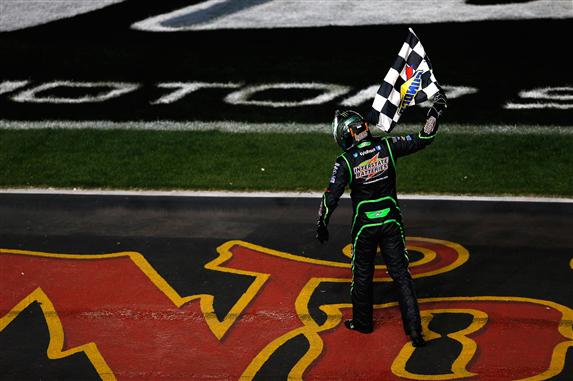 FORT WORTH, Tex.–The record book will say that Kyle Busch won the NRA 500 on Saturday night.
If truth be known, Busch started the process on Friday afternoon and applied the coup de grace with 20 laps left on Saturday evening.
Yes, Busch capped a perfect weekend when he took the checkered flag .508 seconds ahead of runner-up Martin Truex Jr. But Busch's first NASCAR Sprint Cup Series victory at Texas, his second of the season and the 26th of his career started with a pole-winning run on Friday that afforded him the luxury of picking the No. 1 pit stall.
At the race's crucial juncture, under the final caution for debris in Turn 4, Busch used a lightning-fast pit stop and the pit stall position closest to the exit from pit road to grab the top spot for the final restart. Truex restarted on the outside and struggled to maintain contact with the race winner.
Though he gained ground in the closing laps, Truex ran out of time.
Carl Edwards was third, followed by Greg Biffle and Joey Logano, who barely made the starting grid and rallied for an unexpected top five.
Busch, who won Friday night's Nationwide Series race after claiming the pole, finished off the seventh Nationwide/Cup sweep of his career, a NASCAR record–and all because of the final pit stop.
"It feels good–oh, man," Busch exulted after climbing from his car. "(Crew chief) Dave Rogers and these guys gave me a great piece today. We ran up front all day long. But if it wasn't for my pit crew, the most awesome group ever–since 2008 we've been together, haven't had any changeover–man, those guys are just awesome.
"They pulled out one heck of a stop right there at the end to put us up front, to give us that lead, and we were able to bring it home."
Busch led a race-high 171 laps to 142 for Truex, who was beyond disappointed with the second-place result.
"We started near the front and had a decent car at the beginning, but not great," Truex said. "We worked on it all night and got it to where it was the best car out there. The last caution came out, and we got beat out of the pits, and that was the race. It was pretty frustrating to run second again. I feel like we've been in this boat and this position a bunch of times.
"Nothing about it is much fun. At the same time, it was a good run for us. We had a great weekend. Had a good race car all weekend long, and we learned a lot about things we can use in the future. Just running second sucks, especially when you're that fast. So (I'm) a little bit frustrated right now."
Nor would Truex use Busch's No. 1 pit stall as an excuse.
"We came in with the lead," Truex said. "I still feel like we should have been able to beat him out. I don't know what happened there, but it wasn't even close. I was three (car-lengths) behind, so it wasn't all pit position, it was other things on our end…
"It's so hard to get in position to win these races. It is so hard to make your car good enough to beat Jimmie Johnson and Carl Edwards and Kyle Busch and all these guys; and we had that tonight. We've got to get better at taking advantage of that. That's where we're missing, and that's what we need to work on. So that's why I'm upset. Second is a great accomplishment, but it's not what we're here for."
Truex streaked away from the field after a restart on lap 229 and opened a lead of more than 2.5 seconds over Busch. That advantage grew to more than four seconds before a worn-out right front tire threatened Truex's winning chances.
As Truex brought his No. 56 Toyota to pit road under green on Lap 280, however, David Gilliland turned Marcos Ambrose's Ford on the backstretch to cause the sixth caution of the night. As the yellow flew, Jeff Burton ran into the back of Mark Martin's Toyota and spun into the inside wall.
Since both Truex and Busch were already on pit road when NASCAR called the caution, they remained in the lead for a restart on Lap 291. Truex opened a lead once again before a Lap 314 caution for debris in Turn 4 slowed the field again and allowed the lead-lap cars to pit for four tires.
Busch won the race off pit road, and that proved decisive, as he sped away after a restart on Lap 319 and made a bridesmaid of Truex for the sixth time since his only Sprint Cup victory on June 4, 2007.
Trouble started early for the Penske Racing Fords of reigning series champion Brad Keselowski and Logano. NASCAR confiscated the rear-end housings of the cars, forcing the teams to make a change before the race.
Keselowski made it to the grid in time for the start, but Logano's car was late presenting itself on pit road and had to start from the rear.
"It is just something that is not in the spirit of the rules," NASCAR vice president of competition told the Sporting News in explaining the violation. If penalties are forthcoming, they will be announced next week.
Nevertheless, both drivers rallied from a lap to down to post top-10 finishes. Keselowski came home ninth and remained second in the Cup standings, nine points behind Jimmie Johnson, who ran sixth on Saturday.
*Post courtesy of the NASCAR Wire Service*