Larson dominantes, holds on for Rockingham win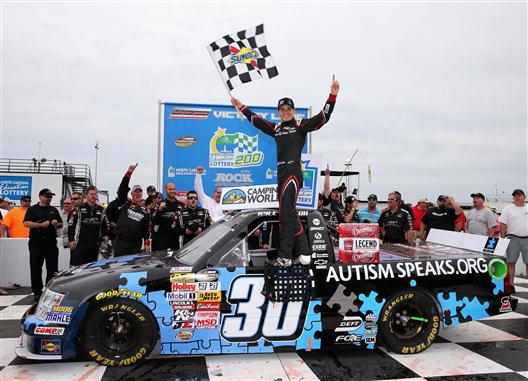 Typically when a driver leads all but 17 laps of a race, it's safe to assume that they went unchallenged throughout the course of the day.
When Kyle Larson took the race lead early from defending Truck Series champion James Buescher early, it didn't look as though anyone would catch the 20-year-old driver.
At one point, Larson gapped the truck running second by over 12-seconds.
ThorSport Racing's Johnny Sauter and Matt Crafton, as well as Richard Childress Racing's Brendan Gaughan, each had their chance at taking the lead away from Larson, but as soon as they tried Larson extended the gap.
One truck that wasn't a factor throughout most of the race was Joey Logano who was driving a Ford prepared by his Sprint Cup Series teammate, Brad Keselowski.
With sixty laps to go, Logano found himself in fourth on the restart, but quickly slipped back through the back with a loose wheel on his truck.
Logano would eventually be lapped by Larson, but as luck would have it, a caution flew for the spinning truck of Chris Jones, allowing Logano to get his lap back and pit for new tires with all the wheels tight.
When the green flag came back out, Logano was charging through the pack while Larson was out front pulling away from the competition.
Slicing his way up into the second position with five laps to go, Logano appeared to hit a stalemate on his rapid closing of Larson.
Logano's break came when Timothy Peters crashed on the front stretch, setting up a green-white-checkered finish.
Larson got the jump on the restart, but Logano wasn't done. With one-half-lap to go, Logano was on the bumper of Larson's truck, but it wasn't enough as he Larson was able to win Sunday's North Carolina Education Lottery 200 presented by Cheerwine at Rockingham Speedway.
"I knew when I was lapping [Logano] there with sixty-or-so laps to go, I figured he had to be on a different strategy," said the victorious Larson. "He got the lucky dog and I knew he had to be on new tires.
"I could see him getting closer and closer in the mirror. I'm usually not the best on restarts so I was surprised I got that good of a start."
The win was Larson's first in the Camping World Truck Series and his first victory in one of NASCAR's national touring divisions.
Rounding out the top-five finishers in Sunday's race were Logano, Gaughan, Sauter, and 17-year-old Chase Elliott.
"I just got beat," said Logano post-race. "I was ready for him to do something on the restart and he didn't do what I expected him to do.
By finishing fourth, Sauter now holds a 16-point lead over Jeb Burton in the championship standings.
The next race for the Camping World Truck Series is Saturday, April 20 at Kansas Speedway.
North Carolina Education Lottery 200 Unofficial Results 
Kyle Larson 

Joey Logano
Brendan Gaughan
Johnny Sauter
Chase Elliott
Matt Crafton
Jeb Burton
Ryan Blaney
Erik Jones
Miguel Paludo
John Wes Townley
Ty Dillon
Joey Coulter
James Buescher
Ron Hornaday Jr.
Max Gresham
Dakoda Armstrong
Tim George Jr.
German Quiroga
David Starr
Brennan Newberry
Ryan Sieg
Bryan Silas
Tyler Young
Clay Rogers
Timothy Peters
Darrell Wallace Jr.
Johnny Chapman
Caleb Holman
Tyler Reddick
Jennifer Jo Cobb
Todd Bodine
Norm Benning
Chris Jones
Jeff Agnew
Mike Harmon