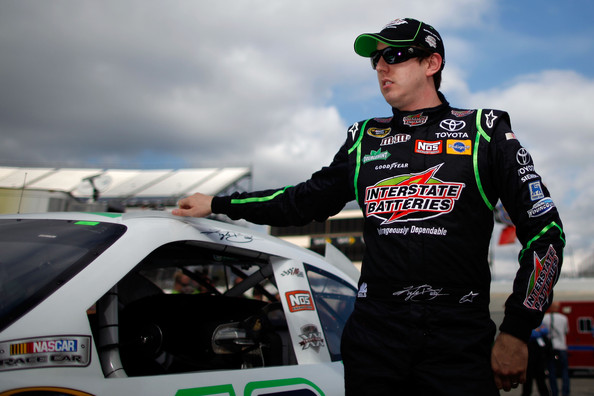 For the second time in 2013, Kyle Busch will start from the pole after claiming the top starting position for Saturday night's National Riffle Association(NRA) 500 at Texas Motor Speedway.
The younger Busch brother set his fast lap of 196.299 mph around the 1.5-mile Texas Motor Speedway late in the qualifying session, knocking older brother Kurt off the pole position.
"We didn't unload the best, buy Dave [Rogers] and the guys really used the whole toolbox today and really worked hard on giving us a good piece for the race and qualifying."
Busch's lap broke the track record set by Brian Vickers in November, 2006 when he turned a lap at 196.355 mph.
"This Interstate Batteries Camry is flying. I'm looking forward to tomorrow night."
Starting alongside his younger brother, Kurt Busch will start Saturday night's 500-mile race in the second position, his best start of the 2013 season.
Saturday night will mark the second time the pair of brothers will start on the front row together, with the previous time coming back at Las Vegas Motor Speedway in 2009.
Sprint Cup Series points leader Jimmie Johnson will start the race in seventh while defending Sprint Cup champion Brad Keselowski will start sixteenth.
45 cars attempted to make the 43-car field, meaning two cars would fail to make the race.
Scott Speed and Scott Riggs were unable to time their way into the NRA 500 field.
NRA 500 Starting Lineup 
Kyle Busch 

Kurt Busch
Aric Almirola
Marcos Amrbose
Martin Truex Jr.
Dale Earnhardt Jr.
Jimmie Johnson
Jeff Gordon
Carl Edwards
Juan Pablo Montoya
Jamie McMurray
Austin Dillon
Tony Stewart
Kasey Kahne
Brian Vickers
Brad Keselowski
Ricky Stenhouse Jr.
Joey Logano
Paul Menard
Matt Kenseth
Jeff Burton
Trevor Bayne
Mark Martin
Casey Mears
David Ragan
Clint Bowyer
David Gilliland
Dave Blaney
Kevin Harvick
Bobby Labonte
Ryan Newman
Travis Kvapil
David Stremme
Mike Bliss
Greg Biffle
JJ Yeley
Michael McDowell
David Reutimann
Landon Cassill
Josh Wise
Joe Nemechek
Danica Patrick
Timmy Hill