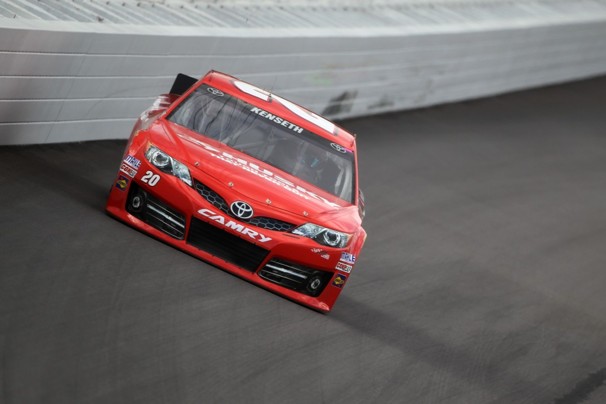 Typically, Matt Kenseth hasn't been known for his qualifying ability but rather a model of consistency when it comes to race day.
Friday afternoon marked the ninth time in 480 career Sprint Cup Series races that Kenseth will start a race from the pole position after winning the pole for Sunday's STP 400 at Kansas Speedway.
In the process, Kenseth broke the previous track record set last October by Kasey Kahne, turning a lap averaging nearly 192 mph around the 1.5-mile speedway.
"You know, I struggled through (Turns) 1 and 2 all day, and I tried something really different there in qualifying," said Kenseth.
"I knew I got through there pretty good, but I didn't know it was that good, but, man, I didn't think I could do any better in 3 and 4. It felt pretty good."
Kenseth will be surrounded by the team he formerly drove for, Roush Fenway Racing.
Carl Edwards will share the front row with Kenseth while the car Kenseth' piloted to the win at Kansas last October will start third driven by two-time and defending Nationwide Series champion Ricky Stenhouse Jr.
Two-time Kansas race winner and Sprint Cup Series points leader, Jimmie Johnson, will start Sunday's race back in the twenty-first position.
Johnson's Hendrick Motorsports teammate, Jeff Gordon, will start Sunday's race from the forty-third and final starting position after crashing his No.24 Chevrolet on his lap of record.
"I was committed," said Gordon. "I'm fine, but the car is not."
Forty-four cars attempted to make the field for the STP 400, meaning one car would fail to make the 43-car field.
Joe Nemechek was unable to make the starting lineup with a lap averaging 185.912 mph.
STP 400 Starting Lineup 
1. (20)  Matt Kenseth, Toyota, 191.864 mph.
2. (99)  Carl Edwards, Ford, 191.748 mph.
3. (17)  Ricky Stenhouse Jr. #, Ford, 191.734 mph.
4. (12)  Sam Hornish, Jr.(i), Ford, 191.401 mph.
5. (18)  Kyle Busch, Toyota, 190.853 mph.
6. (43)  Aric Almirola, Ford, 190.779 mph.
7. (56)  Martin Truex Jr., Toyota, 190.651 mph.
8. (55)  Mark Martin, Toyota, 190.282 mph.
9. (39)  Ryan Newman, Chevrolet, 190.221 mph.
10. (15)  Clint Bowyer, Toyota, 190.134 mph.
11. (16)  Greg Biffle, Ford, 190.067 mph.
12. (27)  Paul Menard, Chevrolet, 189.780 mph.
13. (78)  Kurt Busch, Chevrolet, 189.534 mph.
14. (1)  Jamie McMurray, Chevrolet, 189.221 mph.
15. (9)  Marcos Ambrose, Ford, 189.195 mph.
16. (11)  Brian Vickers(i), Toyota, 189.182 mph.
17. (29)  Kevin Harvick, Chevrolet, 189.155 mph.
18. (14)  Tony Stewart, Chevrolet, 189.023 mph.
19. (42)  Juan Pablo Montoya, Chevrolet, 188.758 mph.
20. (31)  Jeff Burton, Chevrolet, 188.679 mph.
21. (48)  Jimmie Johnson, Chevrolet, 188.442 mph.
22. (22)  Joey Logano, Ford, 188.317 mph.
23. (88)  Dale Earnhardt Jr., Chevrolet, 188.311 mph.
24. (81)  Elliott Sadler(i), Toyota, 187.996 mph.
25. (10)  Danica Patrick #, Chevrolet, 187.774 mph.
26. (34)  David Ragan, Ford, 187.441 mph.
27. (5)  Kasey Kahne, Chevrolet, 187.370 mph.
28. (38)  David Gilliland, Ford, 187.279 mph.
29. (98)  Michael McDowell, Ford, 187.272 mph.
30. (13)  Casey Mears, Ford, 186.922 mph.
31. (83)  David Reutimann, Toyota, 186.909 mph.
32. (93)  Travis Kvapil, Toyota, 186.728 mph.
33. (2)  Brad Keselowski, Ford, 186.657 mph.
34. (47)  Bobby Labonte, Toyota, 186.561 mph.
35. (19)  Mike Bliss(i), Toyota, 186.528 mph.
36. (35)  Josh Wise(i), Ford, 186.419 mph.
37. (32)  Timmy Hill #, Ford, Owner Points
38. (30)  David Stremme, Toyota, Owner Points
39. (33)  Landon Cassill, Chevrolet, Owner Points
40. (36)  JJ Yeley, Chevrolet, Owner Points
41. (51)  Regan Smith(i), Chevrolet, Owner Points
42. (7)  Dave Blaney, Chevrolet, Owner Points
43. (24)  Jeff Gordon, Chevrolet, Owner Points