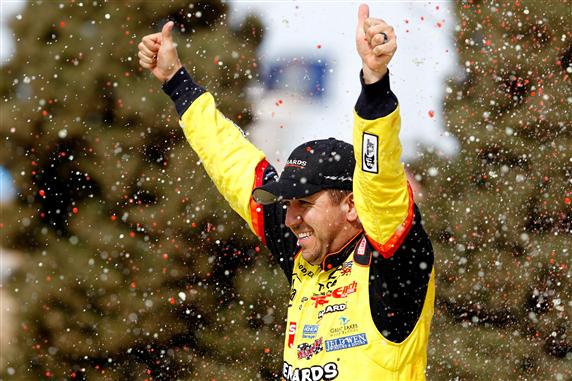 Fast track and a wide range of experience between the thirty-six drivers in the field made for a wild showing for the Camping World Truck Series Saturday afternoon at Kansas Speedway.
The 250-lap event was slowed on eleven occasions for caution, making for only eighteen of the thirty-six trucks on track at the end of the race.
It would only make sense that one of the series' most experienced and respected drivers would find them self in the lead on the final restart of the race with twenty-five laps to go.
Matt Crafton, who last Sunday at Rockingham (North Carolina) Speedway made his series-record 297th consecutive start, found himself at the head of the pack in the late stages of the race.
Start  298 proved to be another special one for Crafton.
For the better part of the remaining laps, Crafton was heavily chased by one of the series's young drivers, Joey Coulter, all while turing some of the fastest lap times of the race.
Dodging in-and-out of lapped traffic around the one-groove racing surface, Crafton kept Coulter's Toyota behind his as he went on to win Saturday's SFP 250 at Kansas Speedway.
"This truck was junk yesterday," said an emotional Crafton in victory lane. "This thing was terrible. It was a twentieth-place truck yesterday.
"[The crew] changed so much on this thing, I can't thank them enough."
While Crafton has been a mainstay in the Truck Series for more than a decade, Saturday marked just the third time he was able to pull into victory lane as a winner.
Crafton's most recent win to date came at the Iowa (Newton) Speedway back in 2011 when he held off 2011 Truck Series champion Austin Dillon for the win.
"It feels damn good," Crafton expressed about getting back to victory lane. "It's been a helluva week."
By winning Saturday's race, Crafton gives his Thor Sport Racing team their third victory in four races of the 2013 season after teammate Johnny Sauter wont the season's opening-two races at Daytona and Martinsville.
Sauter leads the championship standings by twelve points over Crafton heading into the next race at Charlotte Motor Speedway on May 17.
SFP 250 Unofficial Results 
Matt Crafton 

Joey Coulter
Ryan Blaney
Brendan Gaughan
Johnny Sauter
James Buescher
Darrell Wallace Jr.
Ty Dillon
Ron Hornaday Jr.
Timothy Peters
German Quiroga
Dakoda Armstrong
David Starr
Tim George Jr.
Jeb Burton
Clay Greenfield
Jennifer Jo Cobb
Justin Jennings
Bryan Silas
Brennan Newberry
Todd Bodine
Spencer Gallagher
Jeff Agnew
Joey Logano
Max Gresham
Norm Benning
Kyle Busch
Danny Efland
Ryan Sieg
Jamie Dick
Miguel Paludo
John Wes Townley
Mike Harmon
Chris Jones
JJ Yeley
Scott Saunders