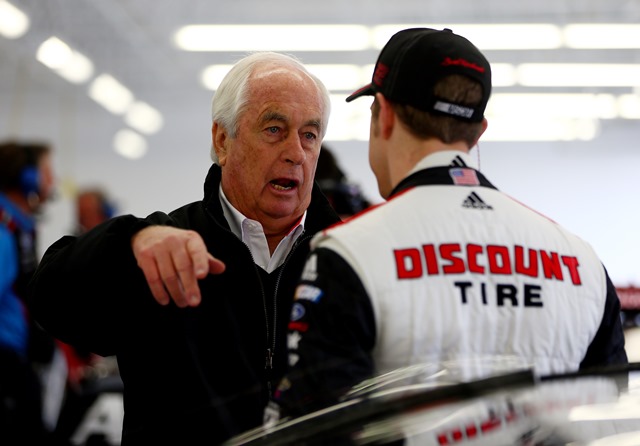 Last weekend at Texas Motor Speedway, NASCAR confiscated the rear-end housings of both Penske Racing cars. According to NASCAR, the rear-end housings were attached in a fashion that they might shift the rear-ends of the cars into yaw during competition.
Then on Wednesday, NASCAR issued a list of penalties towards the Penske organization  including a six week suspension for both crew chiefs, both car chiefs and both team engineers.
"One of the big things, the concern is, is that the penalties are very stiff. They were stiff," Penske said. "They went so deep, now my wife will have to call the races for the 2 car. Or I can bring the guys to the Indianapolis 500 and me and Cindric and my wife can get up on the stands in NASCAR."
Penske Racing is appealing the penalties as Roger Penske tells the Associated Press that his organization was working within the grey area of the rulebook.
"I certainly don't think it's cheating," Penske told The Associated Press on Saturday at the IndyCar race in Long Beach. "You are looking at the rules and you are working in a gray area. We all work in the gray areas. We're trying to be as competitive as we can be, we've got very creative minds and it takes a lot of creative minds to be competitive.
"There are many different areas we are all working on. We just looked at a particular rule that maybe NASCAR has a different view of. Now we'll get a chance to have an unbiased panel look at it."
The grey area has been part of the long debate in racing. The rules are known to be written in black and white, however teams have been known to read those rules closely and try to gain an advantage. One of the most recent infractions under that microscope was Hendrick Motorsports at Daytona last year.
During last year's pre-Daytona 500 qualifying inspection, NASCAR did not agree with the shape of the c-posts and requested that they be changed. The C-post is a piece of paneling towards the back of the car that connects the roof to the rear quarterpanel. The team modified the piece to gain an aerodynamic advantage.
As a result, Hendrick Motorsports was assessed penalties, which included a six week suspension for both crew chief Chad Knaus and car chief Ron Malec from the next six NASCAR Sprint Cup Series events, plus probation till May 9th. They also fined Knaus $100,000 while taking away 25 driver points from Johnson and 25 owner points from his owner, Jeff Gordon. In comparing to the penalties for Penske Racing, seems that NASCAR is being consistent for once.
Now, Hendrick Motorsports appealed the penalties and got the suspensions removed. Chief Appellate Officer John Middlebrook erased the 25 owner point penalty assessed to car owner Jeff Gordon, the 25 driver point penalty assessed to Jimmie Johnson, the six week suspension to crew chief Chad Knaus and the six week suspension to car chief Ron Malec.
However, there's a difference in the penalties, besides the fact that they do with different parts of the car. Hendrick Motorsports was assessed their penalties during pre-qualifying inspection while Penske Racing was assessed their penalties during pre-race inspection. That means that both cars had passed pre-qualifying inspection without any problems.
In speaking with the associated press, Penske went on to say that the parts were approved, yet NASCAR says is concerned that Penske's organization modified them.
"That's where the discussion is," he said. "From an overall standpoint, NASCAR felt what we had provided them for approval then, these parts were different during the inspection process."
Penske adds that there were no prior warnings from NASCAR with regards to possibly being in violation of the rules. He said that Logano's car had passed tech and was only called back after concerns surrounding Keselowski's car.
"He was late because he'd passed inspection, got called back, and we weren't even allowed to work on the car until Brad's car was through inspection," Penske said.