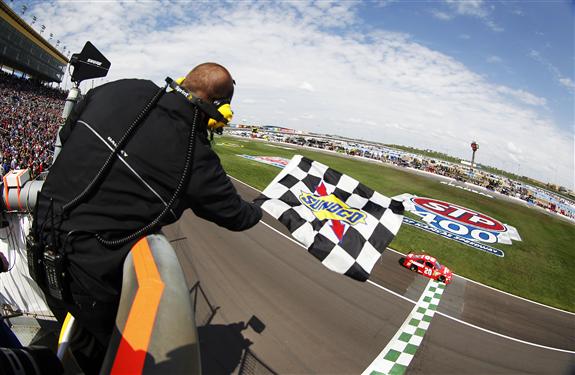 Matt Kenseth battling late in the race for the win with Kasey Kahne.
Where have we seen his episode before?
In what looked to be a carbon copy of last month's Sprint Cup race at Las Vegas Motor Speedway, the win in Sunday's STP 400 would come down to a late-race shootout between Kenseth and Kahne around the 1.5-mile Kansas Speedway.
Once again dodging in and out of lapped traffic while trying to make the pass for the win, Kahne was able to close on Kenseth for the lead on multiple occasions.
On the final lap, Kahne drove his Hendrick Motorsports Chevrolet hard into turn-three, gaining considerable ground on the Joe Gibbs Toyota of Kenseth.
It wasn't enough make the pass for the top-spot as Kenseth crossed the finish line first to win the STP 400 at Kansas Speedway.
"Man, I really thought he (Kahne) had me" Kenseth said in victory lane after picking up his second win of the 2013 season.
"Car got really loose getting into [turn] three with about five [laps] to go. Car did it twice in a row and I thought we were going to get beat."
Sunday's win marks the second-straight Sprint Cup race Kenseth has won at Kansas Speedway, winning the most recent race on the track last October.
Kenseth also keeps his perfect record intact on the reconfigured Kansas Speedway, wining both races held on the new surface.
By winning, Kenseth becomes the third-straight driver in the Sprint Cup Series to win after starting from the pole position.
The last time that occurred was in 1985.
"Our cars have been so incredibly fast all year,"said Kenseth about his Joe Gibbs Racing team. "We don't have all of the finishes to show for it, but I'm so thankful.
"I knew the first time talking to these guys; these guys are contenders. They're an awesome race team."
That awesome race team held Kahne off for the second time this season. And, for the second time, it was the little things that made the difference coming to the finish.
"I needed a cloud," said Kahne post-race. "I knew we were going to be a little loose, but I didn't think it'd be quite that bad.
"I just did everything I could and he'd go to those spots, and I couldn't make any ground."
While Kenseth may have the upper hand on wins over Kahne, the Washington driver sits second in points while Kenseth moved to the eighth position with Sunday's win.
Leading the points following a third place finish is five-time champion Jimmie Johnson.
Johnson battled for a top-five finish after starting the race in twenty-first, using pit strategy and a fast car to make their way up through the field.
"At times today I thought we could win," said Johnson. "Just not enough for us to beat Matt and Kasey today.
Johnson now holds a third-seven point advantage heading into next Saturday night's race at Richmond International Raceway where Kyle Busch is the defending race winner.
After winning last week's race at Texas, Busch's day at Kansas was short after spinning his Toyota on lap six, and crashing with Joey Logano in turn four on lap 105.
"It just spun out all on our own," Busch said giving an interview while the race was ongoing in street clothes.
"I just don't know what to do at Kansas. … The car just snapped out from under me in every corner."
Busch heads into next weekend's race at Richmond where he was won the past four Spring races.
STP 400 Unofficial Results 
Matt Kenseth 

Kasey Kahne
Jimmie Johnson
Martin Truex Jr.
Clint Bowyer
Brad Keselowski
Jamie McMurray
Aric Almirola
Mark Martin
Paul Menard
Ricky Stenhouse Jr.
Kevin Harvick
Jeff Gordon
Ryan Newman
Kurt Busch
Dale Earnhardt Jr.
Carl Edwards
Jeff Burton
Greg Biffle
Marcos Amrbose
Tony Stewart
Regan Smith
David Gilliland
Bobby Labonte
Danica Patrick
Josh Wise
Juan Pablo Montoya
David Reutimann
Landon Cassill
David Ragan
Brian Vickers
David Stremme
Timmy Hill
Casey Mears
JJ Yeley
Travis Kvapil
Sam Hornish Jr.
Kyle Busch
Joey Logano
Elliott Sadler
Mike Bliss
Michael McDowell
Dave Blaney