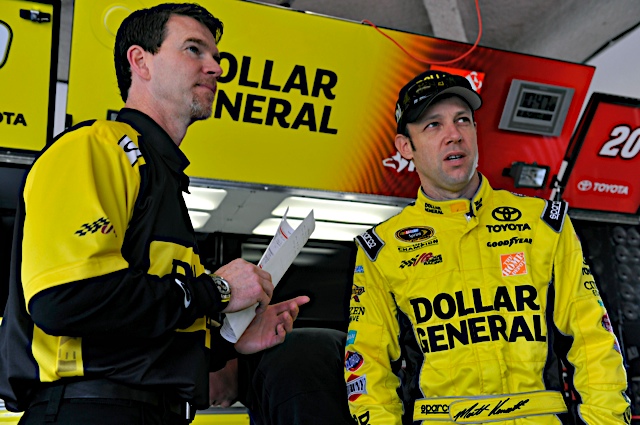 Following Matt Kenseth's win Sunday at Kansas Speedway, NASCAR took Kenseth's engine back to their Research and Development Center (R&D) which is standard protocol for the race winning team.
It was back at the R&D Center where the problem was discovered.
A connecting rod in the engine failed to meet the minimum weight requirement which violated Sections 12-1 (actions detrimental to stock car racing); 12-4J (any determination by NASCAR officials that the race equipment used in the event does not conform to NASCAR rules); and 20-5.5.3 (E) (Only magnetic steel connecting rods with a minimum weight of 525.0 grams will be permitted; connecting rod failed to meet the minimum connecting rod weight) of the 2013 NASCAR rulebook.
For the infraction, Kenseth has been docked 50 driver points and can no longer use the race win he picked up at Kansas as a bonus point in the Chase  or for a possible wildcard position.
Kenseth's pole award from Kansas has also been declared as an ineligible qualifier  for the 2014 Sprint Unlimited, a race for pole position winners throughout the season.
Crew chief Jason Ratcliff has been fined $200,000 and suspended from NASCAR until the completion of the next six NASCAR Sprint Cup Series championship points events (a period of time that also includes the non-points NASCAR Sprint All-Star Race) and placed on probation until Dec. 31.
Car owner Joe Gibbs has lost 50 championship car owner points; the first place finish from April 21 at Kansas Speedway will not earn bonus points toward the accumulated aggregate car owner points total after the completion of the first 26 events of the current season and will not be credited towards the eligibility for a car owner Wild Card position; has had the owner's license for the No. 20 NASCAR Sprint Cup Series car suspended until the completion of the next six championship points events, therefore being ineligible to receive championship car owner points during that period of time.
Toyota has also been hit by NASCAR with the penalty as they have been penalized five manufacture championship points.
Joe Gibbs Racing will appeal all penalties assessed by NASCAR.