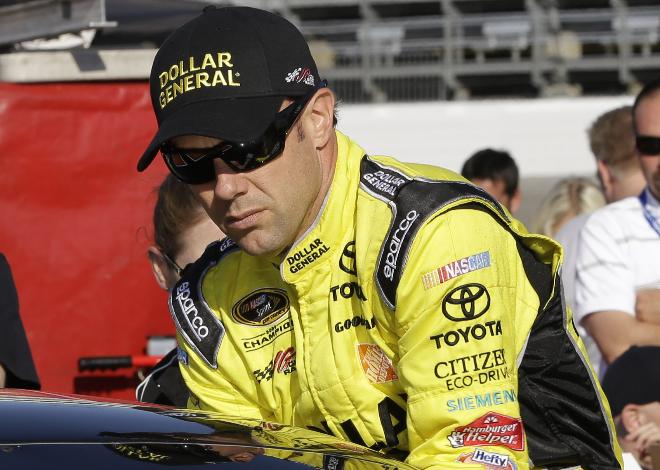 Matt Kenseth won his second pole of the season Friday at Richmond International Raceway.
Well, kind of.
On Wednesday, Kenseth was stripped of 50 driver points as well as his pole award from last weekend's race at Kansas Speedway after a connecting rod in his Toyota engine failed to meet NASCAR's minimum weight requirement.
Statistically speaking, Kenseth took down the previous track record at the .75-mile track with a lap averaging 130.334 mph for his first pole of the season.
"After practice, I didn't think we had a prayer to be sitting on the pole,"Kenseth said.
After his fast lap from a week ago was declared and ineligible qualifier for the 2014 Sprint Unlimited (a race reserved for pole award winners from the previous season), Kenseth found his way back into the race.
"One of my goals this week with everything going on was to sit on the pole, and maybe that would quiet things down a little bit."
Starting alongside the first-time pole sitter at Richmond will be his Joe Gibbs Racing(JGR) teammate Brian Vickers who continues to subistute for the injured Denny Hamlin.
The JGR car that has won the past-four spring Richmond races, Kyle Busch, will start Saturday night's Toyota Owner's 400 in eighth.
Kenseth, Vickers, Jeff Gordon, Kasey Kahne, Clint Bowyer, Juan Pablo Montoya, Joey Logano, Kyle Busch, Martin Truex Jr., and Mark Martin make up the top-10 starters for Saturday night's race.
With 43 cars attempting to make the 43-car field, no drivers failed to qualify for the race.
Toyota Owner's 400 Starting Lineup 
Matt Kenseth 

Brian Vickers
Jeff Gordon
Kasey Kahne
Clint Bowyer
Juan Pablo Montoya
Joey Logano
Kyle Busch
Martin Truex Jr.
Mark Martin
Marcos Ambrose
Ricky Stenhouse Jr.
Jamie McMurray
Kurt Busch
Ryan Newman
Jeff Burton
Kevin Harvick
Dave Blaney
Dale Earnhardt Jr.
David Ragan
Tony Stewart
David Reutimann
 Brad Keselowski
AJ Allmendinger
David Stremme
Jimmie Johnson
Josh Wise
Carl Edwards
Paul Menard
Danica Patrick
Landon Cassill
Bobby Labonte
Greg Biffle
Aric Almirola
Michael McDowell
Travis Kvapil
David Gilliland
Mike Bliss
JJ Yeley
Casey Mears
Joe Nemechek
Timmy Hill
Brian Keselowski