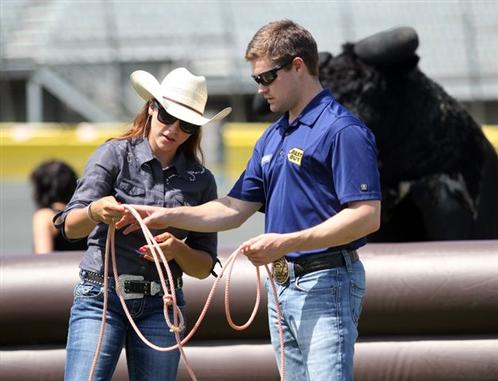 With the Sprint All-Star race around the corner, all focus is on the Sprint Fan Vote, which will allow one other driver to join the field. One of the drivers who is hoping to get the vote if he doesn't win a race before then or the Open is Ricky Stenhouse Jr.
"It's a huge race," he said. "The regular purse being a million bucks – to win the final segment – that's a lot of money. To throw in an extra million to win all five segments, it's crazy. It's one of those things that you kind of wonder what the drivers are going to do because it's $2 million. It definitely raises the excitement level."
The rookie is hoping to channel some of his Nationwide Series success at the 1.5 mile oval, having finished in the top 10 in three of his last four starts there. However, Stenhouse has yet to finish in the top 10 this year, though has been strong some weeks.
"I feel we've underperformed as a race team," he said. "I've made a lot of mistakes. We've made mistakes on setting the car up. But I see great potential in what we've got. I go to lunch and dinner with the crew chief and engineers and team guys all the time. Everyone believes in each other.
"For underachieving, I feel like if we get on track, the rest of our season can be strong. But I can't say we're ready to win yet. We're not consistently running in the top 10."
Instead, the focus has been on Stenhouse's relationship with Danica Patrick.
"I feel good about where we are," Stenhouse said. "(The news media) have been great to us. It hasn't been uncomfortable at any moment, so we're just regular people having a relationship.
"It's all good. I've never really worried about being in the spotlight. I could care less. If I am, I am. Obviously with her I am a little bit more. But I'm comfortable with it."
For the driver who is known for wearing the cowboy boots, he recieved some horse racing and lasso lessons from Taylor Earnhardt.
Earnhardt, the youngest daughter of Dale Earnhardt, is a professional rodeo rider, competiting in the International Professional Rodeo Association and Southern Rodeo Association.
"I'm on the road every weekend, and sometimes during the week and weeks at a time," said Earnhardt, whose husband Brandon Putnam is also a rodeo competitor. "We go all the way up to Canada, down to Florida and Texas, and all that stuff. It's a way of life for me now, and I really love it."
Earnhardt told press at the event that she started riding at the age of 12-years-old as a way to distract herself from her father's death.
"It really just gave me something to focus on after Dad died, something to keep me going and not focus on everything that was happening. And it turned into something that's an honest career path for me," she said.
"This just gave me something to really get into, dig into deep, and really focus on. And it really helped. All the people I know in rodeo and are friends with, they're some of the most honest and humble people, because they work so hard for what they have. And it really teaches you a lot. Especially when you're growing up, it builds your values really well."
Stenhouse did look good on the horse, though didn't do well with lassoing, mentioning that he was glad he drove cars for a living.