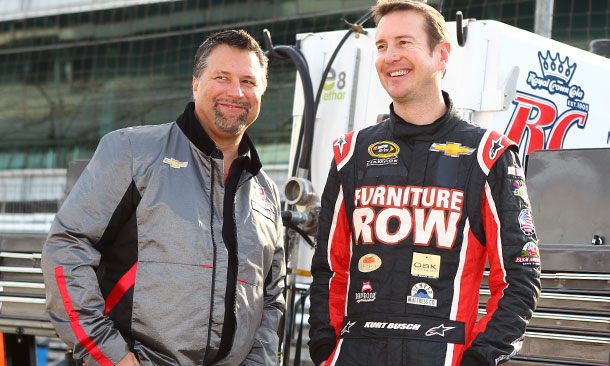 It's not uncommon to see drivers from different racing backgrounds to test their skills in a foreign car.
However, it rarely ever transpires into something much more than a promotional stunt.
So when Kurt Busch stated that his planned test Thursday at Indianapolis Motor Speedway could potentially lead to something more, the racing world's interest instantly peaked.
Busch, who drove one of 2012 IZOD IndyCar Series champion Ryan Hunter-Reay's Andretti Auotsport prepared cars around the famed 2.5-mile oval, stated that he's interested in possible racing the Memorial Day weekend double; the Indianapolis 500 and NASCAR's Coca Cola 600.
That's not happening this year, though.
"I honestly think I wouldn't be able to do it this year just with stamina," Busch said after a morning of testing. "I need to get more comfortable in the IndyCar because on a day like today, I'm white knuckle, my hands were tense and firm, and that was only after 10 laps."
Busch was able to put forth a successful test session Thursday at Indianapolis, posting a fast lap at 218.20 mph over the course of his 83 laps behind the wheel.
"I would say the day went as good as we could have expected," said owner of Andretti Autosport team owner Michael Andretti.
"Kurt did exactly what I thought he was going to do. He just drove exactly the way we wanted him to do it. He gave great feedback, right on pace, built up to it nice and steady, didn't do anything stupid, which we knew he wouldn't, and it was a really good day."
Busch's fastest lap Thursday was faster than the four-lap qualifying average of Jean Alesi's third-third-fastest time for last year's Indianapolis 500.
However, the quality of car, engine and experience all can factor into the equation.
"Today that was the biggest transition," Busch said regarding to driving at Indianapolis in an IndyCar rather than his Sprint Cup Series car.
"When you want to step into the real world, that's to hold it wide open, and when you do that, your brain says, wait a minute, you're not supposed to do that because in the stock car how heavy it is and the lack of downforce. So when I did hold it wide open I was off on my line, actually apexed too early, had a little extra wheel input on exit, and it changed the game.
"But then once I left it on the floor, the car started to come back to me and the pace started to slow down in my mind, even though the pace kept getting quicker with lap time."
The 2004 Sprint Cup Series champion was able to complete the rookie orientation program for the Indianapolis 500. In other words, Busch is now able to race in the Indianapolis 500.
But will that ever happen?
"Michael wants to do it, but they've already got five cars committed to trying to qualify for the Indianapolis 500 this year," Busch said. "To crawl, then walk, and then walk and then run, I think the proper thing is to go out and experience this car at another oval track and get into a race.
The Indianapolis 500/Coca-Cola 600 double hasn't been done since Robby Gordon accomplished it in 2004.
"I think that sounds great on paper, but the logistics of that happening are almost impossible, unfortunately," Andretti said. "It would be really difficult to get, first of all, all the teams to agree on both sides for that to happen, for NASCAR to agree, for IndyCar to agree.
"It would be so much that you'd have to get logistically‑wise to make it happen that I think it would be pretty tough, but it would be cool if it could actually happen that way."