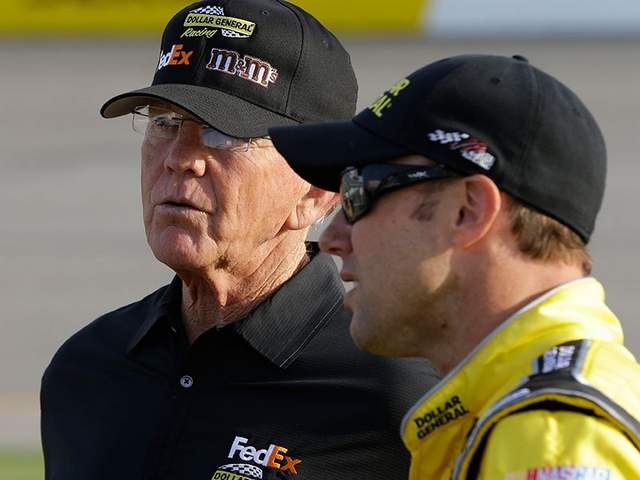 NASCAR's appeals committee  has rescinded one of the largest penalties handed down in the history of the sport.
Following the April 21 race at Kansas Speedway, Joe Gibbs Racing (JGR) and the No.20 team of Matt Kenseth were penalized 50 driver and owner points after one connecting rod in their Toyota engine failed to meet NASCAR's minimum weight requirement.
Kenseth's crew chief, Jason Ratcliff, was fined $200,000 and suspended for the next six Sprint Cup races.
The dominant win at Kansas that day for Kenseth was declared ineligible for a bonus points in seeding for the Chase or for a potential wildcard position.
Car owner Joe Gibbs' owner license for the No.20 car of Kenseth was suspended for six races and his team would not be able to collect owner points for the No.20 for the next six points-paying Sprint Cup events.
Toyota was penalized five manufacture's championship points for the engine infraction.
Wednesday at NASCR's Research and Development Center, those penalties were greatly reduced by the panel consisting of Dover International Speedway CEO Denis McGlynn, former team owner Jack Housby and Stafford Speedway general manager Mark Arute.
The 50-point penalty originally assessed to Kenseth and the team was reduced to a twelve-point penalty, moving Kenseth into fourth in the driver's championship standings.
His win at Kansas Speedway now counts for the standard three bonus points for Chase seeding, placing his total at two thus far.
Ratcliff's fine of $200,00 remains, but his suspension has been reduced from six races to just one; meaning he will miss this weekend's Southern 500 at Darlington Raceway.
Gibbs' owner license for the No.20 has been restored and he will be able to collect points for the No.20 as the owner.
However, Toyota's penalty was increased from five points to seven. JGR receives engines from Toyota Racing Development instead of building them in their Huntersville, NC shop as they did from company inception in 1992 until the beginning of the 2012 season.
"We are going to work extremely hard with TRD to make sure this never happens again," said team owner Gibbs who stated no further appeal will be heard regarding the Kansas penalties.
"Right now, we just want to get back to racing."
David Wilson from Toyota Racing Development was present at the Concord, NC hearings to help JGR further their case to NASCAR.
After the penalties were assessed from Kansas, Wilson stated that Toyota took full blame for the infraction as the engine was fully assembled that their plant in California and was not altered by JGR.
"Today is one we disagree with. We can't be clearer than that," said NASCAR spokesman and NASCAR's Senior Director of Communications Kerry Tharp.
"We feel like when we right a penalty there needs to be something behind it. Over the years,that's proven to be the case."
Despite not having penalties orginally assessed upheld, NASCAR stated they will not how they inspect engines nor will it effect they way they penalize saying, "We have to have teeth behind regulating the sport."
NASCAR also stated they're not worried that the reduction of the JGR penalty will reduce their authority when it comes to regulating the garage area on the weekly basis.
Wednesday's verdict comes one day after NASCAR's Chief Appellate Officer, John Middlebrook, upheld all points penalties assessed to Penske Racing following the April 14 race at Texas Motor Speedway.
Middlebrook, however, reduced suspensions issued to crew members of Penske Racing from six races to two.
NASCAR cannot appeal results from today's verdict.