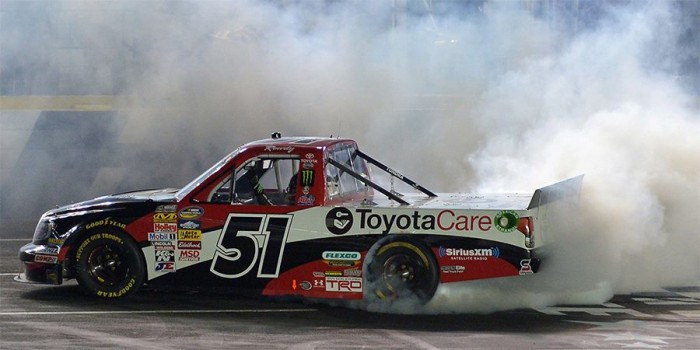 CONCORD, NC – All appears to be normal again in the Camping World Truck Series. Kyle Busch has found his way back to victory lane.
Busch won his first race in the Truck Series since 2011 during Friday night's North Carolina Education Lottery 200 by leading the most laps and holding off a hard-charging Brendan Gaughan.
"It was pretty cool," Busch said after the race. "We didn't quite have the truck we were hoping for yesterday in the test session.
"This morning it was an entirely different piece and it was awesome."
But it wasn't all that easy for Busch.
A penalty for removing equipment from his pit box put Busch to the back of the pack, meaning he would have to charge to the front if he wanted to pick up the win.
"Anytime going to the back there's a lot of disadvantages and getting caught up in somebody else's wreck is one of them" Busch said.
"Fortunately it stayed clean enough when I made it up through there. There was intense moments, but that's truck racing at it's best."
While Busch wasn't leading, the top-five was occupied by five drivers that had never won a Camping World Truck race.
Brad Keselowski, who hadn't captured a victory in trucks in his 54-previous starts, saw his bid for a checkered flag end after contact was made with another driver looking for his first win, Darrell Wallace Jr.
As the laps wound down, it appeared as though Miguel Paludo would pick up his first career win.
Holding off both Busch and Keselowski for numerous laps, Paludo held the lead until he was passed on the final restart of the night by Busch.
Gaughan, Max Gresham, Matt Crafton, and Ty Dillon rounded out the top-five finishers in Friday night's race.
The finish was Gaughan's third-straight top-five finish as well as a career-best finish for Gresham.
"I'm mad as hell," Gaughan said after the race. "We did not have the textbook night.
"I was catching Kyle Busch. He knows I like the high side, so he moved up to my groove for one corner, took the air off my nose and messed up my momentum."
Crafton retains his points lead with a fourth-place finish, now holding a 22-point lead over Jeb Burton.
Burton started on the pole and ran most of the night's race inside the top-10 until a loose real-wheel forced him to pit late under caution and ultimately settled for a thirteenth place finish.
The next race for the Truck Series is May 31 at Dover International Raceway.
North Carolina Education Lottery 200 Unofficial Results 
Kyle Busch 

Brendan Gaughan
Max Gresham
Matt Crafton
Ty Dillon
James Buescher
Miguel Paludo
Jon Wes Townley
Ross Chastain
Justin Lofton
Scott Riggs
Dakoda Armstrong
Jeb Burton
Brad Keselowski
Ryan Sieg
Tim George Jr.
Todd Bodine
Brennan Newberry
Blake Koch
Danny Efland
Jeff Agnew
Chris Cockrum
David Starr
Mike Harmon
Ryan Blaney
Timothy Peters
Darrell Wallace Jr.
Johnny Sauter
Tyler Young
Ron Hornaday Jr.
Jake Crum
Joey Coulter
Caleb Holman
Bryan Silas
German Quiroga
Chris Jones