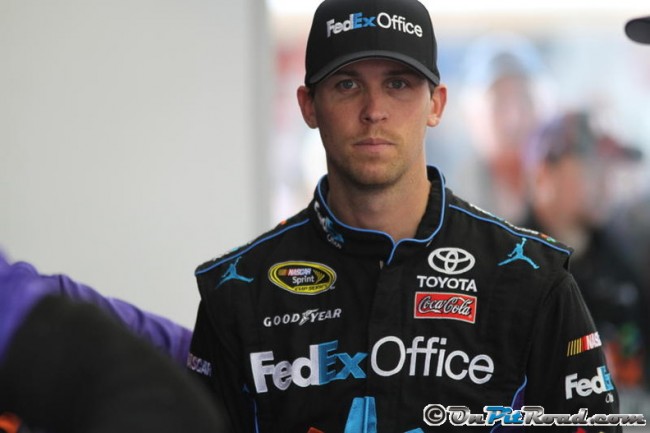 Statistically speaking, Dover International Speedway isn't Denny Hamlin's best race track.
With just five top-ten finishes in 14 career starts at the one-mile oval, the "Monster Mile" certainly has been a monster for Hamlin in the past.
Last fall, Hamlin won his first career pole at the track he considered his biggest challenge in the ten-race Chase for the Sprint Cup championship.
Hamlin finished that day with an eighth-place finish; his best at the track since 2010.
Friday afternoon, Hamlin took his second career pole position at Dover – grabbing the top starting position for Sunday's FexEx 400 Benefiting Autism Speaks.
"That's good for us. That's two-in-a-row at this race track," Hamlin said after winning the pole. "This is my worst race track, so this is a step in the right direction."
Turning a lap averaging 157.978 mph, Hamlin earned his second-consecuvtive pole at Dover.
"Kyle made it interesting on us," Hamlin said. "It was close. He made me sweat it.
"I didn't think we had the draw nor the speed to do it, but great effort by all of the Joe Gibbs cars up there once again."
Hamlin won his second pole of the season last week at Charlotte Motor Speedway, making Friday's his third pole position of the 2013 season despite missing four races in April.
The pole also marked the seventh time in 2013 that Joe Gibbs Racing has won a pole in the Sprint Cup Series this season between their three full-time drivers.
Martin Truex Jr., who picked up his one-and-only Sprint Cup victory at Dover back in June,2007, will start alongside Hamlin for Sunday's race.
Kyle Busch, Matt Kenseth, Ryan Newman, Mark Martin, Kevin Harvick, Joey Logano, Brad Keselowski, and Jamie McMurray make up the top-ten starters for Sunday's race.
FexEx 400 Benefiting Autism Speaks 400 Unofficial Starting Lineup 
Denny Hamlin 

Martin Truex Jr.
Kyle Busch
Matt Kenseth
Ryan Newman
Mark Martin
Kevin Harvick
Joey Logano
Brad Keselowski
Jamie McMurray
Kasey Kahne
Dale Earnhardt Jr.
Kurt Busch
Juan Pablo Montoya
Clint Bowyer
Paul Menard
Casey Mears
Carl Edwards
Greg Biffle
Jeff Gordon
Landon Cassill
Tony Stewart
Ricky Stenhouse Jr.
Jimmie Johnson
Austin Dillon
Bobby Labonte
David Reutimann
David Gilliland
Jeff Burton
Marcos Ambrose
Michael McDowell
Mike Bliss
Aric Almirola
David Stremme
David Ragan
Joe Nemechek
Dave Blaney
Travis Kvapil
Danica Patrick
JJ Yeley
Josh Wise
Timmy Hill
Scott Riggs