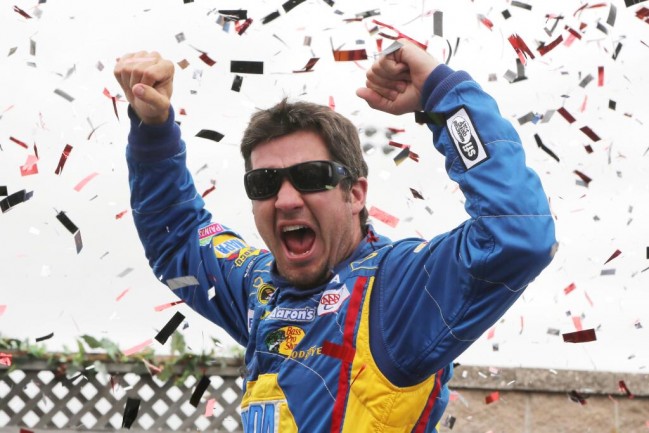 To say Martin Truex Jr. has been close to victory lane over the past two seasons would be an understatement.
Since 2012, the New Jersey native has finished inside the top-five ten times – including three second-place finishes – but hasn't been able to take the checkered flag first.
Over time, being that close became frustrating.
After finishing second to Kyle Busch at Texas Motor Speedway in April, Truex Jr.'s frustration had peaked. He wanted to end his over 200-race winless streak which dated back to Dover in June,2007.
Truex Jr. once again found himself in position late in the race to score a victory. But in order to score the win he would have to not only survive a slew of mid-race restarts, but also had to manage fuel and drive clear and hold off the rest of the field for the final * laps of the race.
"All I was thinking the last 20 [laps] was, 'Please, I don't wanna see a caution'", Truex Jr. said. "If we could just stay green, I knew we were in good shape."
To Truex Jr.'s liking, the race stayed green, the fuel held up and he was able to win Sunday's Toyota Save Mart 350 at Sonoma Raceway.
"I can't even put it into words," and excited Truex Jr. said in victory lane . "We've had cars really fast all year long and we've had some tough luck, but that's part of racing.
"I'm just proud of these guys for sticking behind me and working hard."
The win for Truex Jr. was dominant. Leading 51 of the 110 laps, he cruised to a 8.133-second victory over second-place Jeff Gordon.
Sunday's win snapped a 218-race winless streak for Truex Jr and was his first driving for Michael Waltrip Racing (MWR).
"Just can't believe it's taken us this long to get back here," he said after the race. "That win at Dover a long time ago was very special, but this is definitely bigger because of all the days that have come in-between where we've been so close.
"Just proud of my team. They've worked so hard and given me such great racecars. Glad to finally be back in victory lane."
Winless streaks are something his car owner Michael Waltrip knows about well.
"It's been a long time since Michael Waltrip Racing or Michael Waltrip has been able to put NAPA in victory lane," Waltrip who broke a 462 winless streak in the 2001 Daytona 500 said.
"I really appreciate the effort and the no-quit attitude that was inside Martin Truex Jr. This was a wonderful day for us."
Truex Jr. gave much of the credit for Sunday's win to his crew chief, Chad Johnston.
"We weren't real sure what it [strategy] was going to be. The tires were falling off so bad in practice, we were really going to play it by ear," said Truex Jr.
"We tried to make sure we had some options. Car was just awesome, what can I say. Chad…gosh….he's the most awesome crew chief I could have what can I say."
While Truex Jr.'s fuel held on the final lap, that wasn't the case for Juan Pablo Montoya who ran out of fuel on the penultimate lap while running second.
"It's just a heartbreak," Montoya said after being relegated to finishing 34th. "We should have been a little smarter."
Gordon finished second after Montoya's misfortune with Carl Edwards, Kurt Busch and defending Sonoma winner Clint Bowyer finishing fifth.
Busch's finish may have  been different if not for two pit road speeding penalties in the middle of the race.
"We were fast, even on pit road….twice," Busch said. "I messed up, flat out.
"I just put myself in a position that was poor trying to get too much on pit road."
Series points leader, Jimmie Johnson, finished ninth and holds a 25-point lead over Edwards heading into next weekend's race at Kentucky (Sparta) Speedway.
Toyota Save Mart 350 Unofficial Results 
Martin Truex Jr. 

Jeff Gordon
Carl Edwards
Kurt Busch
Clint Bowyer
Kasey Kahne
Marcos Ambrose
Greg Biffle
Jimmie Jonson
Kevin Harvick
Joey Logano
Dale Earnhardt Jr.
Brian Vickers
Paul Menard
Ryan Newman
Casey Mears
Travis Kvapil
Boris Said
Matt Kenseth
Aric Almirola
Brad Keselowski
Ron Fellows
Denny Hamlin
David Gilliland
Jamie McMurray
David Reutimann
Ricky Stenhouse Jr.
Tony Stewart
Danica Patrick
Justin Marks
Jeff Burton
Josh Wise
David Ragan
Juan Pablo Montoya
Kyle Busch
David Stremme
Victor Gonzalez Jr.
Tommy Drissi
Paulie Harraka
Alex Kennedy
Jacques Villeneuve
JJ Yeley
Bobby Labonte