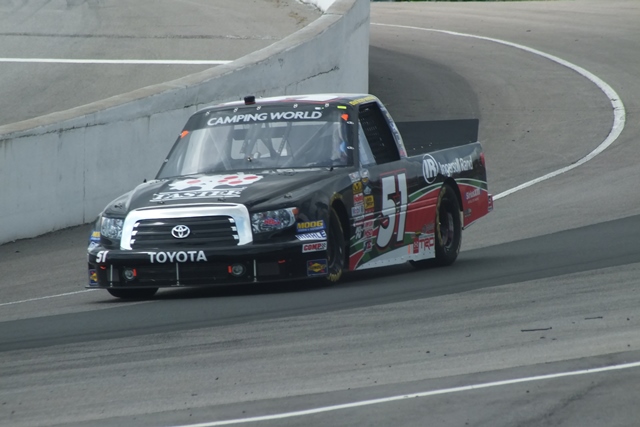 Chad Hackenbracht survived the last lap chaos at Canadian Tire Motorsports Park to finish second to Chase Elliott. It marks the first top five for the driver of the No. 51 Tastee Apple/Ingersoil Rand Toyota Tundra in his third career series start.
"It was great all day long," he commented afterwards. "We sort of raced our own race, didn't worry about what anyone else was doing.  Rudy and the guys got the truck handling really good.  We didn't hardly make any changes.  I couldn't ask for much better of a race.  I'm going to be smiling for a couple days here.  It's pretty sweet to finish here in my third start in the Truck Series, so I'm pretty pumped."
Going into the final restart with a couple laps to go, Hackenbracht was fourth, though dropped back to fifth after letting Max Papis by.
"He was right on my bumper, and I knew that if I just let him go, he'd go wreck somebody and I'd pass him," Hackenbracht commented afterwards. "I basically just let him go, and turned out that happened on the last corner.  That's exactly what happened on the last corner."
In the final corner, eventual race winner Chase Elliott and Ty Dillon made contact, causing Dillon to hit the tire barrier. Then Papis and Mike Skeen made contact, resulting in both trucks wrecking.
"They got into each other, and it was actually the other way around, 6 got into the 14, obviously didn't like him, but I'll take it," Hackenbracht commented. "I finished second, so I'm good with it."
Hackenbracht came into the weekend with some road course experience. The 21-year-old raced at Mid-Ohio earlier this year in the NASCAR Nationwide Series, finishing 30th after suspension problems. Though beyond that, Hackenbracht has experience the past two years on the road courses of the ARCA Racing Series. In the two starts at New Jersey Motorsports Park, he earned a top 10 finish in first start, while earning his career first ARCA pole in his second start. The second start looked like it'd have a great finish, till mechanical failure took him out of the running.
Though to gain even more experience, Hachenbracht ran the No. 27 Jacombs Motorsports Dodge in the NASCAR Canadian Tire Series race, finishing 13th. He said running that race helped him going into the truck race.
"It helped me notice that you could go in the outside on some of these corners and have that preferred line going into the next one and it would stick on the outside and in the previous corner," he commented. "So it definitely helped a ton.  I wish they would have finished that race out so I could finish a little better, but definitely helped for this truck race."
Hackenbracht has one more race schedule behind the wheel of the No. 51 for Kyle Busch, which is Las Vegas near the end of the year.
"Looking forward to it," he commented. "I feel like going into Vegas for me, it's going to be a good race, just I've learned a lot more about these trucks and just ready to get there."
With his run at Canadian Tire Motorsports Park, he helped the No. 51 team in the owner's standing as they sit second, 24 points behind the No. 88 truck. Erik Jones will be behind the wheel of the No. 51 this weekend at Iowa Speedway.