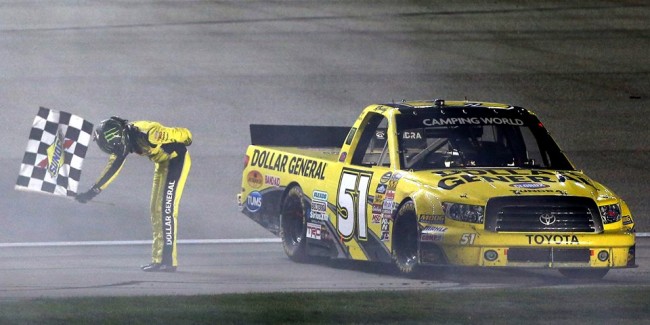 A pair of Cup Series starts battling for the win in a Camping World Truck Series (CWTS) race usually makes for a somewhat forgetful race in the eyes of many.
Friday night's CWTS race at Chicagoland Speedway was anything but forgettable despite Kyle Busch and Brad Keselowski overshadowing the series regulars on the night.
The pair of drivers led 102 of the race's 152 laps on the night, however the race was far from uncompetitive.
Throughout the course of the race, 50 passes were made for the lead under green-flag conditions. To compare, there were 21 passes for the lead in last year's event.
While the race was competitive, the closing laps proved that Busch and Keselowski remained the class of the 36-truck field.
Despite numerous attempts to make a pass for the lead, Keselowski would settle for a second-place finish as Busch went on to win Friday night's EnjoyIllionois.com 225.
"That's the most fun you can have running second, that's for sure," Keselowski, who has now finished second in CWTS competition five times in his career without a victory, said after the race. "I needed a lap or two more to get it."
By winning Busch claimed his fourth victory of the 2013 CWTS season, his third at Chicagoland Speedway and the 34th of his CWTS career.
"That was tough man," Busch said about racing in the final laps Friday night. "We didn't have the speed on the short run, but on the long run we had a really, really good truck."
Busch, Keselowski, Ryan Blaney, Matt Crafton, and Ty Dillon rounded out the top-five finishers from Friday night's race.
Crafton remains on top of the series point standings after earning his 16th-consecutive top-10 finish in 2013. Crafton holds a 41-point lead over defending CWTS champion, James Buescher, with six races remaining.
EnjoyIllinois.com 225 Unofficial Results 
Kyle Busch
Brad Keselowski
Ryan Blaney
Matt Crafton
Ty Dillon
John Wes Townley
Austin Dillon
James Buescher
Jeb Burton
Johnny Sauter
Darrell Wallace Jr.
Miquel Paludo
Ron Hornaday Jr.
German Quiroga
Justin Lofton
Ben Kennedy
Dakoda Armstrong
Jeff Agnew
Max Gresham
Kenny Wallace
Ryan Sieg
Tyler Young
Joey Coulter
Bryan Silas
Brendan Gaughan
Jimmy Weller III
Timothy Peters
Jennifer Jo Cobb
Scott Riggs
Justin Jennings
Mike Harmon
Norm Benning
Danny Efland
JJ Yeley
Chris Lafferty
Chris Jones