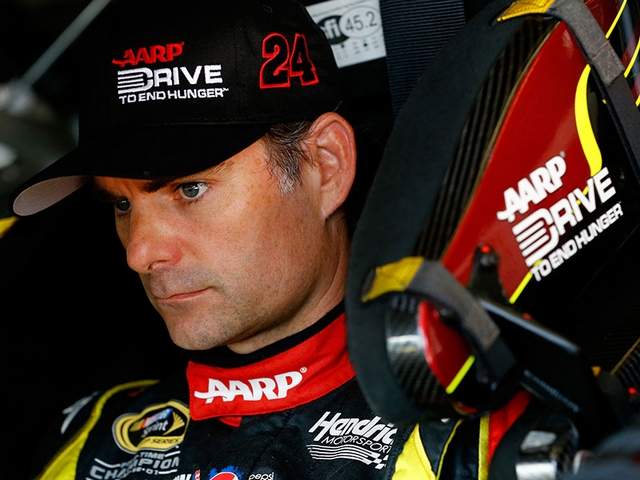 Monday night, NASCAR made a historic annoucement by removing Martin Truex Jr. from the Chase and adding Ryan Newman in his place.
Friday afternoon at Chicagoland (Joliet,IL) Speedway, NASCAR once again added to the historic week of events by adding Jeff Gordon to the Chase for the Sprint Cup.
"Due to the totality of the events that were outside of Jeff Gordon's issues, we're going to add a 13th position to the field and Jeff Gordon will qualify for the championship this year," NASCAR Chairman Brian France said in a press conference Friday afternoon. "We believe that looking at all of it that there were too many things that altered the event and a gave an unfair disadvantage to Jeff and his team who would have qualified.
"I have the authority to do that, we are going to do that. It's an unprecedented and extraordinary thing, but it's also an unprecedented and extraordinary set of circumstances that unfolded in multiple different ways on Saturday night. We believe this is the right outcome to protect the integrity — which is our number one goal — of NASCAR."
Gordon, who failed to qualify for the Chase for just the second time in his career, found himself fourteenth in the point standings following Saturday night's race.
"I applaud NASCAR for taking the time for a full review. What occurred at Richmond was not of their making, and they've had to wrestle with some very difficult decisions throughout the week. I know everything done by NASCAR has been a sincere effort to be fair and ultimately do what's best for our sport and our fans," said Rick Hendrick, owner of Hendrick Motorsports, said in a statement.
"We're extremely proud to have all four cars in the Chase for the second consecutive season. Jeff (Gordon) and the No. 24 team earned this spot, and we're going to leave everything on the racetrack during these last 10 (races). The support this week from our fans and partners has been incredible, and I'm proud of everyone at Hendrick Motorsports for the effort that's gotten us here. The Chase is going to be exciting."
After NASCAR penalized each of of the Michael Waltrip Racing cars following actions cited as detrimental to the sport in the closing laps of Saturday night's race, Gordon moved to thirteenth in the standings after Martin Truex Jr. was penalized 50 points, dropped from the Chase and replaced by Ryan Newman.
"We're going to protect, no matter what it takes — the integrity of the sport will never be in question," France said. "We're going to make sure that we have the right rules going forward."
The move of Gordon being added to the Chase field comes after team communications between Front Row Motorsports and Penske Racing came to light in a Fox Sports report in which David Gilliland was asked to concede his position on the track to Joey Logano, who was trying to qualify for the Chase, so he could make his first Chase.
NASCAR officials met with Front Row Motorsports crew chief Frank Kerr and spotter David Keith as well as Penske Racing's competition director Travis Geisler, vice president of operations Michael Nelson, crew chief Todd Gordon and spotter Tab Boyd. at Chicagoland Speedway on Friday morning to discuss Saturday's incidents at Richmond International Raceway
For the actions, NASCAR has placed both Front Row Motorsports and Penske Racing on probation for the remainder of the 2013 season.
NASCAR will hold a meeting with teams at Chicagoland Speedway on Saturday to discuss matters of integrity following the race at Richmond.