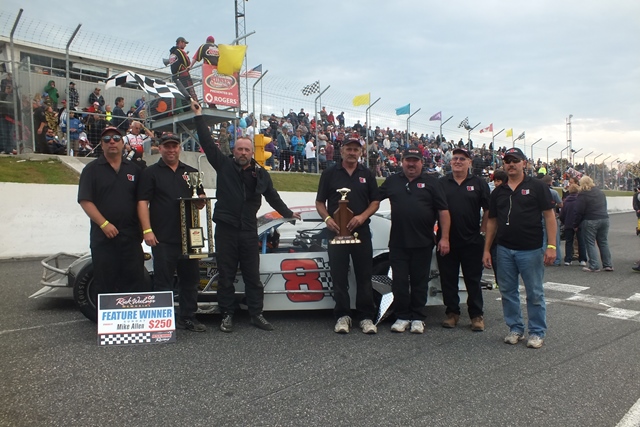 After topping the series in time trial action, first 30 lap action and heat action, Gary McLean led all 40 laps on Sunday to win the Rick Woolner Memorial at Sunset Speedway.
Originally, the Rick Woolner Memorial was to be run at Varney Motor Speedway. They ran time trial action there (with McLean first followed by Davey Terry) and the first 30 lapper (Gary McLean won ahead of Brian McLean, Brent McLean and Terry) on Saturday September 14th. However, when it came time to run the heats and the 50 lapper on the Sunday, the skies opened up and cut the night short.
As a result, the event was moved to Sunset Speedway to be part of the Velocity 250 weekend, with the main feature shortened to 40 laps.
The first heat saw Gary McLean pick up the win ahead of Brent McLean, the 92, Brad Pearsall and Billy Zardo.
The second heat saw Davey Terry pick up the win ahead of Shane Stickel, Branden Bullen, Justin Demelo and Mike Westwood.
So come feature time, Gary McLean started on pole followed by Davey Terry, Brent McLean, Shane Stickel, 92, Branden Bullen, Brad Pearsall, Justin Demelo, Billy Zardo, Mike Westwood, Chad Strawn, Brian McLean, Darryn Wright, Rod Sauder, Matt Barton, John Harper, Dave Osbourne, Ryan Dick, Ted Patterson, Dustin Jackson, Max Beyore, Bobby Tolton, Monty Kelly, Andy J. and Dean Scott.
Gary McLean grabbed the early lead ahead of Davey Terry while the 92 moved his way up to third ahead of Brent McLean and Branden Bullen before the first caution came out for Westwood spinning in turn two. Pearsall ran sixth now followed by Barton, Demelo, Stickel, Brian McLean, Sauder, Wright, Dick, Beyore and Zardo.
Gary McLean once again sped ahead on the restart as Terry continued to run second ahead of 92 and Brent McLean. Barton was able to move by Bullen for fifth before the next caution flew for Pearsall hitting the wall. Bullen now ran sixth followed by Stickel, Sauder, Beyore, Brian McLean, Dick, Wright, Zardo, Andy J. and Kelly.
The next caution wouldn't be pretty as it started with the third place car and was basically one of those chain reaction deals. The 92 got loose in turns one and two, stacking up the field which caused Barton to get into the 92 slightly. Then in the process of the stack up, both Barton and Bullen would each go for a spin, collecting Brent McLean in the process. With all three drivers moved to the back, you had Gary McLean leading Terry, 92, Stickel, Sauder, Beyore, Brian McLean, Wright, Dick, Andy J., Zardo, Kelly, Strawn, Jackson, Westwood, Tolton, Demelo, Barton, Brent McLean, Bullen, Osbourne and Scott.
On the restart, Gray McLean once again jumped ahead of Terry and 92 while Beyore and Dick moved into fourth and fifth before the next caution at lap 29 for Brian McLean spinning. Kelly now was up to sixth followed by Wright, Zardo, Strawn and Barton.
They'd get two laps in, before the next caution at lap 32 for Osbourne spinning.
The sixth caution would then fly at lap 36 for Brian McLean having a flat tire. Gary McLean still led ahead of Terry while Beyore had slipped into third ahead of 92. Andy J was up to fifth ahead of Kelly, Dick, Brent McLean, Barton and Wright.
The final caution came with two laps to go on lap 38 for Kelly getting into the backstretch wall. it was unfortunate to see especially after Kelly suffered heavy front end damage during Saturday's qualifying and had to spend hours fixing his ride to get be able to come back on the Sunday.
Gary McLean got a good restart at the end, as he had all day, and crossed the finish line first to take the win. Meanwhile, Max Beyore used the final restart to his advantage as he was able to get by Davey Terry for second. The 92 and Andy J. rounded out the top five.
Matt Barton finished sixth followed by Brent McLean and Darryn Wright.