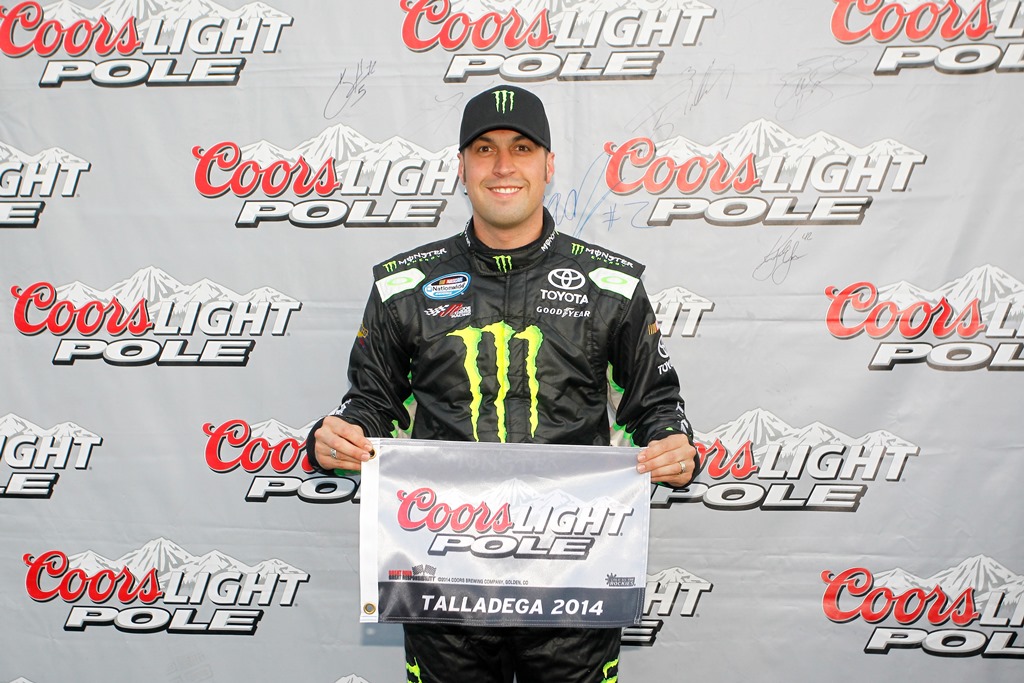 In the final moments of the third round of qualifying, the Joe Gibbs Racing cars got lined up and were able to get a good run off of the pack in front of them, allowing them to take the top three spots in Aaron's 312 qualifying at Talladega Superspeedway. In the end, the middle car of the three-car pack – Sam Hornish Jr. – scoring his sixth career Coor's Light pole award in his first start this season.
"When I watched at Daytona, it didn't look as hectic as what it felt like today," Hornish Jr. commented post-qualifying. "I feel as it evolves and what it will be like, I think it worked out well. It was really about patience and picking the right runs. It's going to be something that as they go to Daytona for the next time that you'll see some more of that cat and mouse game. I'm glad that it's three session as we weren't good at first, but we're here. I'm just proud of the opportunity that I have here and how well it worked out today."
In the first round, the JGR Toyotas just barely made the cut in the top 24. However, as the session went on, the drivers, crew chief and spotters learned that if they could get a good quick toe off of someone, they'd be able to post the quick time. Using that knowledge to their advantage was the key in the final session in getting the run in the final minute.
Elliott Sadler will line up second after contending for the win back in Daytona and says that he likes this qualifying format for the excitement it delivers for the fans.
"I think this is awesome for the fans," Sadler commented. "Leave it hectic … that's part of the game."
Darrell Wallace Jr. qualified third in his first Nationwide Series start of the season, followed by Ryan Reed and Michael Annett.
Ryan Blaney qualified sixth, followed by Ty Dillon, Chris Buescher, James Buescher and Brian Scott.
After winning last year's race and the season opener at Daytona, Regan Smith qualified 32nd with teammates Kasey Kahne and Chase Elliott 31st and 37th, respectively. Sadler was asked about their qualifying positions, in which he says it may hurt pit selection, they'll be fine in the race.
"I expect them to be at the front in the first 10 laps," he added.
Unfortunately, qualifying didn't go smoothly for everyone as Tanner Barryhill spun off of turn four and made heavy contact with the wall after contact from Kyle Larson. Larson had minor damage on his Chevrolet as a result.
The Nationwide Series Aaron's 312 is scheduled to run Saturday afternoon following the ARCA race and Sprint Cup Series Qualifying.
PosDriverTeamBestLapTimeBestSpeedCar
| | | | | | |
| --- | --- | --- | --- | --- | --- |
| 1 | Sam Hornish Jr | Monster Energy Toyota | 51.268 | 186.783 | 54 |
| 2 | Elliott Sadler | OneMain Financial Toyota | 51.270 | 186.776 | 11 |
| 3 | Darrell Wallace Jr(i) | ToyotaCare Toyota | 51.283 | 186.729 | 20 |
| 4 | Ryan Reed # | ADADrivetoStopDiabetesbyLillyDiabetes Ford | 52.021 | 184.080 | 16 |
| 5 | Dakoda Armstrong # | WinField Ford | 52.044 | 183.998 | 43 |
| 6 | Ryan Blaney(i) | Discount Tire Ford | 52.202 | 183.441 | 22 |
| 7 | Ty Dillon # | Bass Pro Shops Chevrolet | 52.253 | 183.262 | 3 |
| 8 | Chris Buescher # | Roush Performance Parts Ford | 52.326 | 183.007 | 60 |
| 9 | James Buescher | Rheem Toyota | 52.369 | 182.856 | 99 |
| 10 | Brian Scott | Shore Lodge Chevrolet | 52.400 | 182.748 | 2 |
| 11 | Brendan Gaughan | South Point Chevrolet | 52.524 | 182.317 | 62 |
| 12 | Landon Cassill | Flex Seal Chevrolet | 52.561 | 182.188 | 01 |
| 13 | David Ragan(i) | Carroll Shelby Engine Co Ford | 51.306 | 186.645 | 98 |
| 14 | Blake Koch | HeroesBhindtheCamo/SpprtMilitary.org Toyota | 51.531 | 185.830 | 10 |
| 15 | John Wes Townley(i) | Zaxby's Toyota | 51.550 | 185.761 | 25 |
| 16 | David Starr | BYF.org/Steely Lumber Company Toyota | 51.577 | 185.664 | 44 |
| 17 | Jamie Dick | Viva Auto Group Chevrolet | 51.584 | 185.639 | 55 |
| 18 | Eric McClure | Hefty Ultimate/Reynolds Wrap Toyota | 51.588 | 185.625 | 14 |
| 19 | Mike Bliss | TriStar Motorsports Toyota | 51.617 | 185.520 | 19 |
| 20 | Kyle Larson(i) | Cartwheel Chevrolet | 51.914 | 184.459 | 42 |
| 21 | Trevor Bayne | AdvoCare Ford | 51.929 | 184.406 | 6 |
| 22 | Robert Richardson Jr | Cornboard Chevrolet | 55.153 | 173.626 | 23 |
| 23 | Matt DiBenedetto | Curtis Key Plumbing Chevrolet | 50.435 | 189.868 | 46 |
| 24 | Josh Wise(i) | Curtis Key Plumbing Chevrolet | 51.061 | 187.540 | 40 |
| 25 | Jeff Green | TriStar Motorsports Toyota | 51.147 | 187.225 | 91 |
| 26 | Mike Harmon | WCIParts.com Dodge | 51.259 | 186.816 | 74 |
| 27 | Ryan Sieg # | RSS Racing Chevrolet | 51.336 | 186.536 | 39 |
| 28 | Dylan Kwasniewski # | Rockstar Chevrolet | 51.345 | 186.503 | 31 |
| 29 | Tommy Joe Martins | Diamond Gusset Jeans Dodge | 51.355 | 186.467 | 76 |
| 30 | Bobby Gerhart | Lucas Oil Chevrolet | 51.355 | 186.467 | 85 |
| 31 | Kasey Kahne(i) | Great Clips Chevrolet | 51.680 | 185.294 | 5 |
| 32 | Regan Smith | Ragu Chevrolet | 51.695 | 185.240 | 7 |
| 33 | Jeremy Clements | allsouthelectric.com Chevrolet | 52.139 | 183.663 | 51 |
| 34 | JJ Yeley | JGL Racing Dodge | 52.185 | 183.501 | 28 |
| 35 | Carl Long | JGL Racing Dodge | 52.430 | 182.644 | 93 |
| 36 | Joey Gase | Donate Life Chevrolet | 52.625 | 181.967 | 52 |
| 37 | Chase Elliott # | NAPA Auto Parts Chevrolet | Owner Points | 181.825 | 9 |
| 38 | Joe Nemechek | smokeandsear.com Toyota | Owner Points | 178.218 | 87 |
| 39 | Jeffrey Earnhardt | FW1 Chevrolet | Owner Points | 166.308 | 4 |
| 40 | Tanner Berryhill # | NationalCashLenders.com Dodge | 51.624 | 185.495 | 17 |