Recalling Adam Petty's ARCA victory at Charlotte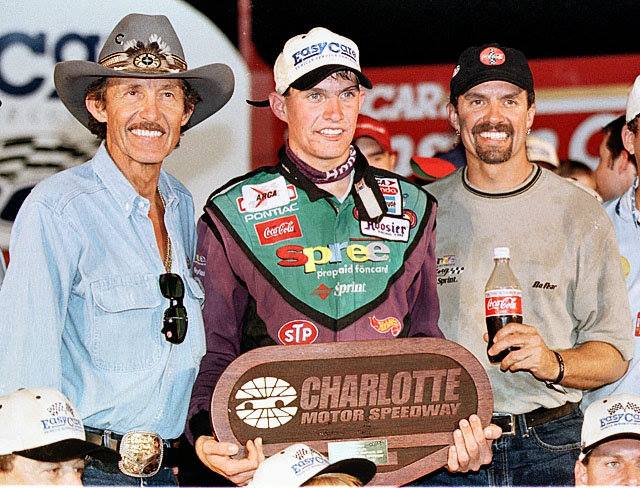 After running the NASCAR Weekly Series in 1997, it was time for the next step up for fourth-generation driver Adam Petty.
Petty Enterprises fielded Adam an ARCA car for the fall Charlotte race in September 1998.
The 18-year-old had to start sixth on the night, as the race also featured veteran Mike Wallace, who was filling in for an injured Jeff Finley in the No.83.  Finley was hurt from a practice crash at Winchester Speedway the week before
Pole-sitter Darrell Lanigan led the first 29 circuits, before Petty took advantage of lapped traffic and found himself in the front, with Wallace lurking behind.
The leaders made their only pit-stop at lap 40 as another youngster, Bobby Hamilton Jr., was in front of the No. 45 car after taking two tires.
Hamilton made his way to lead on lap 46, with Petty and Wallace stalking behind.
Petty made a power move on the outside five laps later to regain the lead, but had to hold off the veteran.
Wallace continued stalking him for the lead, but Petty held off the late charge in win in his ARCA debut, a feat also accomplished by his father Kyle.
The fans had a reason to smile at the end of the night, as it was another Petty was in victory lane.
1998 EasyCare 100 Top 10
1. #45 Adam Petty
2. #83 Mike Wallace
3, #95 Bobby Hamilton Jr.
4. #59 Mark Gibson
5. #30 Gus Wasson
6. #46 Frank Kimmel
7. #22 Mike Swaim Jr.
8. #8 Matt Mullins
9. #86 Rich Woodland Jr.
10. #80 Andy Hillenburg