'All-Out' Racing Style of Sprint Showdown Suits Gilliland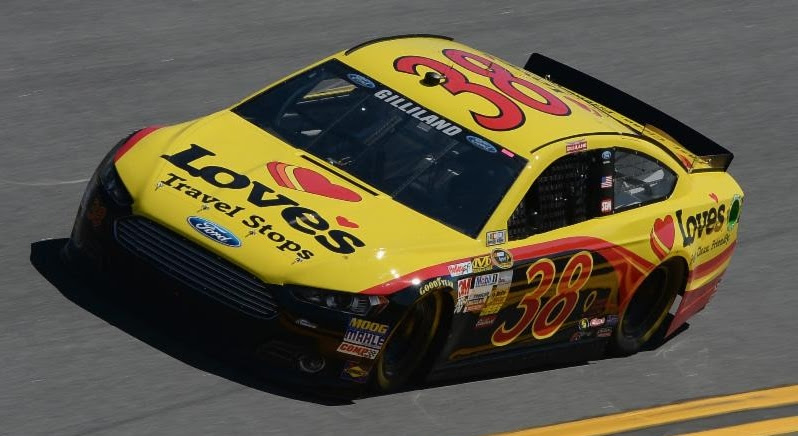 STATESVILLE,
MAY 13, 2014
– David Gilliland, driver of the No. 38 Love's Travel Stops Ford, comments on racing in the Sprint Showdown at Charlotte Motor Speedway:
"I'd love to be in the All-Star race. We came close to getting a win last year in Talladega to get us in but came up one spot short. Maybe we'll put a little number '38' on the bumper of the No. 34 All-Star car, where I was behind him (teammate David Ragan). But we're going to work really hard to transfer out of the Showdown into the All-Star race. It's a race that's all-out, and that's a lot of fun. It's probably my favorite style of racing.
"We'll be racing in our backyard. We've got a lot of the guys from the shop and their families who are able to go to the race and be a part of it, so that's great for them to be able to participate in a race weekend. It's definitely an important race for us. We always learn a lot for the week after (for the Coca-Cola 600)."
JUST THE FACTS
: Gilliland has seven starts in the Sprint Showdown, the qualifying race for the All-Star Race … His top finish in the non-points event is seventh (2008, 2011) … Gilliland is also eligible to be voted into the All-Star Race through the
Sprint Fan Vote
online … Love's Travel Stops returns as primary sponsor of the No. 38 for the Sprint Showdown
.
About Front Row Motorsports
Front Row Motorsports is a race-winning organization competing in NASCAR's premier Sprint Cup Series, fielding the No. 34 of David Ragan, the No. 38 of David Gilliland and the No. 35 Ford.  The team is owned by Bob Jenkins and is headquartered just outside of Charlotte, N.C.  FRM was named to INC Magazine's "INC 5000" list in 2012, recognizing the 5,000 fastest-growing private companies in the U.S. The team's partnership base is representative of more than $200 billion of the U.S. economy and includes organizations such as Ford Motor Company, CSX Transportation, Love's Travel Stops, Farm Rich, Taco Bell and Long John Silver's. Visitteamfrm.com.