News from INDYCAR: Andretti Autosport Flexes Its Muscles On Busy Day at Indianapolis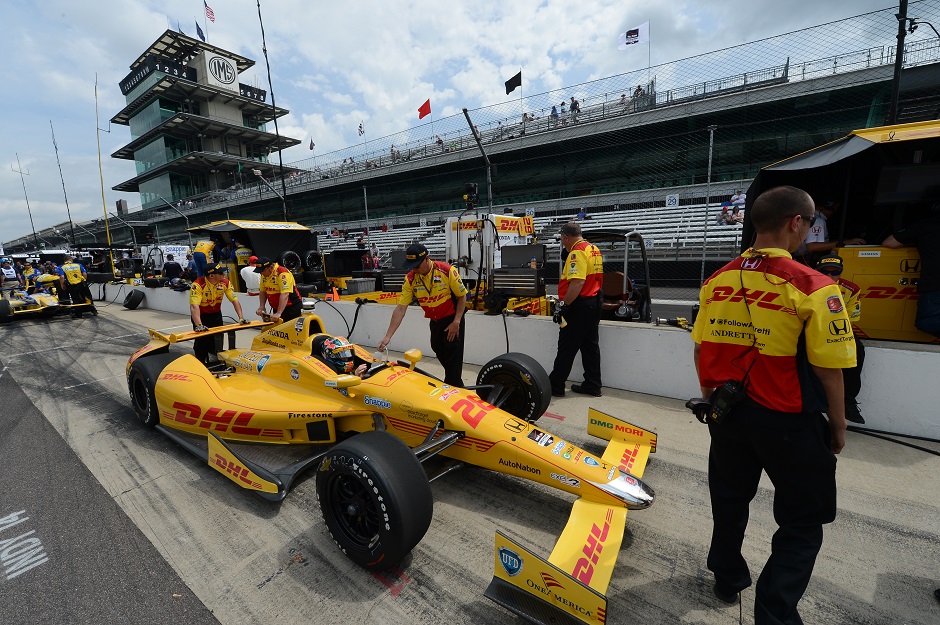 INDIANAPOLIS (Monday, May 12, 2014) – Verizon IndyCar Series drivers made use of every minute at the Indianapolis Motor Speedway on the second day of practice for the 98th Running of the Indianapolis 500 Mile Race, recording more than three times as many laps as Opening Day.
Five of the 30 drivers who participated topped 100 laps on the 2.5-mile oval — half the race distance — including Ryan Hunter-Reay, who also posted the fastest lap of 225.025 mph (39.996 seconds) in the No. 28 DHL car for Andretti Autosport.
DOWNLOADS: Practice #2 Times | Combined Speeds
Of the 33 entries, the cars for Sebastian Saavedra (involved in crash at start of Grand Prix of Indianapolis), James Davison and Buddy Lazier are the only ones who have not been on the racetrack yet.
Hunter-Reay's teammate, Marco Andretti, had set the standard early in the six-hour session with a lap of 224.037 in the No. 25 Snapple car before Hunter-Reay's fast lap with a tow in the final 15 minutes under a cloudy sky. For the second consecutive day, the five Andretti Autosport drivers took turns touring the oval in packs with a purpose.
Three-time Indianapolis 500 winner Helio Castroneves (223.635 mph) was third on the speed chart, while Justin Wilson (223.611) was fourth and Juan Pablo Montoya (223.395) was fifth.
Reigning Indy 500 winner Tony Kanaan, 11th on the speed chart, logged a field-high 131 laps in the silver No. 10 Target Chip Ganassi Racing car.
Practice continues May 13 from noon-6 p.m. (ET). Qualifications are May 17-18.
DAY 2 NOTEBOOK:
Four-time Indianapolis 500-winning chief mechanic and prolific car builder A.J. Watson died this morning at his home.
Watson, 90, had four "500" wins as chief mechanic (Bob Sweikert in 1955, Pat Flaherty, 1956, and Rodger Ward in both 1959 and 1962) and six as the winning constructor, in 1956, 1959 and 1962; plus 1960 (Jim Rathmann),  1963 (Parnelli Jones) and 1964 ( A. J. Foyt).
A.J. Foyt drove and won with Watson-designed and built roadsters in the 60s. Eleven of his 67 victories came in either Watson or Watson-Trevis roadsters, including his first two Indy 500s (1961 and 1964). Foyt drove Watson's sprint car in 1960 winning the USAC Eastern Division title that year. Foyt continued to drive Watson's sprint car off and on through 1968, winning his final race for Watson at Ascot in Gardena, Calif. in 1967.
DOUG BOLES (President, Indianapolis Motor Speedway): "AJ Watson was one of the most innovative and successful mechanics and car builders in the 105-year history of the Indianapolis Motor Speedway, and the Watson roadster that was so prevalent in the 1950s and 1960s remains one of the most iconic racing cars ever constructed. The thoughts and prayers of the entire  Indianapolis Motor Speedway organization are with the Watson family and the many friends and fans of A.J. Watson, who will always remember him for his passion for racing and his friendly and approachable personality."
A.J. FOYT (Four-time Indianapolis 500 winner): "I was very good friends with A.J. Watson and his wife Joyce. He picked me up to drive his sprint car years back. We worked right there at his house, took the 220 Offy and built the Chevrolet. He was a pioneer. He came out against Kurtis and built the Watson roadster and I was lucky enough to win with it. In his day right here at the Indy 500, there was nobody that was going to beat the three W's: Watson, Wilke and Ward. It's hard to believe he's gone. I'm just glad I was able to go see him on his 90th birthday [May 8]. We did talk about old times. He had a picture of me and him with his sprint car on the wall and I teased him, 'A.J. were we ever that young?' He said, 'It's hard to believe, isn't it?'"
***
Visiting the Indianapolis Motor Speedway Hall of Fame Museum on Sunday morning (May 11) were approximately 30 members of The Cannon Ball Project, whose mission is to follow the route taken by the legendary E.G. "Cannon Ball" Baker when he broke the trans-continental record, on a motorcycle, exactly 100 years ago.
Led by historian/author/impresario Don Emde, winner of the 1972 Daytona 200 motorcycle classic, the group of riders left San Diego at 9:00 a.m. on Saturday, May 3, within one minute of the 100th anniversary of Baker's departure in 1914. Attempting to break the record of 20 days, Baker, who was then simply E.G. Baker, made it to New York City in 11 ½ days, prompting a newspaper writer to call him "Cannon Ball," a nickname he carried for the rest of his life.
Baker was a lifelong Indianapolis resident who won event number seven on the very first day of motorized competition (motorcycles) at the Indianapolis Motor Speedway on Saturday, Aug. 14, 1909. On the afternoon before their visit to the track, the group rode to Crown Hill Cemetery in order to see Baker's resting place.
***
Indianapolis Mayor Greg Ballard returned to the Speedway today, after he was injured by debris from an accident that occurred at the start of the inaugural Grand Prix of Indianapolis on Saturday, May 10.
GREG BALLARD (Mayor, Indianapolis): "I'm here today and anytime they want me to come out and wave the green flag I'll be happy do it, and I'll be out here againtomorrow, so I'll be out here a large part of the week. You always feel like you kind of win the lottery when you come through the gates here."
INDIANAPOLIS 500 PRACTICE:
At 11:55 a.m., the ambient temperature was 78 degrees with a relative humidity of 71 percent. Skies were mostly cloudy. The track temperature was 97 degrees, according to Firestone engineers.
Noon – GREEN. #22 Karam is first on track.
12:13 p.m. – YELLOW. Track Inspection.
12:23 p.m. – GREEN.
1:03 p.m. – YELLOW. Moisture reported over frontstretch.
1:10 p.m. – GREEN.
1:22 p.m. – YELLOW. Moisture reported over Turns 1 and 2.
1:27 p.m. – GREEN.
1:37 p.m. – YELLOW. Moisture reported over the circuit.
1:52 p.m. – GREEN.
2:49 p.m. – YELLOW. Track inspection.
At 3 p.m., the ambient temperature was 81 degrees with a relative humidity of 62 percent. Skies were mostly cloudy. The track temperature was 110 degrees, according to Firestone engineers.
3 p.m. – GREEN.
3:30 p.m. – YELLOW. Track inspection.
3:40 p.m. – GREEN.
3:46 p.m. – YELLOW. Track inspection.
3:59 p.m. – GREEN.
4:36 p.m. – YELLOW. Track inspection.
4:44 p.m. – GREEN.
4:48 p.m. – YELLOW. Smoke trailing from No. 20 Carpenter on the backstretch.
4:54 p.m. – GREEN. No. 83 Kimball on course for first time today. It is the 30th car to make a lap at speed today. Only No. 17 Saavedra, No. 91 Lazier and No. 33 Davison have not turned laps today.
5:27 p.m. – YELLOW. Track inspection.
5:37 p.m. – GREEN.
6 p.m. – CHECKERED. Track is closed for the day.
FASTEST TIMES/SPEEDS OF PRACTICE:
| | | | | |
| --- | --- | --- | --- | --- |
| | Car | Name | Time | Speed |
| | 28 | Ryan Hunter-Reay | 39.9955 | 225.025 |
| | 25 | Marco Andretti | 40.1719 | 224.037 |
| | 3 | Helio Castroneves | 40.2441 | 223.635 |
| | 19 | Justin Wilson | 40.2484 | 223.611 |
| | 2 | Juan Pablo Montoya | 40.2874 | 223.395 |
INDIANAPOLIS 500 POST-PRACTICE QUOTES:
RYAN HUNTER-REAY (No. 28 DHL Honda): "We got a lot of work done today, a lot for what we need for the race weekend. It's nice leading practice. It's a nice little consolation prize. I wish it paid [laughing]. I was out there pushing like it was paying. It was fun with my teammates. That's the great thing about Andretti Autosport, we have five quick cars and we can all run together." (About what the team was trying to accomplish by running in a pack): "Just getting a feel for downforce levels and race (simulation), really, race simulation running. It was fun, we got through a lot of work today and it's only Monday."
MARCO ANDRETTI (No. 25 Snapple Honda): "We got to get going a little bit today. We only did like a shakedown run and a pretty conservative (engine) map yesterday. Things are feeling pretty good, but as Ryan (Hunter-Reay) said it's still very early days. We could have a fantastic car tomorrow, roll that same car and it's totally different, so we're prepared for that. Hopefully we can just keep up with the track and make the right moves at the right time."
SCOTT DIXON (No. 9 Target Chip Ganassi Chevrolet): "Today was the first true day of practice for us. It was great to get out there and run for a while today. We tried a number of things we've been working on, both in the offseason and in preparation for this first oval of the year. It's pretty cool having the silver Target cars here in May to celebrate 25 years of partnership with such a fantastic company."
TONY KANAAN (No. 10 Target Chip Ganassi Chevrolet): "We definitely put a full day in today with the Target car – well over 100 laps around Indy. The No. 10 team is working really hard. Lots and lots of running out there. Today is only the first day of testing the primary car for the race, so we went through a laundry list of items we've been wanting to run. Overall it was a good day of learning for us."
JUAN PABLO MONTOYA (No. 2 Verizon Team Penske Chevrolet): "It was good to get out there and run a lot of laps today, which was important because we don't know what the weather will be like for tomorrow. I will definitely sleep good tonight because that was a workout. I think the No. 2 Verizon Chevy showed good improvement from yesterday. We picked up some time, as did some other drivers. It's all part of the step-by-step process to get to where we need to be for the race. All in all I think things are going according to plan."
ED CARPENTER (No. 20 Fuzzy's Vodka/Ed Carpenter Racing Chevrolet): "We had a couple of issues today that kept us off the track for some time. But that is what is great about having a teammate here. JR (Hildebrand) was able to put some good laps and test some things that I didn't. Hopefully it is dry for some time on Tuesday. The weather forecast doesn't look good though. That's why you want as much track time as you can get. The conditions today were tough with the warmth, the humidity and the wind. It was a lot like Race Day can be in a few weeks. I think JR had some good runs today that can help our team. That is what working together can mean to a multi-car effort."
JR HILDEBRAND (No. 21 Preferred Freezer/Ed Carpenter Racing Chevrolet): "The conditions were tough out there today. It's pretty windy. Ed and I were both trying to find a little more grip in the cars. We wanted to work in traffic today. I feel like we made good gains with the setup. We didn't really try to find a real speed in these types of conditions. We were focused on race running all day. With the variable conditions, that can be rough sometimes. We found a couple of good changes at the end of the day that we will stick with in the future. It is like a race day with the weather. But you don't want to be complacent on days like this. You want to be really good in conditions like these. We need to be a little better in these conditions and be prepared if it is close to this on Race Day."
HELIO CASTRONEVES (No. 3 Pennzoil Ultra Platinum Team Penske): "I feel that the weather is the biggest contribution here. Sounds like tomorrow and Wednesday and evenThursday possible rains. So yeah, exactly that's why you want to take a chance with the hot weather conditions for the race plus when you put the turbo number, we're going to put more pressure on turbo so the speeds going to go up and we're still going to go with that kind of scenario so right now I'm very happy with our car. It's not only pretty, it's looking good. Pretty good. Like I said, we're not looking for the times because if you like that way, it's always a reference. It's a little bit different. I think everybody is getting draft so that they understand what their car is doing in traffic. But at this point, the name of the game is the same for everyone. We're just trying to put some mileage, especially on the engine and go for it."
MIKHAIL ALESHIN (No. 7 SMP Racing Honda):  "Today felt amazing out on track. We had a little bit of rain throughout the day, but we got a lot of laps in. Schmidt Peterson Motorsports has prepared a very fast car. We plan on using the car's potential to try a few different things on set-up, but we're off to a great start. I've only been on the oval for two days at Indianapolis Motor Speedway, but I can already tell that this is a very tricky place. There are so many different things you need to learn. When you think everything looks good and you get comfortable, that's when you could get in trouble. Above all, this track demands respect."
JACQUES VILLENEUVE (No. 5 Schmidt Peterson Motorsports Honda): "I'm quite happy with how much the team has improved the feeling of the car from yesterday. We didn't get to run in the big group of cars at the very end of the day, but I did get to run with my teammates a bit. Ticking off laps on this track by yourself is one thing, but it's a whole different animal when you're out there racing others. Tomorrow we'll concentrate more on running with the pack."
RYAN BRISCOE (No. 8 NTT DATA Chevrolet): "It felt good to get out on track today and have some time to turn some real lap times. Today was the first day I went out in the primary No. 8 NTT DATA Chevrolet and we just wanted to shake down the car and make sure the oval setup was good to go for tomorrow. We're looking at turning a lot more laps during the session tomorrow and making some long fuel runs."
CHARLIE KIMBALL (No. 83 NovoLog FlexPen Chevrolet): "It was a shame we didn't get more laps in today. The weather conditions were interesting with the wind and the temperature today and the long-term weather is looking pretty indefinite for the rest of the week. We'll just have to run when we can and focus on what it's going to take to make the car better for the race. We're pretty confident in what we need to do to get the car ready for qualifying this weekend, but we need work on traffic and running with groups to get the car ready for the 500."
WILL POWER (No. 12 Verizon Team Penske Chevrolet): "The Verizon Penske Chevrolet has been really quick. We didn't run too many laps today, but because we ran a lot of laps yesterday, we're in a good direction, which is important since it will probably be wet over the next couple of days. We're definitely getting to where we want to be."
ALEX TAGLIANI (No. 68 SFHR/RW Motorsports Honda): "Strong winds today. Gusty at some points. High temperature. We tried a couple of things, I'm not sure that we tried everything that was in the right direction, I think we tried some things that were in the wrong direction, but sometimes you need these tests to see what's right and wrong. It gives us a good direction moving forward. We have one car that feels pretty good and we can improve from that. Still a long way to go but I'm pretty confident so far when it comes to things that make sense."
SIMON PAGENAUD (No. 77 Schmidt Peterson Hamilton Racing Honda): "It was a good first day for us. The guys had the car prepared and ready to go. It's very fun to be running on the IMS oval again. We need to work on understanding what exactly we'll be able to do to improve our car when we encounter traffic. Everything went smoothly today so we'll just keep moving through our checklist of objectives to accomplish before we qualify on Saturday."
JOSEF NEWGARDEN (No. 67 Hartman Oil/Sarah Fisher Hartman Racing Honda):"It was good to get miles today, we got a couple of race runs in and tried to figure out our game plan for the rest of the week. Our goal for the day was to get a lot of miles in so we accomplished what we needed to. The wind was really strong today and it's normally difficult around here when it gets gusty. It's a good thing because you get a bit of a read on tough conditions instead of nice conditions."
GRAHAM RAHAL (No. 15 National Guard Honda): "I think we found some really good stuff at the end of the day. The guys did a phenomenal job switching things over. We made some big changes and I think we're starting to make some headway. Oriol had a good day trying some things and I had a good one so now we're going to take tonight and put those things together and hopefully have a good car tomorrow."
ORIOL SERVIA (No. 16 Rahal Letterman Lanigan Racing Honda): "It was a good day. It's what the month of May is about, trying things, running laps. And hopefully everyday is like today where my best run is my last run. I felt more comfortable in the last few things we tried. It was where I liked the car the best. Tomorrow we have more things to try. Hopefully there won't be much rain and we can accomplish that."
TOWNSEND BELL (No. 6 Robert Graham KV Technology Chevrolet): "Another productive day in the Robert Graham – KV Racing Technology car. We ran a lot of laps. Worked through our program for the day. Ran some laps in traffic and with my teammate Sebastien Bourdais. A good day. It is a process, but we are making progress so overall I am happy with how the day went."
SEBASTIEN BOURDAIS (No. 11 Hydroxycut/Mistic KVSH Racing): "It was a good start. I liked the Hydroxycut/Mistic E-Cigs car right off the bat. The balance was pretty good. We worked on a few things then I worked a little in traffic. Every year is different, every day is different here. You run a lot of laps and try and get a feel for how the car is in every condition then try and make the right decisions for race day. That is what we are doing. It was a good day for the first day of practice."
TAKUMA SATO (No. 14 ABC Supply A.J. Foyt Racing Honda): "Today we needed to get back up to speed and I needed to get into a rhythm myself, as well as finding the initial setup for the car. We spent a couple hours in the afternoon doing that and made good progress. So now this evening, we're in the ballpark, the car is working well and I could feel the difference. We found a good direction today. I wish we had a little bit more running today but hopefully the weather stays good the next few days and we'll be able to find a little more speed."
MARTIN PLOWMAN (No. 41 ABC Supply/ A.J. Foyt Racing Honda): "Today we tried something radical with the set up just to experiment which I think we'll probably go back on overnight. But it was a big box that we wanted to tick off to see if it was a direction the team wanted to go. We ran by ourselves all day so it's hard to judge time-wise how we stack up. But judging by the times with no tow, we were only about one or two miles an hour from the top. We're still very conservative with the setup and not worried about speed right now."
E.J. VISO (No. 27 United Fiber & Data Honda): "Day Two of practice… right now my mentality at approaching all these testing days is thinking with the mindset that I have to accomplish a good testing program understanding that this car will go and race the Indy 500. So far we've done pretty good development in all the testing items that we have on our to do list. Today was an important day; we already started doing long runs and racing each other. This is when some of our items (on our list) become crucial. I feel very good with the team, things are going down a very good path and just wishing James (Hinchcliffe) a quick recovery so he can come and drive his car."
CARLOS MUNOZ (No. 34 Cinsay AndrettiTV.com HVM Honda): "Another day of practice… I think it was good! We just went out and did some longer runs, but it's still really early in the week. I think we improved compared to yesterday and we're looking good. We're just going day by day; it's hard to really judge the speeds right now because of the tows, but I'm really happy with the Cinsay car right now."
***
Thirty drivers have been on the track to date and turned 2,296 laps today and 3,027 laps this month. Tony Kanaan turned 131 laps today, most of any driver. There were 10 cautions for a total of 1 hour, 37 minutes and 31 seconds today.
TUESDAY'S SCHEDULE (all times local):
8 a.m. –  Garages open
Noon-6 p.m. – Indianapolis 500 practice