INDIANAPOLIS 500 TEAMS TURN ATTENTION TO RACE SETUP AT IMS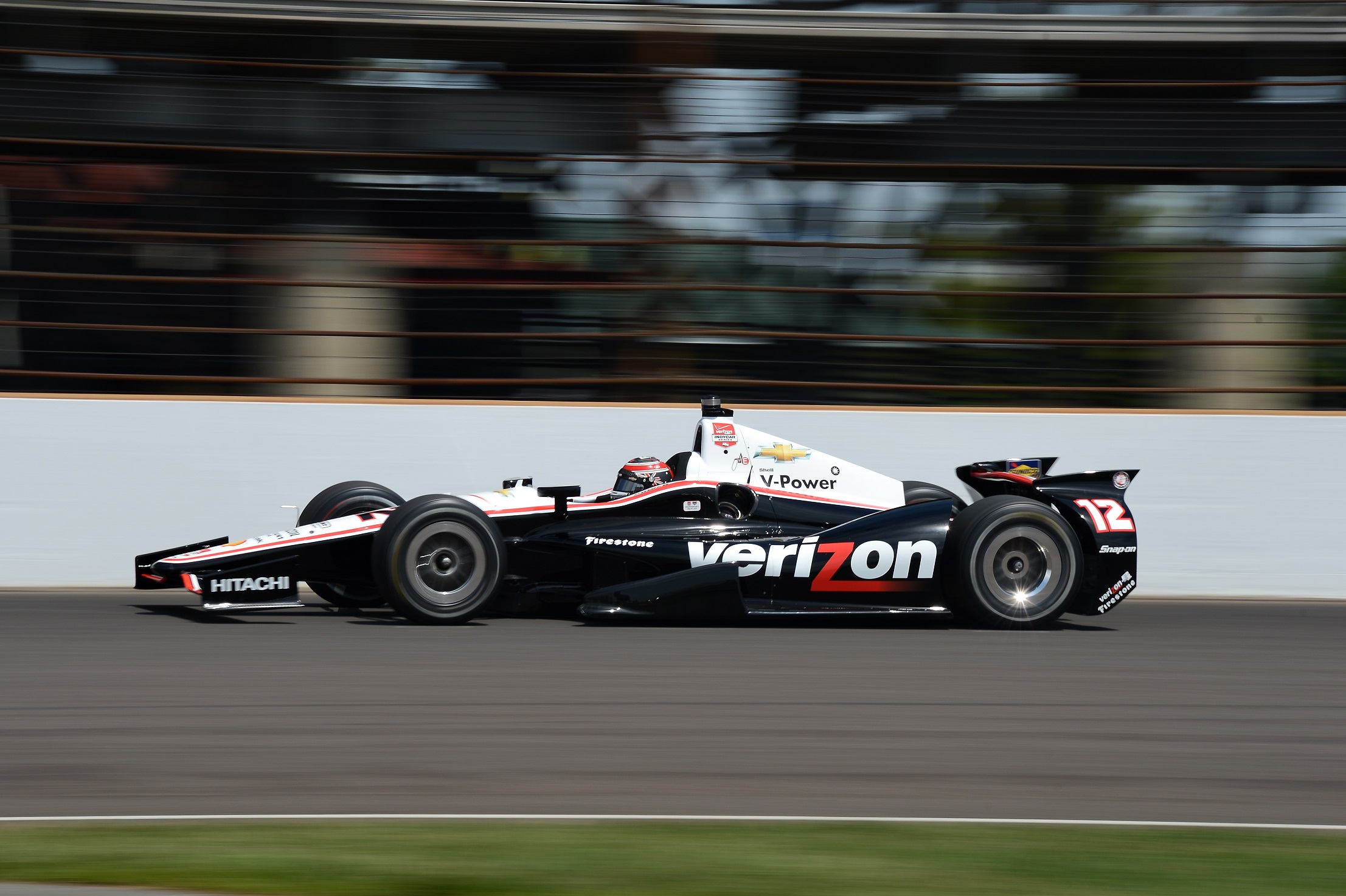 INDIANAPOLIS (Monday, May 19, 2014) – After two days of entertaining but hectic qualifications, the 33 starters for the 98th Running of the Indianapolis 500 Mile Race turned their attention to Race Day car set-up during a five-hour session on the 2.5-mile oval.
"I feel good about where our cars are in race trim, (but) you can always use one more solid day of practice just to tune on things, get a little better, make sure both myself and (teammate) JR (Hildebrand) are happy," said Verizon P1 Award winner Ed Carpenter, who logged 49 laps with a fastest of 224.492 mph in the No. 20 Fuzzy's Ultra Premium Vodka car.
All 33 starters turned a cumulative total of 2,329. Josef Newgarden, who qualified eighth in the No. 67 Hartman Oil/Sarah Fisher Hartman Racing car, was fastest with a lap of 227.105 mph (39.6292 seconds). Juan Pablo Montoya, who qualified 10th, was second (226.532 mph) in the No. 2 Verizon Team Penske car. Drivers will have a 60-minute race tune-up May 23.
An incident involving Kurt Busch brought out a yellow flag 95 minutes into the session when the No. 26 Suretone car for Andretti Autosport made right-side contact with the Turn 2 SAFER Barrier. Busch was checked at the IU Health Infield Medical Center at the Indianapolis Motor Speedway and cleared to drive.
"I was starting to feel comfortable," said Busch, who had just completed a lap of 223.433 mph (his 56th). "That's when I made the mistake of just letting my guard down or settling into that long run-type mentality whereas with an Indy car you have to be on edge. I was trying to find that rhythm and pace myself as I would on (Race Day, May 25) and I just got behind on the adjustments on the car."
Busch, who qualified 12th, will be the fourth driver to attempt the feat of competing in the Indianapolis 500 and a NASCAR race in Concord, N.C., on the same day (and the first since Tony Stewart, who in 2001 completed all 1,100 miles).
INDIANAPOLIS 500 POST-PRACTICE QUOTES:
KURT BUSCH (No. 26 Suretone Honda): "I was starting to feel comfortable. That's when I made the mistake of just letting my guard down or settling into that long run type mentality whereas with an Indy car you have to be on edge. You have to keep track of where you are at all times and the adjustments in the car. Maybe I just didn't keep up with keeping the car underneath me. Trying to get into that rhythm and feel other things around you and I got behind on my adjustments in the car." (What it feels like to crash before race day): "It's nice to have it at an opportune time. We still have Carb Day to shake things down and get back in the groove. This created a lot of work for the Andretti guys. I feel bad for that. As a rookie, there's things you learn and put it up on the edge and get away with and then there's times when it will bite you. It's just tough. I thought I was finding a rhythm and settling into that long run type pace and learning the tows and the draft and I didn't keep track of the adjustments of the car." (About how working in traffic and the crash): "One hundred percent just working in traffic. Just trying to settle in and not make mistakes and I just made a mistake."
JOSEF NEWGARDEN (No. 67 Hartman Oil/Sarah Fisher Hartman Racing Honda):"After this qualifying format we had this weekend, it was just so stressful and tiring, mentally fatiguing this weekend. I think everyone felt that way. Everyone I talked to, including guys like Simon Pagenaud were just stressed to the max from these two days so that's a good thing. You should have that at Indy. You should have that stress factor that you have to get through. So it was a little hard getting there today and having to go back out, but we really needed it. I mean, honestly we needed it on our team because we had so much rain last week that it was helpful to have a day where we're able to work on the car before Friday on Carb Day because you're quite limited. You have an hour on Carb Day. So whatever you're doing pretty much needs to be done you don't have time to really work on it on Carb Day. It's more about preparing yourself for the race environment. Everyone's going to be out there running like it's the race and you kind of get yourself set up for that. So you're not really working on the car, whereas today we were able to work on the car, refine what we needed to because of the weather we had last week and not getting everything done so for us it was very helpful. And I'm sure it was the same for everyone up and down the field." (About Kurt Busch incident) "It looked like he got loose in (Turn) 2 and to me it looked like he over corrected like you would more in a NASCAR, obviously because you can slide those a little more. To me, what I saw it looked like he almost did too much as well and he was chasing it up the wall like he would on a stock car and the thing almost even snapped straight and he almost went straight in but then just ended up hitting it on the side."
ED CARPENTER (No. 20 Fuzzy's Vodka/Ed Carpenter Racing Chevrolet): "I feel good about where our cars are in race trim, (but) you can always use one more solid day of practice just to tune on things, get a little better, make sure both myself and (teammate) JR (Hildebrand) are happy."
PIPPA MANN (No. 63 Dale Coyne Racing Honda): "It's been a tough day for the Susan G. Komen / Dale Coyne Racing team. We picked up a handling issue early on which we were working through, and then just as we thought we were starting to get on top of it, I was caught out in the debris field from Kurt Busch's accident. I'm completely fine, and I managed to avoid all the biggest pieces, but the Susan G. Komen car did collect some of the smaller stuff. One of those smaller pieces got beneath our underwing, and tore a chunk out of the bottom of the car. When we discovered the extent of the damage from debris, we were done for the day.  On a more positive note, we ran through a bunch of practice pit stops, all of which went pretty well, and we got another 37 laps on the board, gaining me experience, and continuing to grow our lap count total for RaceWithPippa.com. We also still have Carb Day so the team will get the Susan G. Komen car all fixed up, pretty and ready to run again so we can continue our race preparation in earnest. It's tough to lose this much valuable track time today, but that's just the name of the game sometimes."
MARTIN PLOWMAN (No. 41 ABC Suppy/A.J. Foyt Racing Honda): "I think we had a very good day. Obviously today we're gearing for the race and I was able to mix it up in some big packs of cars. I was able to drive along with some of the big boys out there – the Penske's and Ganassi's – and I think we have a car that can hang with them. We've definitely improved the car in dirty air. By itself, the car is very balanced and I think we've got a better idea of where we need to improve for Carb Day."
TAKUMA SATO (No. 14 ABC Supply A.J. Foyt Racing Honda): "Today we had a great opportunity to experiment for the race set up after qualifying. We needed to review quite a lot of areas of where we could improve. We tried many items and were able to rule out some things which was good. We had planned to run more but we didn't get the opportunity due to Honda asking us to stop so they could investigate an issue that arose today. It's a shame that we weren't able to get back out to run more in traffic but we will to do so on Carb Day."
TONY KANAAN (No. 10 Target Chip Ganassi Racing Chevrolet): "Today we basically switched back from qualifying mode to race mode.  We ran the Target can in race trim all day, doing long runs and checking on things like setup and fuel mileage.  One more practice to goon Friday then you have what you have for the race.  I think we've made some pretty good gains this week with the cars and am now I'm 100 percent focused on the job we have to doon Sunday."
SCOTT DIXON (No. 9 Target Chip Ganassi Racing Chevrolet): "We have a solid car. It's a fast race car and the Target team has done a great job these last few days.  We worked today on some race setup stuff, as well as some aero changes that I think will help us for the race."
SAGE KARAM (No. 22 Comfort Revolution/Brantley Gilbert Chevrolet): "Things went really well today. Obviously yesterday we just missed something in the setup, and today we made some changes for that and the car was a hell of a lot better. We were really fast today. I was able to run with traffic, run up on guys, and make a lot of passes. Today was a really encouraging day for me and for the team as well because it shows we can get to the front and we can pass anybody. Because of that I'm really looking forward to next Sunday, I think we still have a good shot at this thing."
BUDDY LAZIER (No. 91 Wynn Institute for Vision Research Chevrolet): "I really enjoy being here at Indy, and today was really good for us because we finally got to do some good laps. We did a lot of race set-up stuff. We're starting to work through the process with the team, engineers and David Cripps. Together, we were able to get a decent race car. We certainly haven't been focusing on speed; rather, we're working on the balance of the car. Overall, we're happy with the day, and we certainly feel like we have and can gain much more. It's always frustrating when you feel like you're leaving some on the table, and I know we have left a lot on the table. So a day like today is meaningful and will allow us to have a little more fun on race day."
JUAN PABLO MONTOYA (No. 2 Verizon Team Penske Chevrolet): "For me, what I really tried earlier, was running behind as many cars as possible to get the worst situation possible. I think our Verizon car is pretty good and we'll see what it does. I don't think anybody is happy. It's really neutral by ourselves. It likes snaps and moves around a lot. And then you get in the back of the pack and it doesn't turn. So, what do you do?"
RYAN BRISCOE (No. 8 NTT Data Chip Ganassi Racing Chevrolet): "Overall I would say today was a good day for NTT DATA Chip Ganassi Racing.  We definitely have our work cut out for us with our qualifying position being in the back, but we used today to work on some different strategies that will help to get us closer to the front.  I had a bit of a setback when my front wing was damaged from debris from Kurt Busch hitting the wall, but the crew worked really hard to make sure I got back out there to at least finish the session with some more laps.  We didn't get near as many laps in as some guys did today, but I think we got some really good data we can use to better the car even more for Sunday."
CHARLIE KIMBALL (No. 83 Novo Nordisk Ganassi Racing Chevrolet):  "It was a little different running the Monday after qualifying, usually this is when we're doing media, but I think it was really good for the team.  We did a lot of really effective full-tank running and I think we have a really good race car in the No. 83 NovoLog FlexPen Chevrolet.  Now we'll just tune it up and tweak it a little for Carb Day and look over a few more test items on our list.  I'm excited we were able to put the new Chevrolet engine in and I'm really looking forward to Race Day."
ED CARPENTER (No. 20 Fuzzy's Ultra Premium Vodka Chevrolet):"It wasn't a good day for us after a great day Sunday.  I just glad that the little problems we had today didn't come up Sunday.  We were chasing some electrical issues most of the day.  But we got them sorted later this afternoon.  The car felt good early in the session.  Just wish we would have run more laps.  I'm very glad that JR ran 95 laps and his car was good.  I got one race run in and it very really good.  So I am happy with that.  Disappointing because I wanted to do a lot more work but I feel good about the race car now.  My engineer Matt Barnes said maybe this stuff happened today and now we don't have to touch car because it is good right now."
JR HILDEBRAND (No. 21 Preferred Freezer Service Chevrolet): "I feel good about everything right.  It was good to get in 95 laps today, almost a half race distance.  I think we thought it was going to close on how much downforce we could take off the car.  But we worked hard today in finding the right mechanical setup.  We ran around quite a bit in traffic and that was very useful.  Ed didn't get in as many laps as we did, so hopefully he can take some things from our runs that will be valuable to the No. 20.  We will be ready to hit the track as soon as it goes green on Carb Day.  In the past, I haven't really run too hard on Carb Day. Let's get some pit stop practice and a few laps.  Especially with the limited run time we have had this week, I think we'll run a good amount of laps.  In the last few years, it has been a giant pack of cars the entire race and Carb Day might be the only time you get a realistic feel for what the race will be like.  So I will be pushing to run quite a number of laps on Friday.  The team has done a fantastic job so far with our qualifying runs.  But it doesn't mean anything if we don't have good race cars.  Ed and the team learned that last year.  So we'll continue to work on our setups."