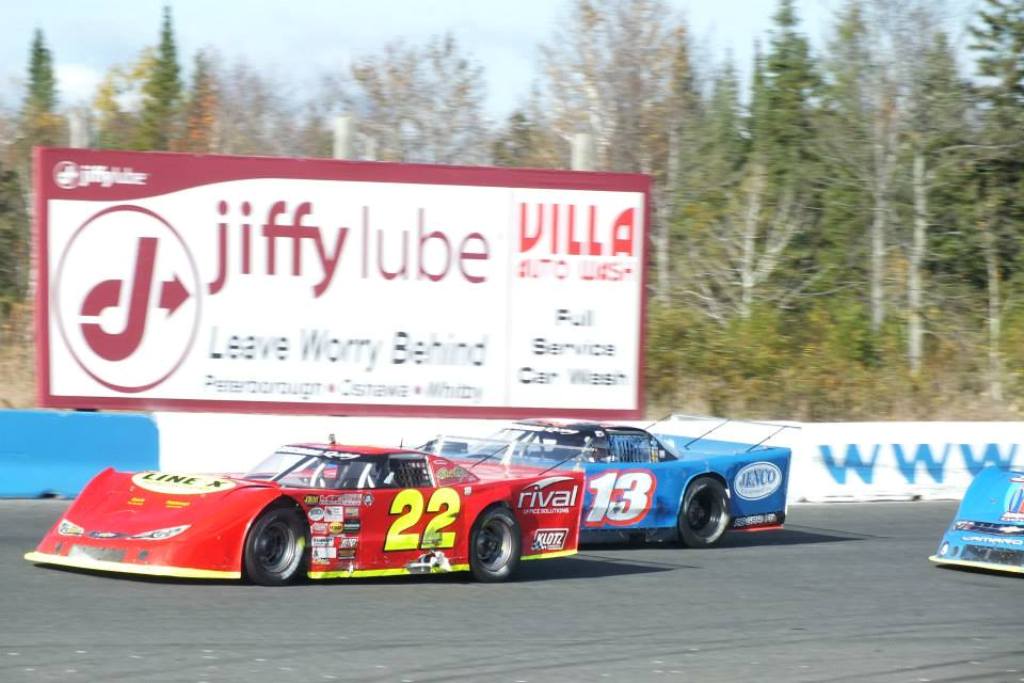 After a thrilling side-by-side race for the lead between Andrew Gresel and Dwayne Baker, the OSCAAR Super Late Models are ready for their second trip of the season to Peterborough Speedway.
Gresel hopes to repeat the results of his previous two trips as he won the Autumn Colors Classic last year, before winning the Chase for the Colors event earlier this month. The victory would put him one step closer towards his first career championship as he currently leads Kevin Cornelius by 41 points with three events left to go in 2014.
Cornelius comes into this weekend looking for redemption as he looked to have the strongest car earlier this month at Peterborough, when a power-steering line would let go while leading the event with 14 laps to go. The KDR Motorsports driver enters this weekend with momentum on his side, following a third place finish at Sunset last weekend.
Coming off a fourth place finish at Sunset, Hanley looks to have the chance to carry the momentum forward – if he shows up. Hanley has had success at Peterborough in the past, too, winning the Autumn Colors Classic in 2009, followed by three more wins. In seven starts at Peterborough, Hanley has finished in the top two in six of them.
Another driver that should be strong is Jesse Kennedy as he finished fifth at Sunset, and led the first 20 laps at Peterborough earlier this month before finishing second to Gresel. In four starts at Peterborough, Kennedy hasn't finished outside of the top 10.
Mike Beyore is hoping to avoid the bad luck that plagued him earlier this season at Peterborough as a breakage in practice sent him back to the shop for parts, before returning to finish ninth in the feature. Beyore has momentum on his side, following a sixth place finish at Sunset. He has success at Peterborough in the past, scoring a heat victory last year before finishing sixth in the feature.
Rookie Dave Doucette hopes to have his season headed down a positive route following a seventh place finish at Sunset. He would post an 11th place finish at Peterborough in his first trip there behind the wheel of a super late model. Another driver that hopes luck is on his side is Todd Campbell, who finished eighth at Sunset Speedway. Campell has finished sixth in his last two starts at Peterborough.
After getting involved in a wreck, Glenn Watson is set to get his season back on a good route as he has been solid as of late, posting a string of podium finishes. One of those podiums this year came at Peterborough at the beginning of the month with a third place finish.  Watson is also a previous Peterborough Speedway winner, winning the Autumn Colors Classic in 2011 and finishing in the top five in 10 of his 14 starts.
John Owen has always been strong at Peterborough, posting a fourth place finish earlier this month. He also finished fifth in the 2012 Autumn Colors Classic for two top-fives in his last four Peterborough starts.
Both Tyler Hawn and Kelly Balson are in need of good runs this weekend following poor showings at Sunset. Peterborough is Hawn's strongest track behind the wheel of his OSCAAR Super Late Model, with a sixth and a seventh in his last two starts on the oval. Meanwhile, Balson knows his way around Peterborough having made a ton of laps in a limited late model; he finished seventh in the spring event. Another driver to watch for a possible turn-around will be Shane Gowan.
Despite having damage in last week's big wreck at Sunset Speedway, Corey Jones has confirmed that he will be in attendance this weekend as he looks to get his season turned back on a good note. On the flip side, Rob Poole announced that he will miss this weekend's race due to the damage that he suffered late in the race.