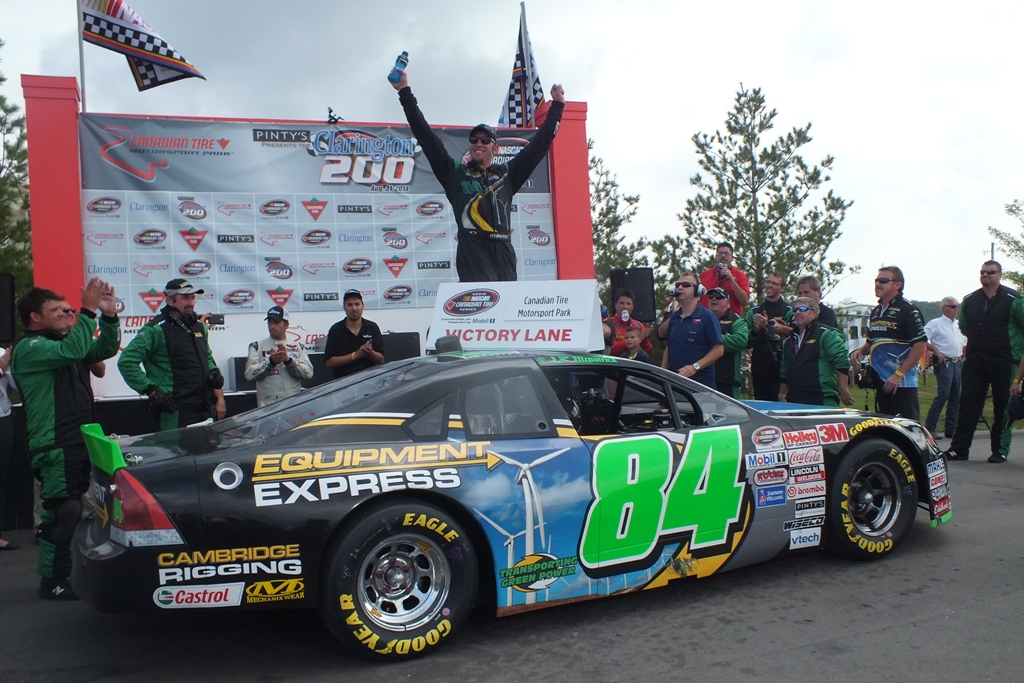 This past weekend at Canadian Tire Motorsports Park, J.R. Fitzpatrick had the day that he wanted as he led the second half of the Pinty's presents the Clarington 200 en route to scoring his second victory of the 2014 season.
"It was a pretty good day," Fitzpatrick said. "The car was kind of off all weekend but we kind of battled back and got it to where it was decent. The track was definitely different with the ratio rubber that the truck guys were putting down, so it is kind of what it is. At the end, there was oil down as well and in three and four, I hit it and Jeff was able to close the gap. I was running scared on the last lap. I figured if I hit again on the last lap, he was going to get me. All in all, a pretty good day."
In those final laps as Lapcevich closed the gap, Fitzpatrick noted that he wasn't looking in his mirror to see what the gap was.
"If you're looking in the mirror, you're not concentrating on hitting your marks all the time," Fitzpatrick commented. "This place is so fast that you miss by your mark, it messed up your time. When I hit that oil, I knew I lost a lot so I knew we were only two tenths difference in speed so after I hit that oil, like I said, I was running scared to make sure that I was as far away as him as I could."
For Fitzpatrick, the victory marks his fifth on the 11-turn road course, a track that he feels fits his driving style based on the fact that it's wide open and you have to attack it.
"This place is really fast. We've just been running good here since we started coming here," Fitzpatrick said. "I'm comfortable, I'm confident every time I come here and really happy with the team now with Beauchamp Engines so that really helped us today. Even if I messed up a little, that Beauchamp horsepower would carry me down the straightaway so it definitely helped me a lot today."
With the victory, Fitzpatrick currently sits 19 points behind L.P. Dumoulin with two races to go. While it is mathematically possible that Fitzpatrick could catch Dumoulin, it isn't something that seems likely based on the season thus far.
"In my mind, points are pretty much down. L.P. just has to finish the next couple of races," Fitzpatrick said. "Unfortunately, we're not getting the car count on the ovals that we're getting on the road courses. Do I feel that I'm better on the ovals? Absolutely, but right now his program is better. I'm struggling this year on the ovals trying some stuff that's not working. We've changed our oval stuff quite a bit. We're going to go test at Flamboro or something and just to deal it out, but I'm pretty sure that points are done."
With only 15 to 17 cars showing up for oval events, it makes it harder to make up the point deficit should Dumoulin have any problems. A lot of people have questioned through the years as to why the NASCAR Canadian Tire Series can have over 25 cars at a road course, but can't crack 20 for the ovals. Fitzpatrick notes that more drivers feel attracted to road courses versus ovals because if the car is off, the driver can make it up.
"The driver can change the line, shift the brake points. The driver can do a little more to get more out of the car than they can on an oval," Fitzpatrick explained. "We're seeing it this year. Guys are going down into the states and getting all the technology up here and if you're off by a year, you're totally screwed. We tried to leap another year at the start of the year and it really start off. If the cars not perfect on ovals, its tough and a lot of people, I think, are attracted to more road courses.
"Not that it's a bad thing; it's just I don't want to go all road courses honestly. That's not me. I love the beating and banging and throwing stuff – you know how it goes – that's the excitement of Barrie Speedway. That's the next race for us. A lot of stuff happens there and the fans like it – just wish we could get more cars."
Though for that moment on Sunday, everything else didn't matter as Fitzpatrick's 10th career victory in the series meant the first having his daughter in victory lane with him.
"It's very special. She was in the hospital for five months there," Fitzpatrick reflected. "Obviously she was sleeping while on the podium, but it's just cool that we can have the pictures with her here. It's very special and I'm glad that she's here."