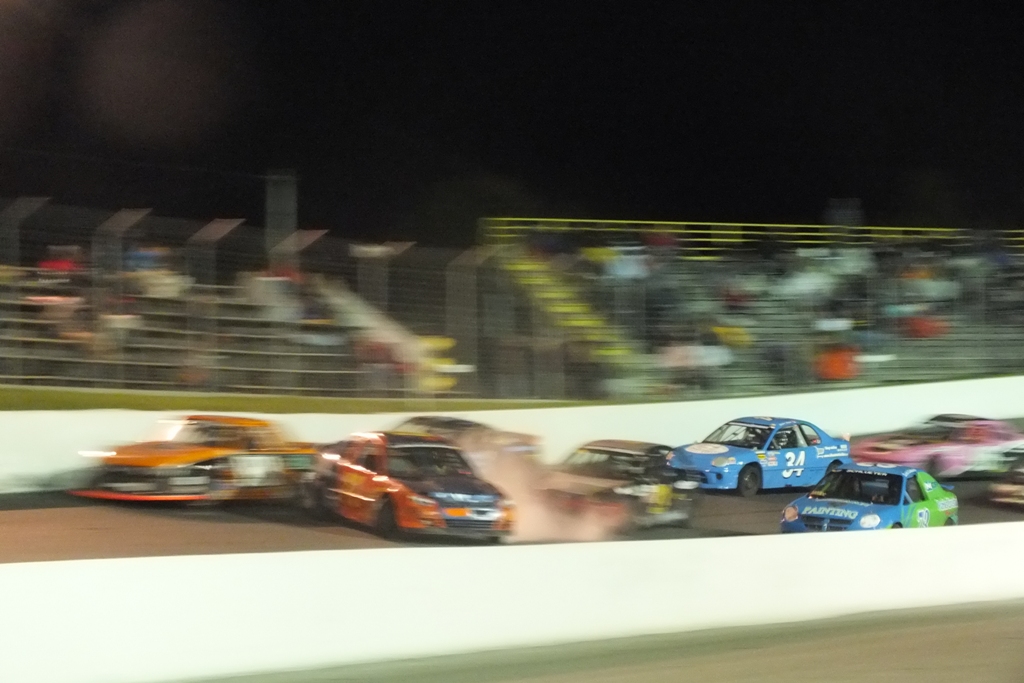 On Thursday night, 53 Mini Stocks showed up for the Frequent Flyer 50 presented by SL Promotions. The night was filled with lots of action from top to bottom, with cars sliding sideways and battling for every spot as hard as they could. Clear example is the main cover photo for this article. Believe it or not, that should've, could've, would've turned into the 34 climbing the car a little and the 96 sustaining some front end damage. However, it could've been much worse?
Are you ready to do this all over again? That's the plan this weekend as this time it'll be 30 laps, but it should still produce the same thrilling drama.
Without furtherado, here are 20 drivers to keep your eye on.
Brandon McFerran – The 2014 Sunset Speedway Mini Stock Champion has led the charge this year all season long. The 15-year-old won eight features en route to scoring his first ever division championship. With the No. 64 Mustang being one of the quickest car – if not the quickest car – at Sunset Speedway this season, look for McFerran to try and add an explanation mark to his season.
Andy Kamrath – After scoring multiple Late Model victories, Kamrath moved to the Mini Stock division this season. He has been successful so far this year, winning the Spring Derby 35 and both rounds of the Mini Stock Nationals at Kawartha Speedway. Oh, and he won the Frequent Flyer 50 in dominating fashion by leading every single lap. If Kamrath has the car set up to his liking, he'll be one to watch.
Warren Paxton – The 2013 Sunset Speedway Mini Stock Champion has ran a limited schedule this year, but not without success as he was able to visit victory lane. Not showing the same amount of speed as we're used to seeing out of the No. 33, it'll be interesting to see how Paxton makes out.
Tyler Junkin – Peterborough Speedway front runner Tyler Junkin is always a threat to win when it comes to the big money races. His No. 41 is always fast, no matter the track that he attends, and he has visited Sunset Speedway's victory lane previously.
Ryan Babin – An Autumn Colors Classic Champion, the 2014 Peterborough Speedway Champion will certainly be ready to go as he had one of the quickest cars all year at Peterborough and is looking to take his show on the road before giving his ride a new home.
Cory Young – This season, Cory Young was able to visit victory lane on multiple occasions at Full Throttle Speedway and will be looking to keep that trend going despite the change in venue. Young has been fast at Sunset Speedway in the past so don't try counting him out of the running, either.
Mike Gettliffe – The 2013 Barrie Speedway Champion is looking to come out strong with a solid run. He has posted strong finishes when running with Sunset's regular crowd on some nights so with some experience on his side, he may have the upper-hand versus some of the other out of town drivers.
Samantha Shaw – Fresh off of her victory to close out the year, Samantha Shaw is looking to keep the positive momentum going. She had a small hick-up on Thursday after contact took her out of the running. However, that shouldn't get her down too far. Showing a ton of speed the second half of the season, posting multiple podium finishes – can she do it again?
Billy Schwartzenburg – Her Spira Racing teammate will be looking for the victory after posting a win at Sunset earlier this year and finishing third on Thursday. The 2014 Sauble Speedway Champion has shown speed across the province, sometimes looking unbeatable. Will he return to that fame on the big stage tonight?
Jake Watson – Jake had a solid first season at Sunset Speedway, fighting through the tough moments to finish top 10 in points. Continuing to get stronger with more laps behind the wheel, Watson is hoping to qualify for the big event and post a solid finish.
Jordan Howse – The 2014 Sunset Speedway Rookie of the Year turned a lot of heads en route to finishing third in points with a bunch of top-five finishes, including some runner-ups. One of the best young talents in the province, Howse will look to put the whole province on notice during the post-season.
Miles Tyson – Tyson has shown a lot of speed in his career, highlighted by a victory this year. It'll be interesting to see how Tyson runs as he has been strong, but also has had some not so strong nights so if he has his ducks in a row, keep an eye on him.
Ben Melenhorst – Ben Melenhorst is one of the veterans of the mini stocks despite being young in age. He knows what it takes to win and has had the car in the past to do so. With this being a long distance event, it could fall into his wheelhouse with needing to have the car at the end of the race.
Billy Melenhorst – He may be the little brother, but don't count him out either as he has been faster than his bigger brother on a couple of occasions and also knows how to wheel a Mini Stock.
Gehrig Halliday – After watching his sister Lauren drive all season, Gehrig Halliday is set to return the driver's seat and try and find the speed that brought him to some solid top-five finishes throughout his rookie season last year.
Nick Clarke – The Full Throttle Speedway winner has confirmed that he will be in attendance as he looks to have some success at Sunset Speedway after a solid run on Thursday night.
Terry Woodley – Not known as one of the strongest cars, Woodley's strength has been consistency. He has consistently put up top-10 finishes this year to finish sixth in Sunset Speedway's standings. No doubt he could be a dark-horse to watch to sneak in and steal some of the action in the top 10.
Bryan Sudsbury – The Late Model veteran will be behind the wheel of the No. 39B. The car has a history of visiting victory lane with Cory Young at the control. Sudsbury knows how to wheel a Late Model to victory lane. Are we looking at a power dual together?
Lance Foster – Foster knows how to wheel a Mini Stock as he posted a solid ninth place finish last Thursday. A solid front runner, he will be looking for success this weekend.
Gerritt Tiemersma – The second generation driver has improved with each lap behind the wheel, posting top-fives throughout the year. After posting a solid 10th on Thursday night, he'll be looking for some improvement this weekend.
Here are some others to expect in attendance:
Phil Givens – #77 Full Throttle Speedway
Steve Love – #40 Sunset Speedway
David Collins – #16
Pete Gettliffe – #71 Barrie Speedway
Jerry Noble – #31 Sunset Speedway
Brandon Crumbie – #68 Barrie Speedway
Tim Tolton – #35 Full Throttle Speedway
Dave Middel – #15 Sunset Speedway
Wendy Adams – #78 Sunset Speedway
Scott Schlueter – #77 Full Throttle Speedway
Charlie Smith – #1 Barrie Speedway
Nic Montanari – #98 Sunset Speedway
Kevin Strutt – #34 Peterborough Speedway
Willy Howells – #19 Kawartha Speedway
Kendra Adams – #2 Sunset Speedway
Candiss Everingham – #23 Sunset Speedway
Ken Townsend – #21 Sunset Speedway
Ryan Toon – #57 Barrie Speedway
Shawn Gerrior – #87 Sunset Speedway
Treyten Lapcevich – #32 Sunset Speedway
Eric Rainey – #12 Sunset Speedway
Chandler Bois – #22 Sunset Speedway
Bob Phinnemore – #12x Sunset Speedway
Eric Yorke – #51 Sunset Speedway
Lisa DeLeeuw – #84 Sunset Speedway
James Townsend – #14 Peterborough Speedway