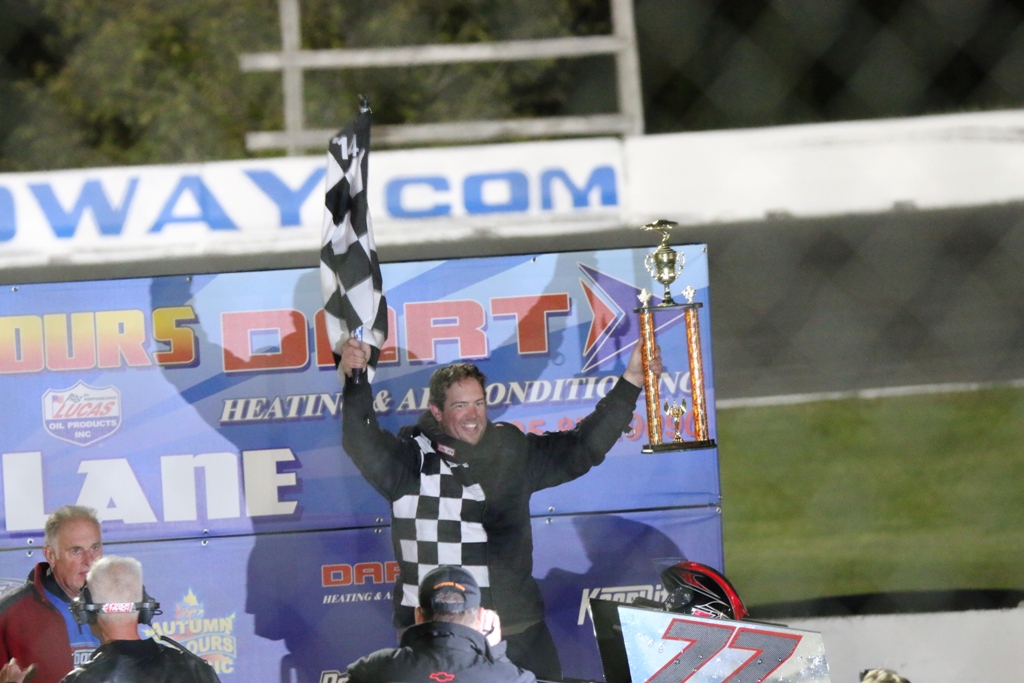 In the final event of the season, James Rodgers got to feel what its like to visit victory lane as he would score the victory in the Autumn Colors Classic feature at Peterborough Speedway.
After flipping over at Sunset Speedway, Larry Lawson bounced back to pick up the victory in the first heat, ahead of Shawn Gardner, Josh Read, Ryan Brown, Brad Holmes, Katherine Summers, Dave Burrows, Shawn Stanley and Eric Davis.
Mike Bradley would win the second heat ahead of Lorne Van Dusen, Adam Carrothers, David Gallinger, Robin Mclean, James Stanley, Robert Summers and the 37.
The final heat would go to Rodgers ahead of Brian Woodland, Rob McCall, Jamie Bound, Paul Draganac, Richard Woodland, Owen Elliott and Mike McLaughlin.
Owen Elliott would win the b-main ahead of McLaughlin, Stanley, Robert Summers, Eric Davis, the 37 and Dave Burrows. Jessica James would pull off on lap two with a mechanical issue.
Come feature time, it'd be Jessica James starting on pole ahead of Larry Lawson, Ryan Brown, David Gallinger, Mike Bradley, James Stanley, Robin McLean, James Rodgers, Rob McCall, Paul Draganac, Richard Woodland, Jamie Bound, Adam Carrothers, Shawn Gardner, Owen Elliott, Mike McLaughlin, Shawn Stanley, Robert Summers and Eric Davis.
The action would break out immediately with a multi-car wreck on lap two involving the 92, McCall and Robin McLean. McCall and McLean would head down pit side due to damage, while Elliott would get the hook due to his damage. Once back under green, the battle for the lead took off with Lawson taking the lead on lap four, before Rodger took the lead on lap five. Bradley would head down pit road at lap eight due to issues, however wouldn't make it all the way into the pits so therefore the officials would throw the flag. With 22 laps to go, Rodgers led Draganac, Brian Woodland, Lawson, Carrothers, Brown, Bound, Gallinger, Stanley, Dusen, Read and Richard Woodland.
Rodgers would get a good restart to hold on to the lead while Doug Galt would run into mechanical issues at lap 10. the caution would come out with five laps to go as a result of Brown spinning around in turn three and four. With five laps to go, Rodgers led Dragnac, Brian Woodland, Carrothers, Bound, Richard Woodland, Read, Dusen, the 87, Lawson, Stanley, McLaughlin, Summers and Davis.
James Rodgers would get a good restart to take home the victory for his first career Hurricane Midget feature victory. Paul Draganac would finish second ahead of Brian Woodland, Adam Carrothers and Richard Woodland. Jamie Bound would finish sixth to be crowned the 2014 Hurricane Midget Champion.