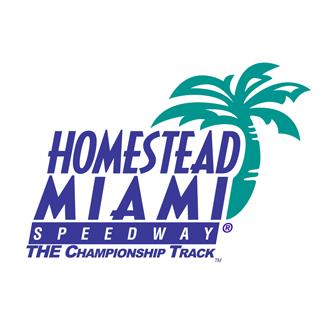 Homestead, FL (November 15, 2014)-With the 2014 season coming to a close, Eric McClure earned a track-best 26th-place finish in Saturday night's Ford EcoBoost 300 at Homestead-Miami Speedway and concluded the season 19th in NASCAR Driver Standings.
Despite posting a track-best qualifying effort of 27th to start the 200-lap event, McClure lost eight spots in the opening laps as the No. 14 Camry lacked both front and rear grip. The team addressed the handling issues during the lap 33 caution, but by the time the second caution flag waved on lap 73, the car was tight once again. After pitting for tires, fuel and adjustments, McClure lined up 35th for the restart. Eleven laps into the next run, McClure not only reported a vibration, but also informed the team that the car was still too tight in the turns. As luck would have it, the caution flag waved one lap later allowing the team to change tires and make additional adjustments. Although McClure restarted 35th on lap 95, he was able to drive his way up to the 33rd spot by the halfway point of the race.
Even though the car's handling showed slight improvement during the initial part of the green-flag run, allowing McClure to advance to the 31st spot by lap 112, it became tight once again, as the race progressed. Rather than pitting when the caution flag waved on lap 118, the team decided to gamble and wave around. Nine laps later the race pace slowed enabling McClure to bring the No. 14 Hefty®/Reynolds Wrap® Toyota to pit road for service. Once the four tire and fuel pit stop was complete, McClure was scored in the 30th spot, one lap down to the leader. He maintained his position until the yellow flag was displayed on lap 144. The wave around opportunity once again presented itself to the team and McClure returned to the lead lap in the 28th spot when the race resumed on lap 147.
During the remaining laps, the caution flag waved four additional times, one of which forced the originally scheduled 200-lap event into overtime. After the green flag waved for the final time, McClure advanced two positions in the final three laps to post a 26th-place finish in the Nationwide Series season-finale at Homestead-Miami Speedway.
Eric McClure Quotes:
"I'm really proud of our team tonight. I'm proud of how we never gave up and how we fought together all night. The car was up and down all night but Wes and the guys made good adjustments.   We had a little good fortune on our team for once and I ended up with a solid lead lap finish to close out the season. I know we all want to finish better, but it was a good comeback for our group. I'm so appreciative to our team as well as Hefty® and Reynolds Wrap® for their support throughout the season."