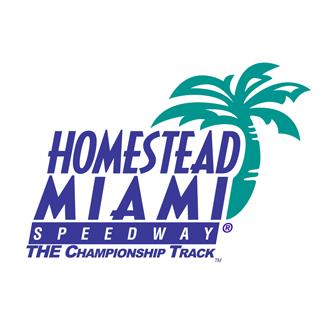 HOMESTEAD, Fla. (November 15, 2014) – The final race of the 2014 NASCAR Nationwide Series was all about small victories for James Buescher and the No. 99 Rheem / RAB Racing team. Throughout the 2014 season, the Rheem Toyota team seemed to run into bad luck everywhere they turned. A solid result in the Ford Ecoboost 300 at Homestead-Miami Speedway would put all that behind them ending into the off-season. Tenth in points was also up for grabs, Buescher came into the final race of the season tied in the driver point standings. The 24-year-old started the scheduled 200-lap race from the 24th position. It didn't take long for the Texas native to report back to his Rheem crew that his Rheem Toyota Camry was extremely loose, especially in Turns 3 and 4. Trying to hang onto the No. 99 Rheem Camry until crew chief Matt Lucas got an opportunity to work on it, Buescher settled into a groove mid-pack. As the sun started to set behind the grandstands in Turn 1, the No.99 Rheem Toyota Camry started to come to life. Buescher started his march forward and stayed in contention of passing his closest competitor in the points standings. After tuning on the Rheem Camry a handful of times throughout the race, the Rheem pit crew got one more opportunity with fewer than 30 laps to go. Just like the previous stops of the evening, the Rheem pit crew was able to pick up a handful of spots, keeping Buescher in contention of a solid result. A flurry of yellow flags were displayed at the end of the race that resulted in a green-white-checkered flag attempt, Buescher fell just behind his closets competitor as the white flag was displayed but Buescher never gave up and was able to get outside of him in Turn 4 and drag race him to the checkered flag. Buescher won that battle and secured the 18th position in the Ford Ecoboost 300 as well as the 10th-place in the 2014 NASCAR Nationwide Series drivers points standings.
James Buescher Quote: 
"It was definitely a challenging year, not one that we had expected. We all came into this season hoping for top-10's and top-fives but it seemed like bad luck seemed to bite whenever we thought we were able to get away from. Tonight was all about small victories, my goal was to give my guys a solid result to close out the year. My car was just too loose entering the turns the whole night and we lacked some speed on the restarts but my pit crew was able to keep us in contention gaining us four and five spots every stop. I'm also really happy that we were able to secure 10th in points. It was another goal that we had going into this weekend so it was a small victory. I can't thank everyone at RAB Racing enough for all the hard work and never give up attitude all year long. I also have to thank Rheem Manufacturing, Inc, for the partnership over the last two yeas. I also can't leave out Toyota, Windows, Zeal Optics, Bell Helmets and Ariat Boots.
| | | | |
| --- | --- | --- | --- |
| First Practice | Position: 28 | Fastest Lap: 33.581 sec. | Laps: 3 |
| Final Practice | Position: 22 | Fastest Lap: 32.981 sec. | Laps: 35 |
| Qualifying | Position: 24 | Fastest Lap: 33.402 sec. | |
| Race | Position: 18 | Laps Completed/Total: 206/206 | |
About RAB:
Originally founded in 2005, RAB Racing with Brack Maggard is a Concord, North Carolina-based auto racing team that fields entries in the NASCAR Nationwide Series. RAB Racing has fielded entries in the ARCA Racing Series, NASCAR Camping World Truck Series, NASCAR Nationwide Series, and the NASCAR Sprint Cup Series. This season will mark the sixth season of full-time NASCAR competition for the organization. With the support of Toyota, RAB Racing is poised and ready to take the next step in capturing the organization's first NASCAR Championship. To learn more about RAB Racing, visit
www.TeamRAB.com
.