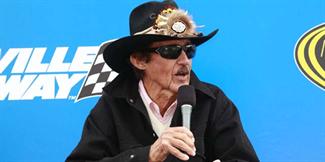 NASCAR legend Richard Petty was presented with a Gregor Grant Award at the 2014 AUTOSPORT Awards.
Nicknamed 'The King', Petty's extraordinary list of achievements in stock car racing includes a record 200 top-level race wins, seven Daytona 500s and seven championships.
His career in NASCAR's premier championship spanned a remarkable 34 years, from 1958 to 1992.
After collecting his award and watching a montage of his career highlights, Petty said: "You see me wrecking more than you see me winning!"
When asked to recall his greatest achievement from his long career Petty summed it up in one word: "Surviving."
After watching a reply of the last lap collision between Petty and David Pearson at the 1976 Daytona 500, he said:
Petty's first title, in what was then the Grand National series, came in 1964, and was followed by further crowns in '67, '71-72, '74-75 and '79.
He was involved in some of NASCAR's most famous incidents and rivalries, including a final lap collision with David Pearson as they fought for victory in the 1976 Daytona 500. Pearson took the honours on that occasion by crossing the finish line on the grass following their clash.
That incident was replayed for the AUTOSPORT Awards audience as Formula 1 legend Sir Jackie Stewart presented Petty with his award. Stewart had been among the commentary team for that Daytona event and many others in Petty's heyday.
"That was what's called a racing accident – I was trying to get to the same place he was trying to get. It didn't work out too good," said Petty.
"More people remember that race than the seven [Daytona 500s] I won."
After presenting Petty with his award, Stewart said: "I've been lucky enough to see Richard race a lot and this man has a bigger following than anyone in the history of motorsport. When people see him walking down the pitlane – he is the King. It's doesn't get much better than that."
Now aged 77, Petty remains an ever-present figure in the NASCAR paddock at the helm of his Richard Petty Motorsports team.