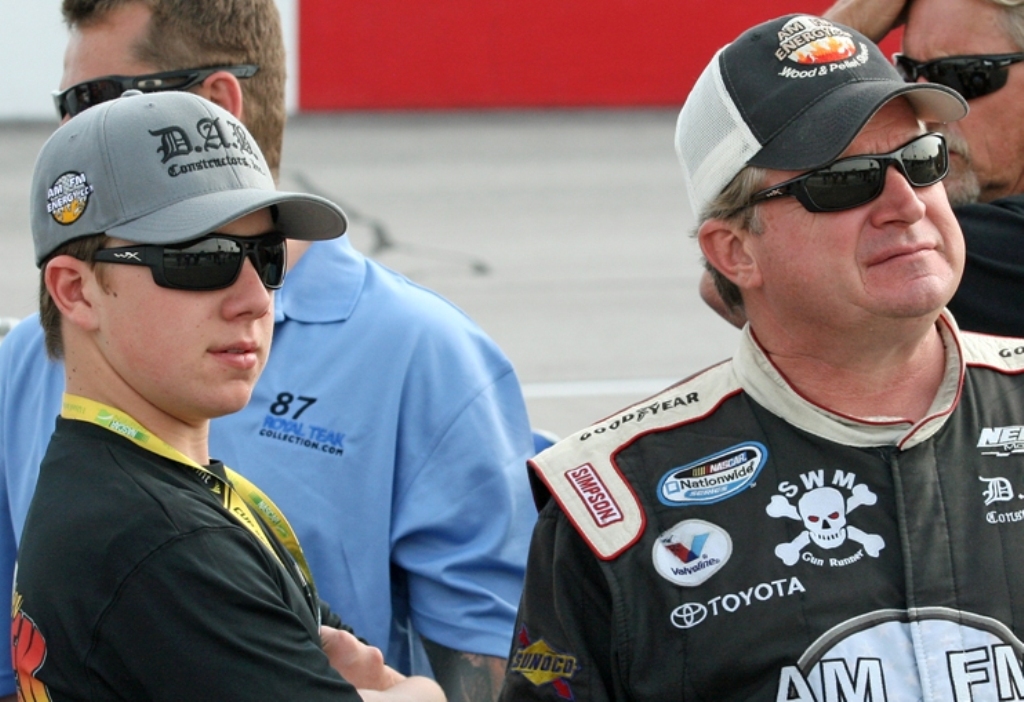 Beginning his racing career on go-karts, John Hunter Nemechek has been working at climbing the racing ladder ever since. From go-karts to motorcross, there was a possibly that he would find his racing career on two wheels. However, that all changed with one decision.
"I decided to get back in stock car racing as I was tired of getting hurt," Nemechek recalls.
After clibming back behind the wheel of a stock car, Nemechek has been on the rise ever since, impressing fans and media alike each step of the way. After a successful season in 2014, Nemechek is set to tackle another year of NASCAR Camping World Truck Series racing behind the wheel of the No. 8 SWM-NEMCO Motorsports Chevrolet.
"With the success that we had last year, I am looking forward to the upcoming season," Nemechek commented last week. "I think we're set to have a good year with the team that we've assembled."
At the age of 17, Nemechek will start the year off by splitting the schedule with his father Joe, running the races that he is allowed to run. Drivers that are under the age of 18 are only allowed to run at tracks lesser than a mile and a half, dirt tracks, and road courses. Once Nemechek turns 18 on June 11th, he is expected to run the rest of the schedule from that point on.
The pair split the schedule last year, in which Nemechek expressed that it allowed them to grow closer together.
"It's been great," he expressed. "It's made us a lot closer in the last three years than my whole life. Before he was always at one end of the States racing somewhere, and I was somewhere else. I've learned a lot as he's taught me so much from the 20 year career that he has had to date."
In his 10 starts, the younger Nemechek put together six top-10 finishes, including a career-best fifth at New Hampshire Motor Speedway.
"I felt that we had a lot of success for the small team that we have between my father and I with a couple of strong runs," he commented.
Nemechek will make his 2015 debut at Martinsville, in which he is "looking forward to getting there and having a good run" after posting 11th and 13th place finishes last year. With their success last year, Nemechek feels that between him and his father, they can put together a three-win season.
"Between me and my dad, I think we can do it with what we've put together for the upcoming year," he added.
Most recently, NEMCO Motorsports announced that they will switch from Toyotas to Chevrolet for 2015, running Earnhardt Childress Racing engines.
"We look forward to joining the Chevrolet NASCAR program this season," Joe Nemechek said per the press release. "I've had a long-term relationship with Chevrolet for the majority of my career and I look forward to continuing that relationship."
While the 17-year-old had success last year in the truck series, he also ran some late model races throughout the year. Most notably, he capped off the 2014 season of racing with a victory in the prestigious Snowball Derby at 5 Flags Speedway in Florida.
"It means the world to me," he commented of the victory. "Ever since I saw that trophy, I've wanted to win it. In 2013, we had a decent car but we're caught up in a wreck. This year, we weren't that good in practice on Saturday, but we were able to stay out of trouble and to be there at the end. It's definitely the most memorable win of my career."