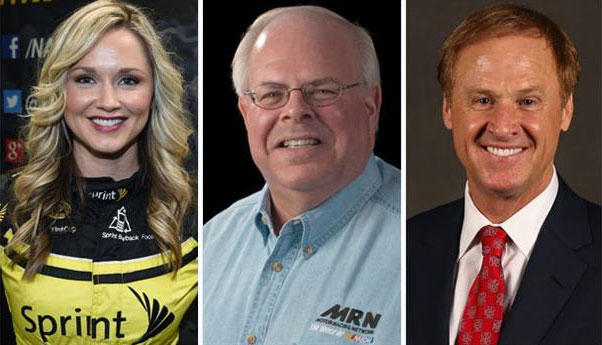 CONCORD, N.C. – Motor Racing Network – launching its 46th year on the air – has announced the addition of former Miss Sprint Cup Kim Coon and the return of veteran voice Eli Gold to its NASCAR Sprint Cup Series lineup for the 2015 season, which also will feature Hall of Fame driver Rusty Wallace.
Coon's duties will include reports from pit road during the network's Cup Series qualifying shows, and interaction with fans via social media and on the air during MRN's race coverage. Gold was a vital cog in the network's formative years and is one of its most recognizable talents after more than three decades on the air. He will host MRN's pre-race and post-race coverage of the Sprint Cup Series, and provide in-race updates. Coon will join Gold as a contributor to the pre-race show.
Wallace, the 1989 Cup Series champion, was inducted into the NASCAR Hall of Fame in February 2013. He'll bring a driver's perspective to MRN programming in 2015 with a presence during select race broadcasts and on weekly network shows, and provide commentary and content at MRN.com.
"The addition of Kim Coon and the return of Eli Gold to our Sprint Cup Series lineup bolsters a roster of broadcast and racing professionals who will continue to produce quality content as we head into our 46th year as 'The Voice of NASCAR,' " said MRN President and Executive Producer David Hyatt. "We welcome Rusty Wallace to MRN and the International Speedway Corporation family, and look forward to having him at many of our venues throughout the 2015 season. As the broadcasting landscape changes and the digital platform continues to evolve, Motor Racing Network will navigate this ever-changing terrain with the best team in motor sports."
Coon, a Florida native, spent four seasons (2011-2014) as Miss Sprint Cup and is one of only 11 ladies to fill that role. She appeared at more events than any other Miss Sprint Cup in the history of the program. Coon helped activate the series sponsor's strategic plan through social media, broadcast channels and trackside events. Her background includes marketing and public relations experience with Charlotte, N.C.-based agencies in the years preceding her stint with Sprint.
Coon is a graduate of the University of Miami and earned a Master's Degree in Communication from the University of Alabama in 2007.
Gold also has ties to the Crimson Tide as the radio voice of Alabama football. But to NASCAR fans, he's best known for his work on the Motor Racing Network. Since 1984, Gold has hosted "NASCAR Live" each Tuesday evening and will continue to do so as a complement to his new assignment in the Sprint Cup Series.
Motor Racing Network's 2015 event broadcast schedule will begin Friday, Jan. 30, with exclusive radio coverage of the sixth annual NASCAR Hall of Fame Induction Ceremony from Charlotte. Air time will be 7 p.m. (ET) with live streaming at MRN.com.
Coon's debut will follow with MRN's coverage of Budweiser Speedweeks at Daytona International Speedway, which will begin Feb. 13 and culminate with the 57th running of the Daytona 500 on Sunday, Feb. 22. Joe Moore and Jeff Striegle will anchor Motor Racing Network's broadcast of "The Great American Race" starting at 12 p.m., also with live streaming at MRN.com.