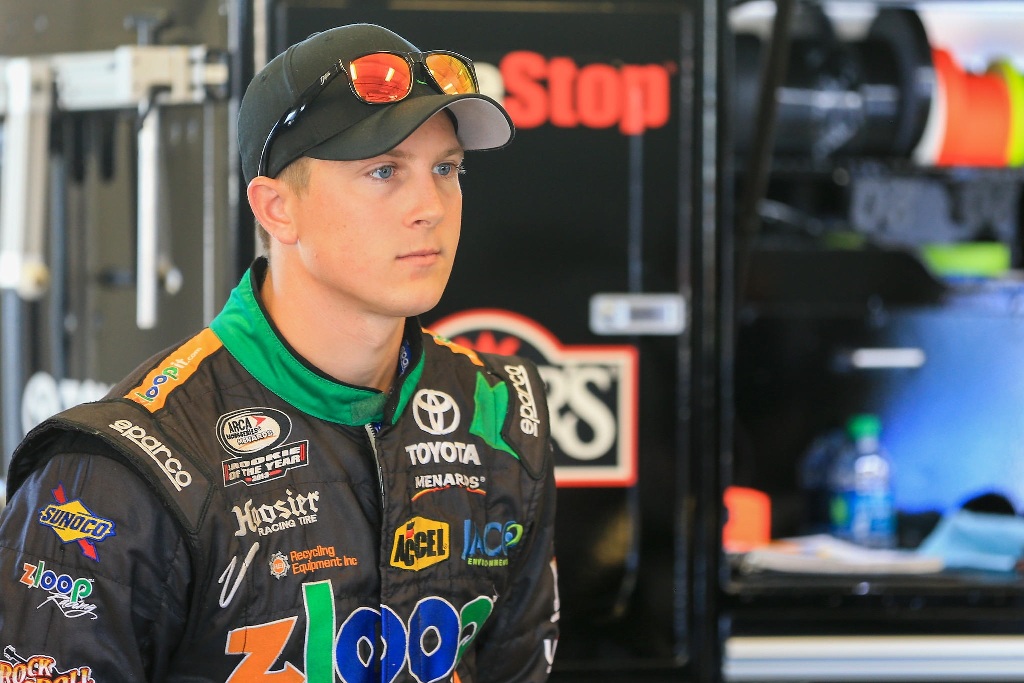 While he has proven to be a good stockcar driver, Boston hasn't always been on four wheels. He originally got his start in motocross at the age of five after getting a bike for his birthday.
"Really, I guess my parents never wished that they got me a dirt bike because it opened a can of worms that they weren't prepared for," he commented.
Over time, Boston made the transition from two to four wheels and is set to embark on his biggest challenge yet.
Following success in the ARCA Racing Series the past two seasons, Justin Boston is set to take the next step in his career – running the full NASCAR Camping World Truck Series schedule for Kyle Busch Motorsports.
"First of all, I'm excited and really just ready to go," Boston told OnPitRoad.com. "It's been a lot of work getting to this point over the past two seasons racing ARCA. To be able to get to this point in my career there's been a lot of work done behind the scenes. To be able to go racing full-time for Kyle Busch Motorsports is a huge honor and really excited to drive the trucks. They have good support from Joe Gibbs Racing and Toyota Racing Engines, and to be able to drive for them is a huge honor. I'm ready to go and put down the results."
Boston said the deal started to come together during the second half of 2014 as he was looking to run some truck races last year to see where he was at. However, instead, he would end up running a pair of XFINITY races for Joe Gibbs Racing, doing well in both with a ninth at Kentucky and 12th at Dover.
"After that, we realized that we wanted to keep that trend and be affiliated with Joe Gibbs Racing, and Kyle Busch Motorsports is definitely affiliated with Joe Gibbs Racing," he explained. "Everybody at that organization – top-notch caliber talent and equipment. I think that's the place that I really need to be and after working on stuff as a team, we got into heavy conversations. At that point, we knew Darrell (Wallace Jr.) was leaving so we knew there'd be some truck open with the possibility of me running. Mainly, it was just a factor of getting all the puzzle pieces together."
With the success that KBM has had over the last couple of seasons combined with his ARCA success, Boston is set to come out strong in his rookie year and contend for wins en route to hopefully scoring the coveted Rookie of the Year Award. Using his teammate Erik Jones as a benchmark, the Maryland native believes that he has his predictions on the right track. Jones has ran 17 races the past two years for KBM, scoring four wins, seven top-fives and 13 top-10s.
"I'm looking forward to working with him," Boston added. "We've worked together in the past. He's in a good position to go for a championship and if I can lean on him and he can lean on me some too, I think we can be in a really good position to take a lot of trophies home."
Certainly there will be pressure for Boston to produce those results, given KBM's track record of producing winners out of each driver that steps into their trucks. Though rather than focus on the pressure, Boston says the performance standard set by KBM is reassuring because with the right equipment, he knows that he can get the job done.
"It's reassuring because I know that I have the equipment and people behind me," he commented. "Your equipment is only as good as your people, and when you have a team like that around you, it's reassuring. I know there's a lot of eyes on KBM and people expect results and that's what I plan to do. I don't really have any nerves about it. I'm just excited to have the chance to go drive for them and I think it will be a really successful 2015. It's definitely a good place to be."
Boston is hoping to put together a good year after falling just short of his goals last year in the ARCA Series, finishing fifth in points with two wins and seven top-fives in the 20 races.
"It could've been a lot better," Boston admitted. "We had a lot of bad luck in certain races, which pretty much determined what we were going to do as far as championship. I felt like our team was way better than where we finished. It's a missed opportunity, but we got the chance to run up front, win a couple of races and get some poles. I felt like we did a good job, but it could've been better.
"We're all going for wins and championships and we fell short of that, so I'm looking forward to trying to get a championship in 2015 with KBM. They have the equipment to do it; it's just up to us to put races together and not get knocked out of races."
In trying to produce those results, there's a good support system as he has Kyle Busch right there to offer advice. Boston has gone to Busch for advice before, while running the XFINITY race at Dover. Struggling during the first practice, he went to Busch between practices to get some advice and it helped. For a rookie driver, Boston says it's huge to have someone to talk to between practices that has experience, whether it be Busch or Jones.
Boston and Jones have worked together before, both racing in ARCA underneath the Venturini Motorsports banner. Boston says that the pair should work well together based on how they have been groomed, and due to similar driving styles.
"I think that's a really good advantage to us to have two guys with similar driving styles so our set-ups are close so we can try things and really get a good database going on things," Boston added. "Back to Kyle, I think it's huge to have him. To be able to go to him at any time and ask him certain things, I think it's huge for me as a driver and will help my career and progression in racing.:
Getting into the year, Boston is looking forward to getting to all the tracks, especially Eldora Raceway.
"I really like dirt racing and the dirt races in ARCA were a lot of fun to run," he commented. "I think Eldora will be fun to run. To go and run at a prestigious track like that in a NASCAR event should be a lot of fun. There's others that I'm looking forward to as well, but I think that'll be a lot of fun to run."