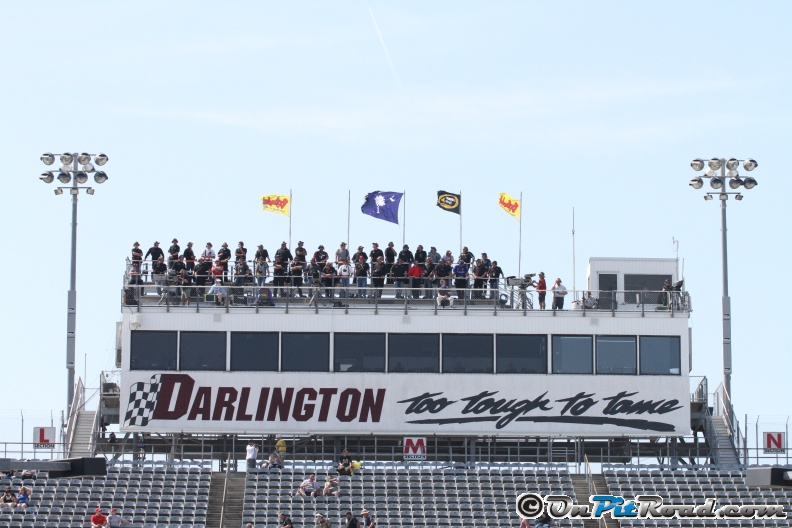 DARLINGTON, SOUTH CAROLINA (Jan. 26, 2015) – With the Bojangles' Southern 500®returning to Labor Day weekend in 2015, Darlington Raceway is excited to announce it will commemorate its history with a retro-style ticket that will be issued for its events on September 5-6, 2015.
The design will incorporate the look of the 1974 ticket. It features South Carolina and Darlington Raceway legend Cale Yarborough, who was highlighted as the defending champion in 1974 after winning his first careerSouthern 500 in 1973.
The ticket will also link eras by honoring last year's Bojangles' Southern 500 winner and the 2014 defending NASCAR Sprint Cup Series champion, Kevin Harvick, in a similar fashion.
These special tickets will be used for the NASCAR Sprint Cup Series Bojangles' Southern 500 and NASCAR XFINITY Series VFW Sport Clips Help A Hero 200 races. Tickets are expected to be mailed to all customers starting in mid-June.
"We announced in December that we would make some exciting announcements each month leading into our race weekend. This new ticket design will be unique for our fans because it captures our storied history with a retro feel and celebrates our defending race champion Kevin Harvick," track President Chip Wile said. "This is just one of many initiatives we have planned over the next several months as we celebrate the tradition returning to Labor Day weekend in September."
In addition, Darlington Raceway will introduce a "Fan Hall of Fame" program. The program will honor longtime ticketholders and supporters of the track. A minimum of five fans will be selected in the first year and will be honored during Bojangles' Southern 500 pre-race ceremonies. Fan Hall of Fame members will be asked to provide feedback and ideas to the track in future years, serving in a Fan Advisory Board capacity.
"We have many loyal race fans who have attended events here for decades, so it only made sense to thank and celebrate them through this new program," Wile said. "Our fans are the number one reason Darlington Raceway has enjoyed a history steep in tradition. Without them, we would not be in existence today. Their stories are what we need to recognize and honor moving forward."
Ticket renewals have been mailed reminding fans to renew their seats for the 2015 Labor Day race weekend.
Renewing your tickets early guarantees your seats at the best prices available prior to the opening of all remaining seats to the general public on February 18.
"We want our fans to take advantage of all the great pricing and benefits we offer during the renewal period," Wile said. "This is the best way to guarantee your seats or campsites when NASCAR racing returns to Labor Day weekend at Darlington Raceway. This is going to be one of the most exciting events of the season, and we encourage everyone to get their tickets now and start preparing as the Tradition Returns to Darlington Raceway on Labor Day weekend in 2015!"
Renewing customers receive many great benefits for being a loyal customer, including the raceway's best pricing for Labor Day weekend.
Renewal benefits include:
The track's best prices for the Bojangles' Southern 500
Flexible six-part payment plan option
Opportunity to auto renew for three or five years at 2015 pricing
Special renewal pricing for Darlington Stripe Zone Hospitality ($30 savings)
Special renewal pricing for pre-race pit passes ($5 savings)
Special renewal pricing for driver intro/pre-race concert access ($10 savings)
Special renewal pricing for FanVision rentals ($15 savings)
Special renewal pricing for Racing Electronics scanner rental ($10 savings)
Guests may renew their tickets and campsites by calling 866-459-RACE (7223) or visitingwww.DarlingtonRaceway.com/renewals. The renewal deadline is Friday, Feb. 6.
The Tradition Returns to Labor Day weekend as the NASCAR Sprint Cup Series Bojangles' Southern 500® is set for Sunday, Sept. 6, 2015. The NASCAR XFINITY Series VFW Sport Clips Help A Hero 200 will race on Saturday, Sept. 5. Tickets are on sale now by calling 866-459-7223 or visiting www.DarlingtonRaceway.com.
You can keep up with all of the latest news from Darlington Raceway at DarlingtonRaceway.com, on Facebook at Facebook.com/DarlingtonRaceway and on Twitter atTwitter.com/TooToughToTame. Fans are encouraged to post their Bojangles' Southern 500 stories and memories at #TraditionReturns, #BojanglesSo500 and #SportClips200.