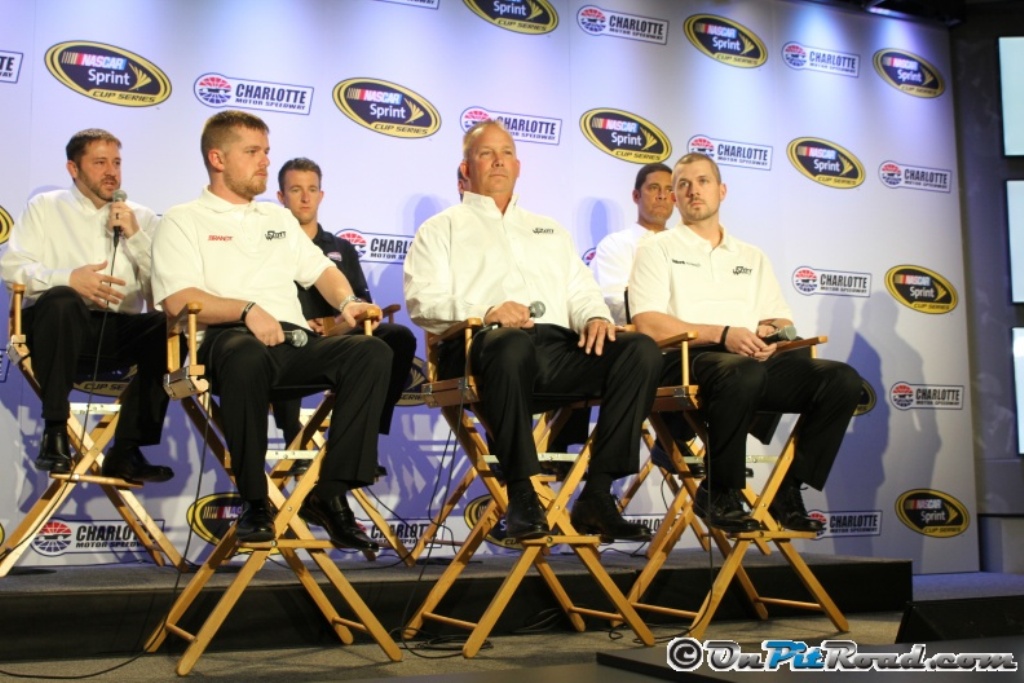 Following a solid debut season in the Sprint Cup Series, HScott Motorsports is returning for 2015 and looking for more success.
Justin Allgaier will once again be behind the wheel of the No. 51 Chevrolet for the second straight year, and once again have sponsorship from Brandt Professional Agriculture. The prominent brand will serve as the primary sponsor for 21 races in their fifth season as a partner for Allgaier, carrying forward the partnership started in the XFINITY Series.
"For me, having Brandt Professional Agriculture come back for the fifth year now, to be a part of an organization and that group and to those connections," Allgaier said. "Growing up in their hometown – they were in my hometown, to have that relationship has been awesome."
HScott Motorsports also announced a new partner – Auto-Owners Insurance. The insurance company will serve as the primary sponsor for three races. Harry Scott Jr. also revealed that Steve Addington will once again be the team's competition director while crew chiefing for Justin Allgaier.
"To also have Auto-Owners Insurance come back for a second year, they've been a great company to be apart of and work with, as well," Annett added. "It's funny that I know a lot of folks from Auto-Owners have been waiting to announce this, waiting to tweet it out so here's the opportunity for them."
In his rookie season, Allgaier would finish 29th in points with a season-best 15th place finish taking place twice at Charlotte Motor Speedway and Homestead-Miami Speedway. Allgaier feels that they can build on that success with the same guys back on the team for 2015.
"We had some strong finishes towards the end of the year, and am very excited to get going," he added.
On top of the effort for Allgaier, though, HScott Motorsports will be running a second car full-time with Michael Annett behind the wheel.
"Obviously this opportunity came upon very late, but it was one that I couldn't pass up and wanted to jump on," Annett said. "I've been around this sport from when Harry was getting into it, and to see every organization that he has come into, whether K&N, truck series, it doesn't take very long for them to have success. I think we saw that last year with having a brand new Cup team and I think it was just about mid-season and Justin and I started as rookie last year and we were parked next to each other, and he kept getting further and further away from me to ask questions. Just to see the success that they have experienced in that second half, I don't think they wanted to see the season end.
"I know there is going to be some growing pains as we haven't introduced a car number yet, let alone a crew chief. I think that I can already see with this organization as we need to get moving, we need to get going and everything is in the works and everything at the shop is moving along. We still need to fill some spots with people, but we're not just going to be filling spots. Everybody from Harry to Steve, they're very calculated and that's why they have the success that they do. to be able to jump into an organization that was on a roll last year that is going to keep going and getting better is a huge opportunity for me."
Annett will bring aboard sponsorship from Pilot Flying J, Cypress Associates, Inc., Allstate Peterbilt Group and Northland Oil.
"We're really excited to have Michael on board and working with him and getting to know him and putting some equipment under him that can showcase his talent," Scott Jr. expressed.
"I think having a teammate is paramount," Allgaier added. "To have somebody that not only you can bounce ideas off of, and compare to on a race weekend, but to also have those resources that having a second car will allow us to do, and have that extra bit. Going to the race tracks last year, we were on our own island if you will. The set-ups, and the things we were trying to learn, we weren't able to push the envelope because we were focused on what was working and trying to make that go forward. This allows us to get outside of the box a little bit.
"Michael and I have grown up racing each other. We've been in competition on the race track and always seemed to get along really well, so to have him on board as a teammate really adds strength and adds a lot to our program so I'm excited. I think it's definitely a good addition."
No crew chief was announced for Annett as Scott Jr. explained that Annett came to them pretty late, but it was an opportunity that he couldn't pass.
"It's been a bit of a thrash getting everything together," he added. "But the guys back at the shop have a great attitude and are working their tales off to provide a good effort for this additional car."
The addition of a second team will allow them to "double resources and double data points".
"I've had multiple conversations with Steve Addington and he has a solid plan to make the best of having two cars this year, and utilize our resources to get even better," Scott Jr. commented. "I feel like we can be a top-20 team consistently with the top-25 finishes last year and that's our goal this year."
Heading into the first race of the year, the pair are looking for success as Annett hopes there's some "magic" as he only finished one of the four restrictor plate races last year.
"Obviously each restrictor plate race changes 20 times a lap and obviously we want to see both partners, both drivers be up front near the end of those things," he commented. "But getting to the end of those things is the first step and if we can work together, we definitely will."