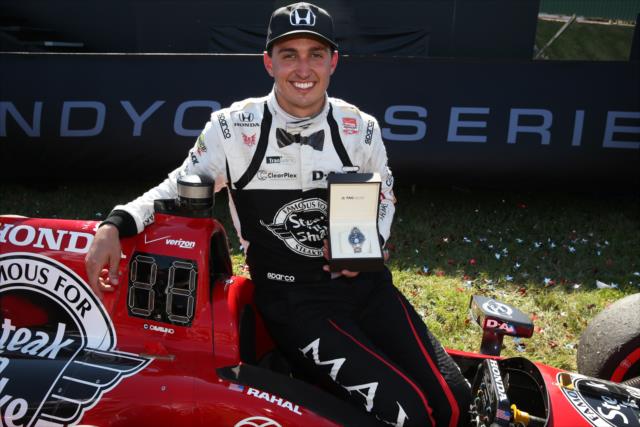 With only two races remaining on the 2015 Verizon IndyCar Series slate, it is down to a three driver fight for the series championship honors as the stars of open wheel racing head to the 2.5 mile tricky triangular oval known as Pocono Raceway, located in the mountains region of Pennsylvania.  Entering Sunday's ABC Supply Pocono 500, recent race results would indicate that the current momentum swing is in favor of Rahal Letterman Lanigan Racing's Graham Rahal, who took his No. 15 Steak & Shake Restaurants Honda to the winner's circle earlier this month at his home state track, the Mid-Ohio Sports Car Course.
In addition to also only being within nine points of championship leader Juan Pablo Montoya of Team Penske, Rahal also scored a win in the second leg of IndyCar's so-called triple crown of 500-mile races, taming the high banked, two mile oval at Auto Club Speedway in California, to win a race remembered for multiple lead changes and also some very disgruntled drivers after the race. With those parameters in his favor, the stage would appear set for Rahal to become the first American driver to win the Verizon IndyCar Series title since Ryan Hunter-Reay did so for Andretti Autosport in 2012. However, that is only one outlook on the situation. A second look at the scenario ahead, turns the original forecast completely on its head.
While Rahal did indeed win at Fontana earlier in the 2015 campaign and also finished fifth in the 99th running of the Indianapolis 500-mile race in May, Pocono Raceway has been a different story for the popular American pilot. Although the Verizon IndyCar Series has only competed twice at the Mattioli family-owned facility since reopening its doors to open wheel racing in 2013, the circuit has been a rough ride for the Ohio native. Rahal has never factored in the equation in either running of the ABC Supply Pocono 500 to date, finishing 18th in 2013 and taking a 19th place result last year, retiring prior to the checkered flag.
In contrast, for championship rivals Montoya and current third place points table holder Scott Dixon of Chip Ganassi Racing, Pocono Raceway has been a stronghold. The Colombian dominated this event one year ago to earn his first victory in IndyCar competition since re-joining the circuit last season, while Dixon has been competitive likewise, winning this event in 2013 and finishing fifth in 2014. For the New Zealander, Pocono represents a last stand of sorts for the two-time IndyCar Series champion. Entering the ABC Supply Pocono 500 thirty-four points behind Montoya, Sunday becomes essentially a must-win scenario for the driver of the No. 9 Target Chevrolet, whilst also needing negative finishes from both Montoya and Rahal to remain a realistic title challenger in the season ending event at Sonoma, California next week.
While Dixon and Montoya could stand to benefit from the second view of the championship fight, if Rahal can find a way to survive or better yet outrun his rivals as he did in California, the window of opportunity could once again stay pointed toward the No. 15 Honda, in what has been a season to date that few experts expected to occur. Unlike Montoya and Dixon who drive for IndyCar's two most successful teams, Rahal has been humbled in recent efforts.
Entering 2015, Rahal was seven years removed from his lone Verizon IndyCar Series victory on the streets of St. Petersburg, Florida and was certainly not considered the strongest hope for a Honda-powered driver winning the championship this season, with the single car Rahal squad being compared to other members of the Honda camp, most notably the four car (sometimes five) super team of Andretti Autosport. Despite the negatives, Rahal and his father Bobby, three times a series champion on the CART circuit, have cleared the hurdles and stand on the brink of perhaps the biggest championship upset in the history of open wheel racing. Of course, with 24 car-driver combinations in the garage area this week, there are 21 spoilers who are interested in stealing some of the thunder from the top title contenders.
One of those potential road blocks is Montoya's Penske teammate Will Power, who finished runner up to Montoya at Indy. The Australian is also perhaps due for a change of luck on the oval tracks entering this weekend. Since the Indy result, Power has placed tenth or worse in the last four oval events, including DNF's at both Fontana and the Milwaukee Mile. Dixon's Ganassi teammate Tony Kanaan could also be a threat at Pocono, after taking second behind Rahal in California as could Charlie Kimball, who ran among the leaders throughout this year's Indy 500 before settling for a third-place finish.
So indeed there are some story lines this weekend at Pocono that do not include the so-called championship trio, however in the end one should expect to see one of those trophy chasers in the winner's circle when the twin checkered flags fly on Sunday after a tough 500 miles.
Stay tuned to OnPitRoad.com's coverage of this weekend's ABC Supply Pocono 500.