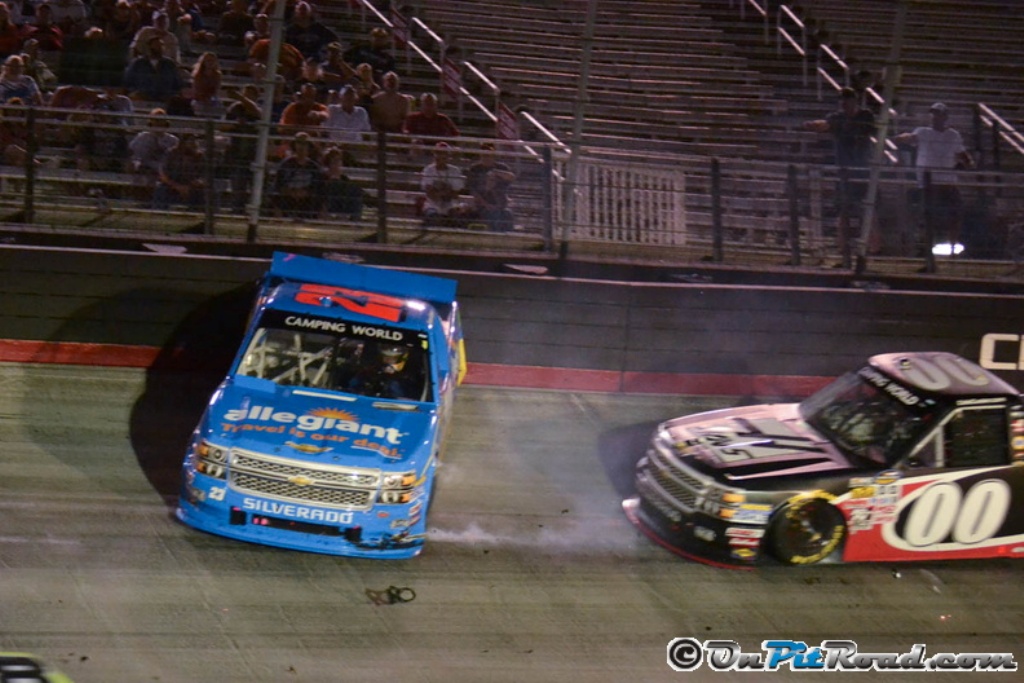 Leading the race with 41 laps to go, it seemed that Cole Custer had the truck to beat, having led 113 laps over the course of the night. However, everything would unravel as he tried to get through lap traffic.
Ahead of him, Spencer Gallagher would spin, leaving him nowhere to go. As a result, Custer would get into the side of Gallagher, causing heavy front end damage to his No. 00 Haas Automation Chevrolet. Custer pitted once the caution came out to address the damage.
"I really don't know what happened," Custer summarized under the red flag for rain. "I don't know if someone got into him or if he spun out. I was already committed to the top, as hard as I could there, so I couldn't do anything. It wouldn't turn it all. It's disappointing. We had a great truck."
Under the caution, the skies would open up, putting the race under a red flag condition.
"Rain was going to fall in two minute so we would've won the thing," he added. "Just a shame. We had a really good Haas Chevrolet, but just didn't get the finish again."
The race got restarted after a 40-minute delay, but Custer was unable to make up any ground with the damage, finishing 16th.
For Custer, it marks another disappointing finish for his season with JR Motorsports. While the 17-year-old picked up the win at Gateway, he has only posted one other top-10 finish this year, a ninth at Iowa Speedway, despite running up front in the top-five in each of the five starts this year.
Custer is running the races that he is allowed (ovals less than 1.25 miles, as well Eldora and CTMP) this season to prepare for a full schedule next season.