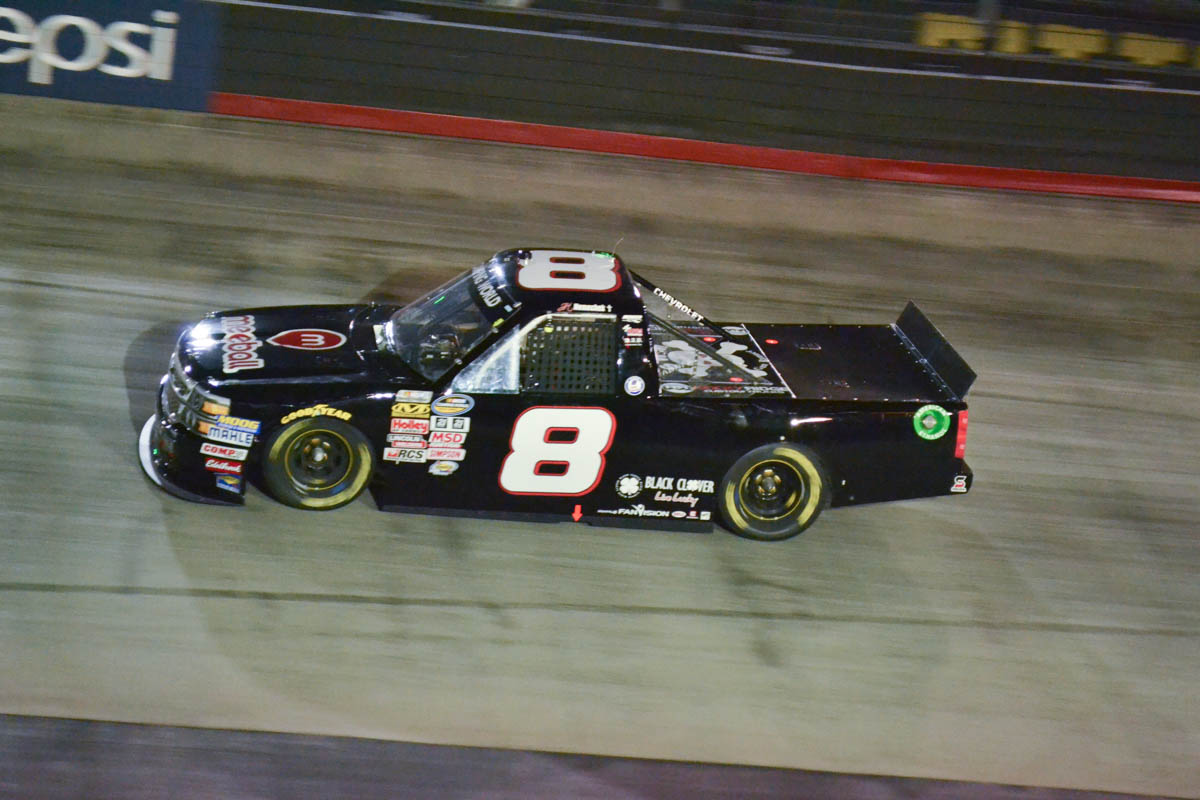 If there was any doubts about the future of NASCAR, those doubts are shattered each weekend by the Camping World Truck Series as once again, a young crop of drivers continued to impress. While Ryan Blaney and Kyle Busch took the top-two spots, the rest of the top-five was swept by the youth of series.
18-year-old John Hunter Nemechek (main picture) picked up his best career finish, finishing third after running as high as second in the closing laps of the UNOH 200.
"We had an up-and down night," he admitted post-race. "We took four tires on the pit stop and never pitted again. I didn't think we were going to be able to make it back up through the field. Those guys all took two tires and it was really hard to pass on the bottom. The set that we put on was a really tight set. You had to run the top, and it's what it was. You had to get all of your positions on the restart. I'm kind of glad that we went back green there. The top-side rolled pretty good which was good, and an advantage for us. Got to give it to my crew chief. I didn't think the call was worth it. We finished third and got beat by tires."
In the late stages after a restart with 34 laps to go, it looked as though Nemechek would have a good shot at winning his first career race, running second and chasing after Matt Crafton. However, Ryan Blaney was even quicker than Nemechek and made the pass, bumping him back to third.
"I thought we had something for Crafton," Nemechek commented. "I knew Blaney was coming there at three tenths a lap. You just had to race smart there at the end. You wanted to win, you wanted to keep him behind you, but he was going to get by you one way or another – whether move you or wreck you. You had to be smart with how you were going to race him and my crew chief just said let him go, and that's what we did, and got beat by it."
Nemechek was then able to maintain his spot despite a late-race green-white-checkered restart.
Daniel Hemric (pictured left) finished fourth, continuing his strong rookie season with NTS Motorsports. He now has a pair of top-fives and eight top-10s in 13 races.
"We had a really fast Chevrolet tonight," Hemric commented. "We had a good truck all night and wanted to come down pit road to make one more adjustment, but track position was key. We made positive gains all weekend. It was great to get a top-five for Brennan Newberry in the 125th start for NTS."
Brandon Jones rounded out the top-five, finishing fifth for his first career top-five finish in the Camping World Truck Series.
While the veterans continue to prove they have what it takes, youth is certainly showing that they're just as strong at each turn on the schedule.