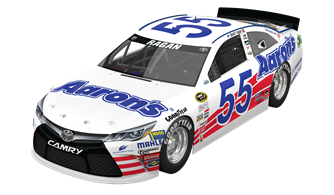 CORNELIUS, N.C.  —  The calendar will show it's Labor Day weekend, but this weekend's NASCAR Sprint Cup race at Darlington Raceway might seem more like a Father's Day celebration to David Ragan and his family.
Ragan's No. 55 Ol' Aaron's Dream Machine Toyota will carry a throwback paint scheme honoring Ragan's father Ken Ragan. The 64-year-old from Unadilla, Ga., raced in 50 Sprint Cup races from 1983-90 driving mostly for his brother Marvin. His career included five starts at Darlington Raceway.
Throwback paint schemes and a traditional parade through the streets of Darlington celebrating the 66th Southern 500 are just some of the weekend's highlights as both NASCAR and the track honor the history of the sport.
With just two races before the start of the Chase for the NASCAR Sprint Cup, Ragan also knows there's work to be done in Darlington. He needs a victory Sunday night or at Richmond next weekend to secure a place in the 2015 Chase.
Ragan has raced well in the last several weeks and knows anything can happen during 500-miles of racing at Darlington.
DAVID RAGAN ON DARLINGTON: "Our Aaron's Dream Machine was really fast at Bristol and has been the last few races. We know we have to win and we know that we are capable of winning. The 'Lady in Black' is a long tough race. It's all about survival the first 400 miles. Once you get down to the final 100 miles then I think you'll see everyone do whatever they have to do to get to victory lane."
PAINT SCHEMES: "I've enjoyed following Twitter the last couple of weeks watching what everyone will be running at Darlington. It's great to see some of the old paint schemes. I know the fans love it and a lot of the drivers I've talked to have gotten a kick out of it as well. We are going to make it tough on the spotters with all these different paint schemes, but I think it's going to be really cool. I'm glad Aaron's let us do what we are doing to honor my Dad. This is going to be a big weekend for our family and we are very appreciative."
NOTES:
·      CLICK HERE TO VIEW THIS WEEKEND'S THROWBACK PAINT SCHEMES
·        DARLINGTON APPEARANCES: Ragan and his father Ken will sign autographs 4-5 p.m. Saturday at the Aaron's at 111 Pamplico Highway in Florence. Father and son will also join in the Southern 500 parade in Darlington at 7 p.m. Saturday.
·        AARON'S: Aaron's offers top name brands in furniture, electronics and appliances – without needing credit – with affordable monthly payments. Aaron's makes lease ownership easy by offering customers the option to lease to own online at Aarons.com with delivery and setup – or shop at one of more than 2,000 local Aaron's stores all across North America. Aaron's is ready to help customers own it and will work with them every step of the way.
·     BIG SCORE: Aaron's is excited to welcome back "Big Score" one of our favorite and top performing promotions! Visit a store from now until Sept. 30 to Spin and Save up to $100 off your first month's payment on a new lease agreement or shop online at Aarons.com for a Special Big Score offer. Plus, enter for a chance to win a $5,000 Aaron's shopping spree! Customers will spin the wheel to reveal the discount amount ($25, $50, $75 or $100.) Go to Aarons.com for more details.
·        No. 55 CREW CHIEF BRIAN PATTIE: Pattie, 40, joined MWR in 2012 when it formed the No. 15 team-leading driver Clint Bowyer to three victories and a second-place finish in the 2012 Chase for the NASCAR Sprint Cup. The Zephyrhills, Fla., native began crew chief duties in the XFINITY Series for Joe Nemechek's NEMCO Motorsports in 1997 before moving to a similar role at Earnhardt Ganassi Racing in 2004. In May 2008, he moved to the Sprint Cup Series with driver Juan Montoya. The duo earned a berth in the 2009 Chase and a win at Watkins Glen in 2010. Pattie owns four Sprint Cup and 10 XFINITY Series victories as a crew chief. The father of four is an avid golfer and supporter of the Florida State Seminoles. In June 2015, MWR paired Pattie with David Ragan on its No. 55 team.
·         55 CREW:
Brian Pattie
Crew Chief
Ryan Langley
Front Tire Changer
Chris Hall
Front Tire Carrier
Shannon Myers
Rear Tire Changer
Blake Haugland
Rear Tire Carrier
Wes Evans
Jack Man
Jeff Kerr
Gas Man
Steve Channing
Car Chief
David Cropps
Interior Mechanic
Roman Pemberton
Spotter
Brandon Pope
Engineer
Tim O'Brien
Engineer
Jeremy Sharpley
Shock Specialist
Billy Curwood
Engineer
Kevin White
Front Mechanic
Joe Zanolini
Rear Mechanic
Scott Swift
Tire Specialist
Kirk Butterfield
TRD
Tim Bruce
TRD
Stump Lewis
Truck Driver
Al Nelson
2nd Truck Driver
·         CAREER STATISTICS:
MWR
DAVID RAGAN
BRIAN PATTIE
·     TELEVISION
Friday, Sept. 4
11 a.m., NASCAR Sprint Cup Series practice, NBCSN
1 p.m., NASCAR XFINITY Series practice, NBCSN
3 p.m., NASCAR XFINITY Series final practice, NBCSN
4:30 p.m., NASCAR Sprint Cup Series final practice, NBCSN
6:30 p.m., NASCAR America Live, NBCSN
Saturday, Sept. 5
11:30 a.m., NASCAR XFINITY Series Coors Light Pole Qualifying, NBCSN
1 p.m., NASCAR America Live, NBCSN
1:30 p.m., NASCAR Sprint Cup Series Coors Light Pole Qualifying, NBCSN
3 p.m., NASCAR XFINITY Series Countdown to Green, NBC
3:30 p.m., NASCAR XFINITY Series VFW Sport Clips Help a Hero 200, NBC
Sunday, Sept. 6
6 p.m., NASCAR Sprint Cup Series: Countdown to Green, NBCSN
7 p.m., NASCAR Sprint Cup Series Bojangles' Southern 500, NBC
11 p.m., NASCAR Victory Lap, NBCSN
Midnight, NASCAR Victory Lane, FOX Sports 1