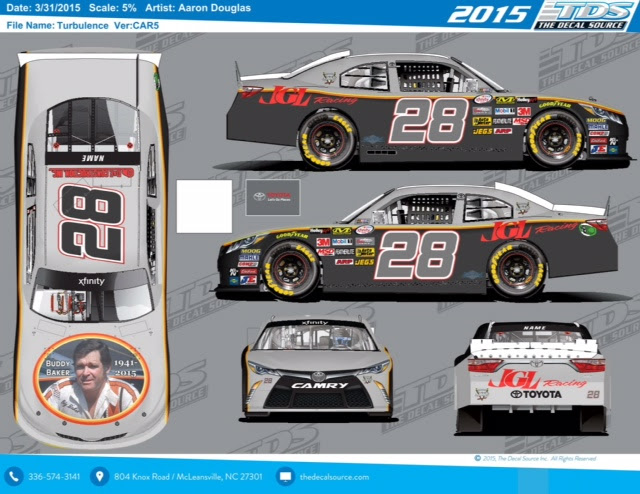 MOORESVILLE, NC (September 2, 2015) – In what has become a very popular "Throwback Paint Scheme" weekend at Darlington Raceway, J.J. Yeley and his JGL Racing team are proud to announce their participation and honoring of NASCAR legendary driver Buddy Baker.  Yeley will pilot the No. 28 "Gray Ghost" Toyota on Saturday September 5th in the running of the VFW Sport Clips Help A Hero 200 at "The Track Too Tough to Tame".
"What Darlington is doing this week is awesome and has a lot of teams bringing back some of the most legendary paint schemes in our sport," said Yeley.  "All of us on this JGL Racing team are proud to put the Gray Ghost paint scheme on the track this weekend.  I had a tremendous amount of respect for Buddy Baker on and off the track.  He was a pioneer in creating this wonderful sport and loved by everyone.  I always enjoyed listening to him on the radio and hearing his thoughts and perspectives on our sport."
Baker piloted the infamous Gray Ghost in the running of the 1980 Daytona 500. When Buddy Baker unloaded his No. 28 NAPA/Regal Ride Oldsmobile, it was bad fast from the first test lap. What's more, its flat silver, gray and black paint job was so close in color to the Daytona asphalt that it spooked his competitors when his car seemed to appear out of nowhere in their rear view mirrors.
Baker's rivals went to NASCAR requesting that they make him do something about his scary paint scheme and as a result he was forced to trim the car in day-glo pink on the front end so drivers could see him coming. In the end it didn't matter as Baker led 143 of 200 laps to win the fastest Daytona 500 of all time.  And thus the nickname "Gray Ghost" was born.
Yeley's version of the Gray Ghost will be chassis No. 235 out of the JGL Racing stable.   This car was last raced by J.J. at Indianapolis Motor Speedway where he brought it home with an 18th-place finish.
"It is an honor and privilege to take a replica of Buddy Baker's Gray Ghost to Darlington this weekend," added James Whitener, owner of JGL Racing.  "As an owner in this sport, I respect the heritage and traditions that have come before us and helped form this great sport.  Buddy Baker and the Gray Ghost are great examples of this heritage.  We hope to be just as fast this weekend at Darlington as Buddy was in the original Gray Ghost."
Yeley currently sits 12th in the overall NASCAR XFINITY Series overall drivers' standings – just 86 points out of the top-10.
The running of the VFW Sport Clips Help A Hero 200 will be held this Saturday September 5th at Darlington Raceway.  The 147-lap event can be seen LIVE on NBC at 3:00 p.m. ET and heard on Motor Racing Network (MRN) and SiriusXM Channel 90.