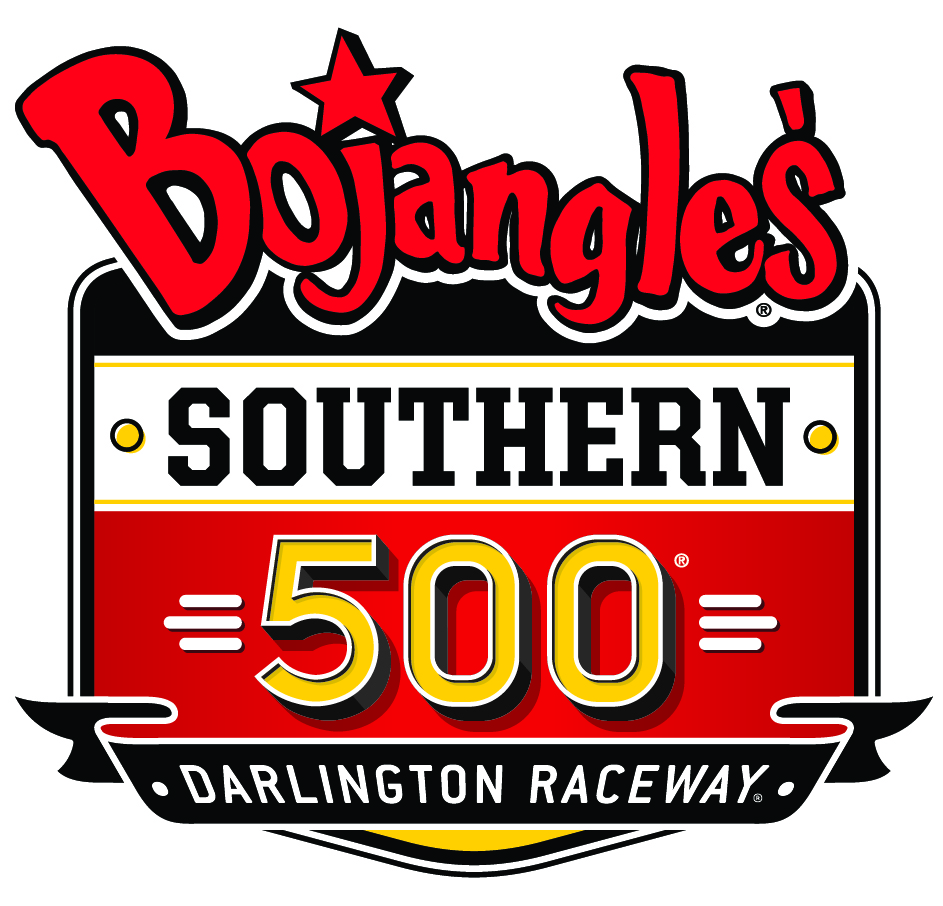 TEAM CHEVY ADVANCE
DARLINGTON RACEWAY
BOJANGLES SOUTHERN 500
SEPTEMBER 6, 2015
CHEVROLET RETURNS TO DARLINGTON RACEWAY ON LABOR DAY FOR THE SOUTHERN 500
DETROIT – (Sept. 2, 2015) – Over the last 65 years the NASCAR Sprint Cup Series has been competing at Darlington Raceway.  The unique egg-shaped track – configured that way to avoid disturbing Ramsey's pond – hosted its first Cup Series event in 1950. Darlington's banner race, the Southern 500, was traditionally held over Labor Day weekend and became a staple for NASCAR fans each and every season.  In 2003 NASCAR decided to move the date of the Southern 500 to April.  Twelve years later one of motorsports crown jewel races returns to its original date.
Chevrolet has had the distinct honor of going to Victory Lane 41 times in 111 races at the track dubbed 'Too Tough to Tame'.  The manufacturer has powered more drivers to Darlington's Winner's Circle than any other brand.  The history of winning for Chevrolet at the 1.366-mile superspeedway began with Herb Thomas in 1955. The Bowtie Brand is the most recent manufacturer to win at Darlington.  Defending NASCAR Sprint Cup Series champion Kevin Harvick earned his first Southern 500 trophy last season.
"You want to come to Darlington and win," said Harvick. "We were fortunate to experience winning at Darlington last year and to come back and try to win again is really what the goals are. Obviously, every week we get a little bit closer to the Chase, the intensity level comes up. The Southern 500 is still the Southern 500, no matter where it is on the schedule, it's something everybody has got circled on their calendars as one they want to win."
To celebrate the Southern 500 returning to its original date over Labor Day weekend, many of the Team Chevy drivers and teams will exit the garage for practice donning special 'throwback' retro paint schemes paying homage to famous drivers and teams that came before them.
Team Chevy is getting in the retro spirit by featuring several classic Chevrolet's owned by Stewart-Haas Racing drivers Tony Stewart, Kevin Harvick and Kurt Busch in the Team Chevy display throughout the weekend.
The competition at Darlington is intense. Rookies and veterans will get the famous 'Darlington Stripe' a badge of honor when practice begins.  Drivers run so close up against the wall that one mistake will lead to contact with the outside retaining wall. Winning at Darlington is never an easy task.  Drivers have to race the race track lap after lap, but this time 'The Lady in Black' will be slick under the hot September South Carolina sun.  Crew chiefs and teams will have a new low downforce package – a configuration they have only competed with at Kentucky Speedway earlier in the season.  To throw another wrench in the equation – different Goodyear tires with a high degradation rate will add more uncertainty to the set-ups that crew chiefs will desperately be trying to master. If there is one race on the schedule that everyone wants to win other than the Daytona 500 – this is it.
A win can add his/her name to the history books and to the 16 drivers who will make this year's Chase for the NASCAR Sprint Cup.  Darlington marks the penultimate race to determine this season's Chase contenders.  Currently Team Chevy driver's Harvick, Jimmie Johnson, Dale Earnhardt, Jr., Kurt Busch and Martin Truex, Jr. are assured a Chase slot.
Who will win this year's Southern 500?  Only time will tell.
While fans are waiting to take their seats to watch 500 miles of intense action under the lights, they are encouraged to check out all the happenings at the Team Chevy display which will open at Noon on Friday.
Fans can check out Chevrolet's great line-up of cars, trucks and SUV's as well as ask questions of some of their favorite Team Chevy drivers that will visit the Team Chevy stage throughout the weekend.  Danica Patrick, Tony Stewart, Kevin Harvick and Kurt Busch will all make appearances throughout the weekend.
The 367-lap/501.3-mile Bojangles Southern 500 at Darlington Raceway is scheduled to begin at 7 p.m. ET on Sunday night September 6. Live coverage will be available on NBC, MRN, Sirius NASCAR Radio Channel 90 and NASCAR.com.
TEAM CHEVY IN NASCAR SPRINT CUP SERIES (NSCS) COMPETITION:
Chevrolet has won 38 NASCAR Sprint Cup Series (NSCS) Manufacturers' Championships
Team Chevy drivers have scored 749 wins and 676 poles in NSCS competition
CHEVROLET ON THE TRACK—DARLINGTON RACEWAY:
Chevrolet drivers have won 41 of 111 races at Darlington Raceway. Victories by current Team Chevy drivers are:
Jeff Gordon, No. 24 3M Chevrolet SS, has seven wins at Darlington Raceway ('95, '96 – TWICE, '97, '98, '02 & '07)
Jimmie Johnson, No. 48 Lowe's Chevrolet SS, has three trophies from Darlington Raceway ('04 – TWICE & '12)
Kevin Harvick, No. 4 Budweiser/Jimmy John's Chevrolet SS, has one victory at Darlington Raceway ('14)
A Chevrolet driver has won three of the last four races at Darlington Raceway
A Chevrolet driver has sat on the pole at Darlington Raceway 21 times
Team Chevy drivers have scored 183 top-five and 376 top-10 finishes at Darlington Raceway
A Chevrolet has led 12,642 laps (33.6% of possible 37,571) at Darlington Raceway
TEAM CHEVY FOR THE FANS AT BRISTOL MOTOR SPEEDWAY:
Fans can check out great Chevrolet vehicles including: Cruze LTZ, Malibu Limited, Camaro, Corvette Stingray, Equinox LTZ, Traverse LTZ, 2015 Motor Trend Truck of the Year – Chevrolet Colorado, Colorado Extended Cab, Silverado 1500 Double Cab, Silverado Crew, Silverado High Country and Suburban
At the display fans can see a variety of show cars including: Jeff Gordon's No. 24 Drive To End Hunger Chevrolet SS, Tony Stewart's No. 14 Mobil 1 Chevrolet SS and a production Chevrolet SS wrapped in the exact paint scheme Kevin Harvick will be running on track this weekend at Darlington
Throwback: Chevrolet is getting in the retro spirit this weekend by having classic Chevrolet cars on exhibit in the Team Chevy display.  Stewart-Haas Racing drivers Tony Stewart, Kurt Busch and Kevin Harvick will all have their own personal classic cars for fans to see in the Team Chevy display.  Each driver will also make an appearance on the Team Chevy stage over the weekend to talk about their cars.
Fans can see a sample of engines, parts and accessories in the Team Chevy Display available for purchase from Chevrolet at their local Chevrolet dealer
Other activities at the Team Chevy Racing Display include a variety of interactive games for adults and kids
DRIVER FAN Q/A APPEARANCES ON THE TEAM CHEVY STAGE:
Saturday September 5th:
11:00 a.m. – Ty Dillon
Sunday September 6th:
3:40 p.m. – Danica Patrick and Kevin Harvick
3:50 p.m. – Tony Stewart
4:00 p.m. – Kurt Busch
Hours of operation: Fri. Sept. 4th – Noon – 5:30 p.m.; Sat. Sept. 5th – 10:00 a.m. – 6:00 p.m. and Sun. Sept. 6th – 10:00 a.m. – 7:30 p.m.
DID YOU KNOW? General Motors' (NYSE: GM) Chevrolet, Buick, GMC and Cadillac brands sold 270,480 vehicles in the United States in August 2015. Retail deliveries climbed 6 percent compared with a year ago, when results included the Labor Day holiday. GM had the industry's largest retail sales increase and gained more than 1 percentage point of retail market share year over year, based on J.D. Power PIN estimates. Total sales were in line with a year ago.
ENGINEER EXPERTISE FROM THE GARAGE AREA – ALBA COLON, CHEVROLET RACING PROGRAM MANAGER – NASCAR SPRINT CUP SERIES:
"After a well-deserved weekend off, all teams are getting ready for the last two races before the start of the Chase for the NASCAR Sprint Cup Series.  That means two more races to get that elusive first win of the year or to measure yourself against the competition by accumulating more wins.
"This weekend we head to Darlington Raceway, a very unique track in the circuit.  It is a 1.366 mile track that it is a blend of a superspeedway and a short track, with a wide sweeping set of turns in corners three and four, and a much tighter pair in turns one and two.  Also, this track has a unique egg-shaped design with different configuration at each end of the oval.  For sure it is a challenging track to master for drivers and crew chiefs alike.  The teams are always looking for the right balance and that sweet spot is very narrow.
"To make this race a little bit more interesting, the teams will get the opportunity to race the low-downforce aero package which was first used in Kentucky.  The only caveat is that the tire that will be raced will be one with more grip than the one used previously.  For sure, the extra practice time on Friday will be a welcome relief for all the teams.
"We are happy to have the traditional Darlington race on Labor Day weekend.   We can't wait to start the race on Sunday and to celebrate tradition."
TEAM CHEVY FROM THE DRIVER'S SEAT:
KEVIN HARVICK, NO. 4 BUDWEISER/JIMMY JOHN'S CHEVROLET SS – POINTS LEADER
"I think a lot of that just goes back to the people. I think the people who came up with this program and put the effort into this weekend really represent what the weekend is all about. That is the history of our sport. We have had so much history take place at Darlington, being our first superspeedway and really kind of breaking ground as to where we could race and the size of racetrack we could race on. You look back at some of the guys who have won the Southern 500 and you look at the names on that trophy and they are the who's who of our sport. It's a big race and I think, when you come to this race, it's one you want to win."
DALE EARNHARDT, JR., NO. 88 VALVOLINE CHEVROLET SS – 3RD IN STANDINGS
"I'm really looking forward to seeing all of the throwback paint schemes. There's going to be a lot of things the fans are going to enjoy. Not only being here at the racetrack and being able to see everything, but the racetrack itself is sort of rebranding itself with all of the old signage and bringing back the 'Too Tough to Tame' slogan they used for years. Even the broadcast is going to have some throwback ad space during the commercials, which I think the fans are really going to love that are tuning in at home."
MARTIN TRUEX, JR., NO. 78 FURNITURE ROW/VISSER PRECISION CHEVROLET SS – 4TH IN STANDINGS
"Darlington is one of my favorite racetracks without a doubt. The Southern 500 is a special race with an enormous amount of history. With all the tradition that Darlington carries, it's definitely a place on my list that I really want to win at. I have come close to winning at Darlington and led a lot of laps there over the years. But also had some heartbreakers there. Darlington is just an awesome racetrack — it's so much fun and definitely a challenge. It's a place you can never let your guard down. Driving down in the corner and sliding the car right up against the wall, knowing that the closer you can get to the wall the faster you will go. It's hard to not hit the wall and that's why you're on the edge the entire time at Darlington. You have to be aggressive there but at the same time be perfect because you're about a half an inch away from the wall. It's just a ton of fun to race at Darlington. I am also excited that our No. 78 Furniture Row Chevy will have a teal look to it, promoting national ovarian cancer awareness. Teal is the official ribbon color of ovarian cancer awareness and September is National Ovarian Cancer Awareness Month."
JIMMIE JOHNSON, NO. 48 LOWE'S CHEVROLET SS – 6TH IN STANDINGS
"We haven't had the best summer, and that's kind of been the 48 thing over the years, unfortunately.  We want to look at the summer and the good and the bad and figure out what applies to the 10 tracks in the Chase.
"Although we haven't had the consistency and the finishes that we want, we've tried a lot of things over the summer and we really need to pare that stuff down and take our best stuff and close out these final few races."
KURT BUSCH, NO. 41 HAAS AUTOMATION CHEVROLET SS – 8TH IN STANDINGS
"The Darlington Stripe is when you run up right by the wall and you are trying to get the best speed you can out of the car. Just that quick (snaps fingers), the wall just sucks you right on it and you've got the right side of your car pancaked. The teams build the cars with extra support on the right sides. It's extra weight but it helps protect you from running into the wall too hard. It helps where you can keep your day going and not actually ruin your day when you run into the wall. You think, hitting the wall, usually your day is done. At Darlington, that is a tattoo. It's a stamp that says now you are racing."
JAMIE MCMURRAY, NO. 1 MCDONALD'S/CESSNA CHEVROLET SS – 10TH IN STANDINGS
"I think it will be cool going to Darlington this weekend to see all the throwback paint schemes. That is really neat because there is a lot of history for our sport at there. Everyone at the track and NASCAR has done a nice job to promote this event. We actually did a Goodyear test at Darlington a couple of months ago and it is unbelievable how slick that track gets, the fall-off with the new tire is like two or three seconds with over 30 laps, which is incredible. It is already a tough place to pass because it's so narrow, but it is always a really fun track to race."
PAUL MENARD, NO. 27 MOEN/MENARDS CHEVROLET SS – 11TH IN STANDINGS
"The design is the same theme as the first few IndyCars that my dad (John Menard) fielded back in the late 70's and early 80's. Herm Johnson was the driver and is from Eau Claire, Wisconsin, just like my family. He had a lot of success in Super Vees in the mid 70's and basically is the reason my family got involved with racing. I'm excited to have this paint scheme in Darlington with Moen on the hood. It's pretty different than the normal No. 27 Chevy you see every weekend. It should be pretty special."
RYAN NEWMAN, NO. 31 CATERPILLAR CHEVROLET SS – 12TH IN STANDINGS
"It's great that we go back to the roots of our sport and the history of our organization. I think it is awesome that everyone is doing a throwback paint scheme. It is the way it was, and that's the way it should be."
JEFF GORDON, NO. 24 3M CHEVROLET SS – 13TH IN STANDINGS
"When I first started racing at Darlington, I loved it right away. There was a patience needed there – you had to hold back, not abuse the tires and stay out of the fence. You had to 'race the racetrack,' but you don't hear that quite as much anymore.
"Darlington has changed a lot over the years since it was repaved. Now you're racing track position, how far you can push the tires and how hard you can push the car."
KASEY KAHNE, NO. 5 HENDRICKRIDEALONG.COM CHEVROLET SS – 17TH IN STANDINGS
"There's so much history at Hendrick Motorsports with wins and championships, so to go back to when it started with All-Star Racing, Geoff Bodine and that paint scheme is great. I think the fans will really enjoy it. I know from me being a race fan as well as a driver, I like the retro theme. I think it's really neat to bring that back on a race weekend. It would mean a ton to win the Southern 500. It's always been one of the races that I've wanted to win. We've come close but haven't been able to do it, so to do it in this car that time of the year right before the Chase it would be a perfect time."
KYLE LARSON, NO. 42 MELLO YELLO CHEVROLET SS – 19TH IN STANDINGS
"I'm really looking forward to rolling out the Mello Yello Chevy for Darlington this weekend. It's been fun to share our car with the fans the past couple weeks, and I'm glad we finally get to show off the real thing this weekend. Darlington is track I have fun driving; it's a pretty technical place and can be tough on us drivers, but it's a great place. The track is definitely unique, and you can feel the history when you're there. This will be a special race with all the throwback schemes, and I can't wait to see everyone else's cars."
AUSTIN DILLON, NO. 3 AMERICAN ETHANOL CHEVROLET SS – 20TH IN STANDINGS
"It's starting to get slicker. Tire wear is an issue. You really have to take care of your tires at the beginning of a run to save them for the end. Hopefully with the new downforce package, we'll get a little more front turn back. I think at Darlington with an already slick track and less rear downforce, it'll be a tough race."
DANICA PATRICK, NO. 10 GODADDY CHEVROLET SS – 21ST IN STANDINGS
"I would say that because my background is in IndyCar, I don't look to gray areas of the track and think that there's a lot of grip there. I'm not used to driving by a wall. I didn't grow up racing on dirt and running up on the cushion. The highline is something to me that I have to have a lot of confidence in the car to be able to go there with the kind of speed that needs to be taken. I've definitely earned the Darlington stripe and sometimes there's just not much you can do about it. I've even gotten it going down the straightaway where the right-rear (tire) catches the wall and pulls the front in. You've got to stay focused at all times, especially at a place like Darlington where you have to be up on the wheel for all the corners because they're all pretty different. It's earned through pushing those boundaries of how high you can take the car and how much speed you can take doing it."
AJ ALLMENDINGER, NO. 47 KROGER/HOUSE-AUTRY CHEVROLET SS – 22ND IN STANDINGS
"Darlington Raceway, it's a tough place. The nickname really doesn't even do it justice. It's even harder than that. You are right against the wall the whole time. There is never really a moment where you can relax a little bit and say, 'Okay, I can take a little bit of a breath,' whether it's in practice or during the race. You are just right on the edge around that place. When you are running well there and you are really fast, as a driver, it feels like you are really accomplishing something. It's a difficult racetrack to figure out how to get around."
CASEY MEARS, NO. 13 GEICO CHEVROLET SS – 23RD IN STANDINGS
TONY STEWART, NO. 14 BASS PRO SHOPS/MOBIL 1 CHEVROLET SS – 26TH IN STANDINGS
"With the rich heritage and history at Darlington – to win there and be the first guy to win after they resurfaced it – it's a feeling that's hard to describe. It's just cool to win at Darlington. You think back to guys like David Pearson who were so good there. This series is just so deep in history, and this is one of those tracks where the history goes as deep as NASCAR does. To finally get a win at Darlington was a huge honor for me."
JUSTIN ALLGAIER, NO. 51 BRANDT CHEVROLET SS – 30TH IN STANDINGS
"I really like going to Darlington [Raceway]. I think this weekend is going to be even more special with all of the throwback paint schemes and everything the track is doing to stick with the theme. Fortunately, BRANDT Professional Agriculture agreed to have a throwback paint scheme for this weekend. Ours is modeled after AJ Foyt's No. 51 Cup car. I've always admired AJ, so it's cool to have a paint scheme similar to his. We always have great racing at Darlington and I don't think this weekend is going to be any different. We're running a different aero package than we have in the past, and I think it'll make the action on the track even better."
CHASE ELLIOTT, NO. 25 NAPA AUTO PARTS CHEVROLET SS:
"Just like any other weekend this season I want to go out there and learn as much as I can. These are the best drivers and teams in the world. I can learn a lot from them. If I do my job to the best of my ability and learn from it, well, that's what it's all about. I want to thank everyone at NAPA AUTO PARTS and at the Hendrick Motorsports organization for making these races a reality. It has been a blast racing these fast cars and having some fun with the guys."
Chevrolet NASCAR Sprint Cup Series Statistics
Manufacturers Championships
Total (1949 – 2014): 38
First title for Chevrolet: 1958
Highest number of consecutive titles: 12 (2003-2014)
Years Won: 1958, 1959, 1960, 1961, 1972, 1973, 1974, 1976, 1977, 1978, 1979, 1980, 1983, 1984, 1985, 1986, 1987, 1988, 1989, 1990, 1991, 1993, 1995, 1996, 1998, 2001, 2003, 2004, 2005, 2006, 2007, 2008, 2009, 2010, 2011, 2012, 2013, 2014
Drivers Championships
Total (1949 – 2014): 30
First Chevrolet champion: Buck Baker (1957)
Highest number of consecutive titles: 7 (2005 – '11)
Years Won: 1957, 1960, 1961, 1973, 1976, 1977, 1979, 1980, 1984, 1985, 1986, 1987, 1990, 1991, 1993, 1994, 1995, 1996, 1997, 1998, 2001, 2005, 2006, 2007, 2008, 2009, 2010, 2011, 2013, 2014
Event Victories
Record for total race wins in single season: 26 – (in 2007)
2015 STATISTICS:
Wins: 11
Poles: 10
Laps led: 3744
Top-five finishes: 67
Top-10 finishes: 137
CHEVROLET IN NASCAR SPRINT CUP CUMULATIVE STATISTICS:
Total Chevrolet race wins: 749 (1949 – to date); (2,438 possible = 30.0%)
Poles Won to Date: 676
Laps Lead to Date: 223,555
Top-Five Finishes to Date: 3,776
Top-10 Finishes to Date: 7,713
Total NASCAR Cup wins by Corporation, 1949 – To-Date
GM: 1,084
Chevrolet: 749
Pontiac: 155
Oldsmobile: 115
Buick: 65
Ford: 736
Ford: 636
Mercury: 96
Lincoln: 4
Chrysler: 466
Dodge: 217
Plymouth: 190
Chrysler: 59
Toyota: 74
Connect with Team Chevy on social media.  Like us on Facebook at facebook.com/TeamChevy, follow us on Twitter @TeamChevy, and add +TeamChevy into your Google+ circles.
Team Chevy racing photos are available at: http://media.gm.com/product/public/us/en/gmracing/photos.html
About Chevrolet
Founded in 1911 in Detroit, Chevrolet is now one of the world's largest car brands, doing business in more than 115 countries and selling around 4.8 million cars and trucks a year. Chevrolet provides customers with fuel-efficient vehicles that feature engaging performance, design that makes the heart beat, passive and active safety features and easy-to-use technology, all at a value. More information on Chevrolet models can be found at www.chevrolet.com.