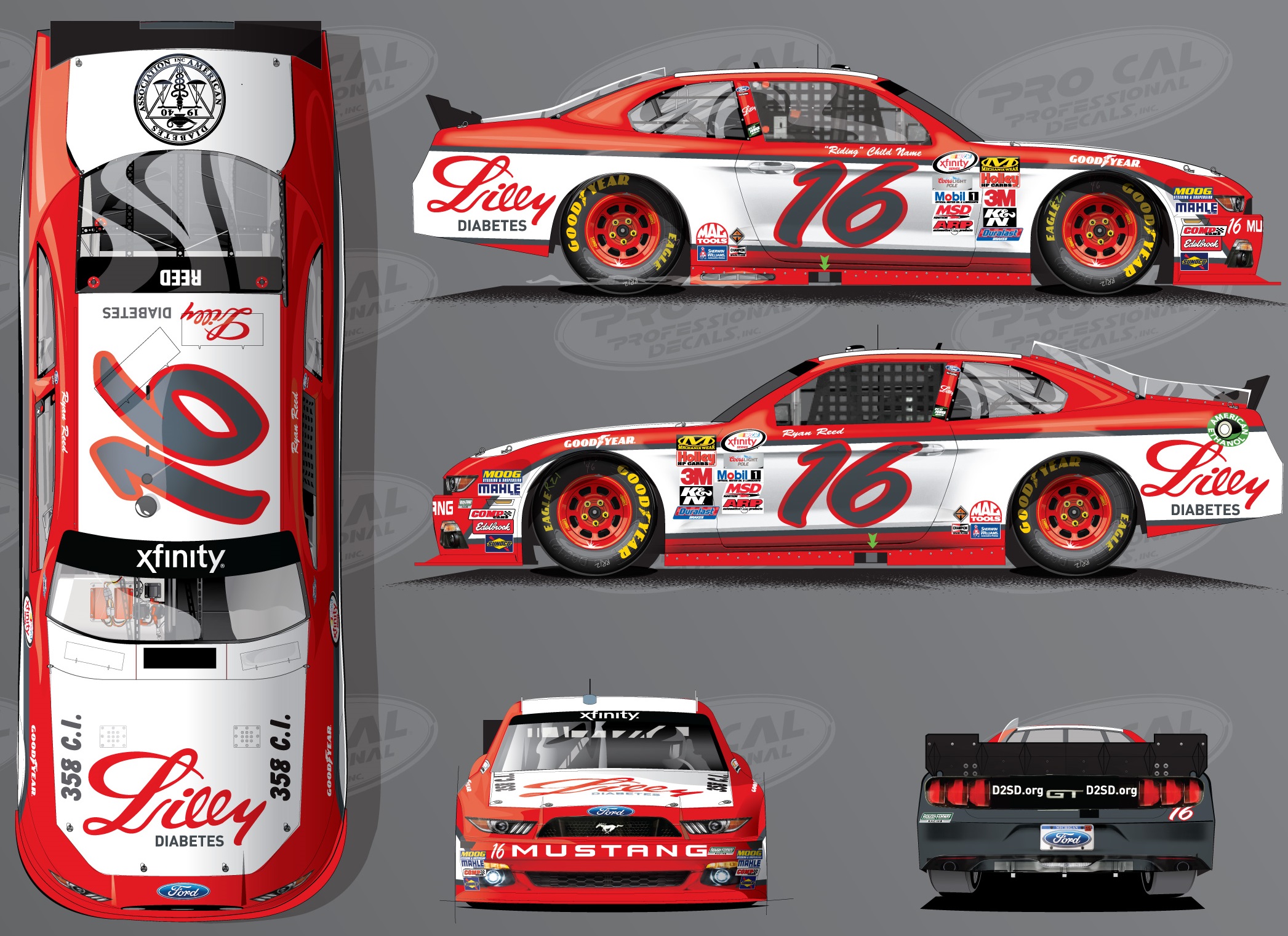 CONCORD, N.C. (September 2, 2015) –  As part of Darlington Raceway's 'Tradition Returns' program, Roush Fenway Racing driver Ryan Reed will run a retro version of the No. 16 Lilly Diabetes American Diabetes Association Ford Mustang in Saturday's NASCAR XFINITY Series race.
The car will feature retro Lilly Diabetes and American Diabetes Association logos in addition to stylizations and a color scheme reminiscent of cars in NASCAR competition in the 1970's. The scheme highlights the sport's history as well as the history of a disease that affects Reed's everyday life.
"This car not only celebrates the history of NASCAR as a sport but also the history of diabetes and how far we have come to manage and treat the disease," said Reed. "I'm so grateful to Lilly Diabetes and the American Diabetes Association for all they have done to support people living with diabetes and what their heritage means for millions of families."
The Lilly Diabetes logo, which is featured on the car's quarter panels and hood, dates back to 1923. At this time, Lilly collaborated with researchers at the University of Toronto, who discovered insulin, to mass produce insulin.
Lilly was the first company to make insulin available on a large scale to treat people with diabetes. Before insulin, diabetes was a debilitating and fatal disease with no effective treatment. Making insulin available to everyone who needed it put Lilly on the map. Today, Lilly offers a wide variety of diabetes medicines and support programs to help millions of people around the world, including Reed.
The American Diabetes Association logo, featured on the car's deck lid, is from 1940 – the year of the organization's founding. On April 2, 1940 a group of 12 physicians gathered in Cleveland, Ohio to establish the American Diabetes Association. The original logo consists of an inverted triangle with a lamp, symbolizing research; a scale, symbolizing balance in diet; a caduceus, a symbol of the medical profession; and a circle surrounding the triangle, symbolizing unity and continuity. This logo was used until 1974.
Reed is one of four Roush Fenway Racing drivers to sport a throwback paint scheme as part of Darlington's "Tradition Returns" program, which will feature several NASCAR throwback schemes from various teams throughout Labor Day weekend.
Reed and the NASCAR XFINITY Series will take the green flag at Darlington Raceway on Saturday, September 5th at 3:30 p.m. ET, with the race broadcast live on NBC, MRN and SiriusXM NASCAR Radio (Ch. 90).
Watch Ryan Reed's paint scheme unveil here:  https://youtu.be/D7EXMs1YWGY
Roush Fenway Racing is the winningest team in NASCAR history, fielding multiple teams in NASCAR Sprint Cup Series and NASCAR XFINITY Series competition with drivers Greg Biffle, Ricky Stenhouse Jr., Trevor Bayne, Elliott Sadler, Ryan Reed, Chris Buescher and Bubba Wallace. Now in its 28th season, Roush Fenway is a leader in driver development, having launched the careers for many of the top drivers in the sport. Off-track, Roush Fenway is a leader in NASCAR marketing solutions, pioneering motorsport's first team-focused TV show and producing multiple award-winning digital and experiential marketing campaigns. Roush Fenway is co-owned by Jack Roush, the winningest team owner in NASCAR history and Fenway Sports Group, parent company of Major League Baseball's Boston Red Sox and English Premier League's Liverpool F.C. Visit RoushFenway.com, circle on Google+, become a fan on Facebook and Instagram and follow on Twitter at @roushfenway.
About the American Diabetes Association
The American Diabetes Association is leading the fight to Stop Diabetes and its deadly consequences and fighting for those affected by diabetes. The Association funds research to prevent, cure and manage diabetes; delivers services to hundreds of communities; provides objective and credible information; and gives voice to those denied their rights because of diabetes. For the past 75 years, our mission has been to prevent and cure diabetes and to improve the lives of all people affected by diabetes. For more information please call the American Diabetes Association at 1-800-DIABETES (1-800-342-2383) or visit www.diabetes.org. Information from both these sources is available in English and Spanish.
About Lilly Diabetes
Lilly has been a global leader in diabetes care since 1923, when we introduced the world's first commercial insulin. Today we are building upon this heritage by working to meet the diverse needs of people with diabetes and those who care for them. Through research and collaboration, a broad and growing product portfolio and a continued determination to provide real solutions—from medicines to support programs and more—we strive to make life better for all those affected by diabetes around the world. For more information, visit www.lillydiabetes.com or follow us on Twitter: @LillyDiabetes.