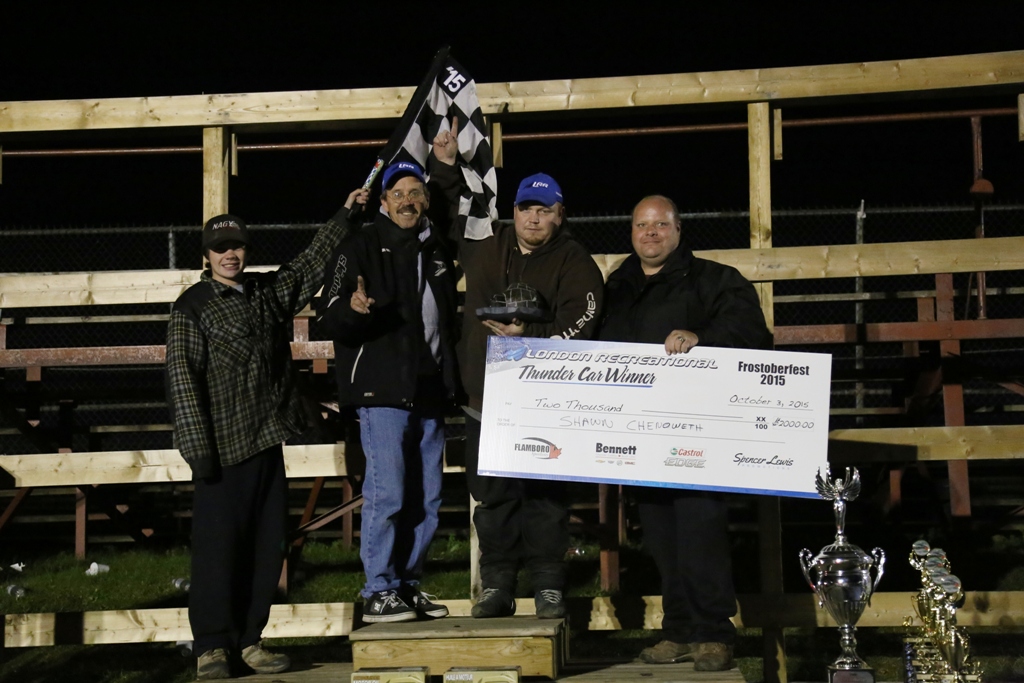 For the second straight year in a row, Shawn Chenoweth would take home one of the unique igloo trophies at Flamboro Speedway, scoring the overall victory for the Thunder Cars at Frostoberfest. Chenoweth ended the day with the best average finish of the pair of 30 lap features with finishes of first and fourth.
With the first round of qualifying completed on October 2, the thunder cars would start off Sunday afternoon with their second round of qualifying heats.
RELATED: Read the results of first round qualifying
The day would start off rocky as the 62 slow, following contact with Jager McMaster. Under yellow, the 62 would catch up to McMaster, driving alongside. McMaster would then spin the 62 around. Both drivers would be blackflagged – 62 for mechanical, Master for rough driving.
Shawn Chenoweth picked up the win ahead of Cayden Lapcevich, Matt Bentley, Steve Ecker, Chris Howse, Marty Monette and Joe Adams. Jason Legge had originally driven the No. 5 Camaro earlier this month, but it was Adams taking the spot behind the wheel with Legge having a family commitment.
The second heat would get messy, as well, as Ken Grubb would take Jeff Bean and Everingham three-wide entering turn one. Things would check up, with Grubb and Bean continuing on, but Mark Burbridge and Brad Collison both getting underneath Everingham. There would be contact, resulting in Everingham going around and Corcoran having a flat tire.
PHOTOS: See the sequence of photos showing Coltin Everingham's spin 
Ken Grubb picked up the win ahead of Burbridge, Ken McNicol, Bean, DJ Christie, the 73, Everingham, Jeremy Bean and Bob Parsons.
The third heat would follow the beginning trend, with Shawn Arnott and the 67 making early contact together. The 67 wouldn't have a clean heat from there on out, spinning Dan Archibald in turn four, followed by a fender falling off for a debris caution.
Randy Rusnell picked up the win ahead of Kevin Gallant, Arnott, Dennis Cybalski, Glenn Schurr, Bobby Mercer, Archibald, Justin Collison, Mack DeMan, Wayne Phillips and 67. DeMan was driving in place of Chad Corcoran behind the wheel of the No. 3 Camaro as Corcoran was already doing double duty, running both the mini stock and pro late model.
With qualifying completed, the top-24 would be set while the rest of the drivers were sent to the b-main. The 67 would not last the full 10 laps, pulling off with a mechanical issue on lap one. Justin Collison would pick up the win ahead of Archibald, DeMan, 73, Jeremy Bean and Phillips.
Come feature time, Shawn Chenoweth would start on pole ahead of Ken McNicol, Mark Burbridge, Ken Grubb, Steve Ecker, Shawn Arnott, Randy Rusnell, Bobby Mercer, Matt Bentley, Cayden Lapcevich, Glenn Schurr, Kevin Gallant, Dennis Cybalski, Jeff Bean, Coltin Everingham, Marty Monette, DJ Christie, Brad Collison, Chris Howse, Bob Parsons, Justin Collison, Dan Archibald, Mack DeMan, the 73, Joe Adams, Jeremy Bean and Wayne Phillips.
Shawn Chenoweth would grab the early lead ahead of McNicol, Burbridge, Ecker, Arnott and Rusnell. Meanwhile, Grubb would pull off on lap eight with a flat left front tire, virtue of contact that happened on lap two. Arnott would also suffer the same fate, heading off on lap 22.
The caution would then fly shortly after his exit for Phillips spinning. With eight laps to go, Chenoweth led McNicol, Burbridge, Ecker, Rusnell, Gallant, Lapcevich, Mercer, Bentley, Cybalski, Brad Collison, Schurr, Archibald and Howse as they were the only cars on the lead lap. DeMan would pull off before the restart.
Chenoweth would get a good restart to keep the lead ahead of McNicol, Burbridge and Rusnell as Lapcevich battled Ecker for fifth. Lapcevich would get the spot at lap 24, with Gallant getting alongside Ecker for sixth. Ecker would then fall through the field, pulling to the bottom with a problem.
Shawn Chenoweth would lead the rest of the way to score the victory ahead of Ken McNicol, Mark Burbridge, Randy Rusnell, Cayden Lapcevich, Kevin Gallant, Matt Bentley, Bobby Mercer, Dennis Cybalski, Glenn Schurr, Dan Archibald, Brad Collison, Shawn Arnott, Chris Howse, Joe Adams, Coltin Everingham, Justin Collison, Marty Monette, Jeff Bean, Bob Parsons, Wayne Phillips and Jeremy Bean as Christie went around on the last lap.
VIDEO: View a video of the first feature courtesy of petalpower51 on YouTube
The second feature would start off strong for Joe Adams, who grabbed the early advantage while Brad Collison and Shawn Arnott battled for second behind. Collison would get the spot on lap three ahead of Arnott, Dennis Cybalski and Dan Archibald. Shawn Chenoweth would make his way up to sixth at lap 14 ahead of Matt Bentley and Cayden Lapcevich. Chenoweth would get alongside Archibald for fifth at lap 16, but was unable to complete the pass.
Meanwhile, the battle for the lead would heat up as Adams found himself knee-deep in lap traffic. Adams would get stuck behind a couple of cars, allowing Brad Collison to take the lead at lap 19 ahead of Arnott with Adams falling back to third. Cybalski would then move to pass Adams for third at lap 20. Chenoweth would make his way Archibald to move up to fifth with Archibald now sixth ahead of Bentley and Lapcevich.
Lapcevich would make his way around Bentley, getting alongside Archibald for sixth as Marty Monette pulled off of the track, done for the event. Chenoweth would then get alongside Adams for fourth at lap 25, when the caution would fly for Jeff Bean running into an issue. With five laps to go, Brad Collison led Arnott, Cybalski, Adams, Chenoweth, Lapcevich, Archibald, Bentley, Schur, Burbridge, Rusnell, Gallant, Howse and Mercer.
The first attempt at a restart would see Arnott get loose on the outside of Collison. This would cause a bottleneck through the field, resulting in Adams and Lapcevich getting stuck together.
The second attempt would go smoother with Collison grabbing the advantage on lap 25. However, Arnott would get alongside Collison, taking the lead on lap 27. The battle continued back and forth between the pair, which ended with them both coming together in turns three and four.
Dennis Cybalski would escape the incident, crossing the finish line first to score the victory ahead of Dan Archibald, Glenn Schurr, Shawn Chenoweth, Randy Rusnell, Chris Howse, Ken McNicol, Matt Bentley, Ken Grubb, Coltin Everingham, Justin Collison, Brad Collison, Steve Ecker, Shawn Arnott, the 73, Wayne Phillips, Mack DeMan and Jeremy Bean.
PHOTOS: See all of the photos that Ashley McCubbin took of the Thunder Car action