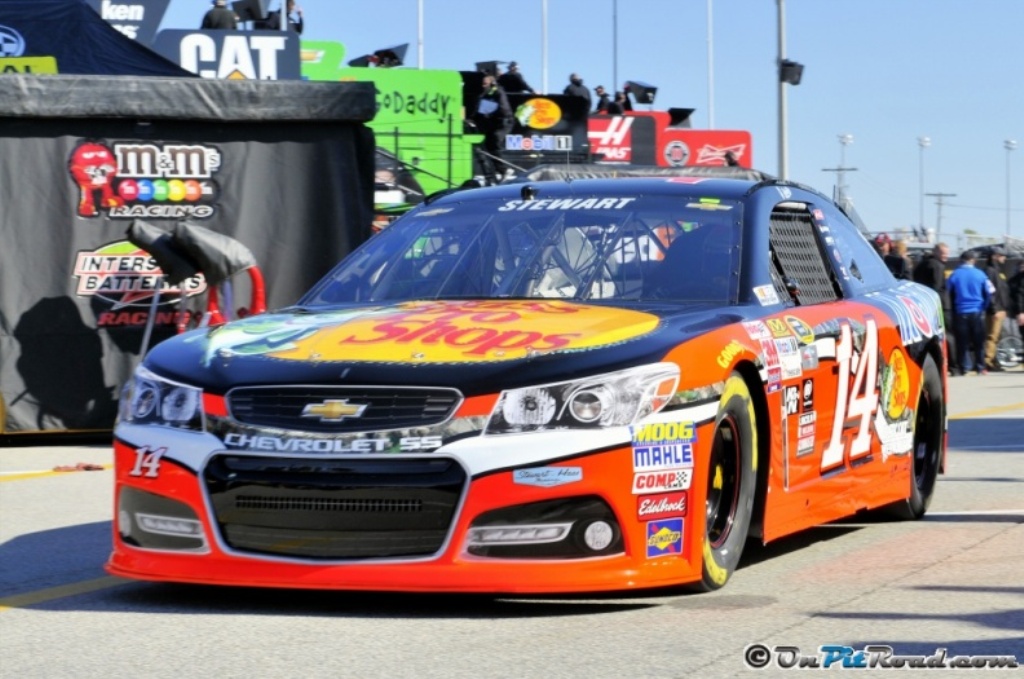 Crew Chiefs Officially Named for 2016 Season
KANNAPOLIS, N.C. – Stewart-Haas Racing (SHR) has made new appointments within its competition department as the championship-winning race team wastes no time preparing for the 2016 NASCAR Sprint Cup Series season.
Michael Bugarewicz has been promoted from race engineer on the No. 4 team to crew chief for the No. 14 team of Tony Stewart. The 33-year-old from Lehighton, Pennsylvania, replaces Chad Johnston, who has left SHR to pursue a new opportunity. Bugarewicz joined SHR in 2014 where in his role as race engineer, he helped Kevin Harvick secure his first Sprint Cup championship. Bugarewicz began his NASCAR career in 2005 at Roush-Fenway Racing in the engineering department, assisting a variety of teams as a race engineer in the Camping World Truck Series, Xfinity Series and Sprint Cup Series. Before coming to SHR, Bugarewicz was the race engineer on Roush-Fenway's No. 17 team, where he worked with Matt Kenseth (2011-2012) and Ricky Stenhouse Jr. (2013). Bugarewicz graduated from Pennsylvania State University with a Bachelor of Science degree in mechanical engineering (2004) and a Master of Science degree in mechanical engineering (2005).
Billy Scott has been named crew chief for the No. 10 team of Danica Patrick. The 38-year-old from Land O' Lakes, Florida, comes to SHR from Michael Waltrip Racing (MWR) where since 2014 he was the crew chief for the No. 55 team, which featured drivers David Ragan, Brian Vickers and Michael Waltrip, among others. He also served as crew chief for MWR's No. 15 team and driver Clint Bowyer from June 2015 through the end of the season. Prior to that role, Scott was a race engineer working under crew chief Rodney Childers, who joined SHR in 2014 and promptly led Harvick to the Sprint Cup championship. Scott came to MWR in 2008 after working in a variety of racing disciplines, including NASCAR, sports cars and sprint cars. It was during his work in the Truck Series in 2003 when Scott decided to focus on engineering. He attended the University of North Carolina at Charlotte, earning a Bachelor of Science degree in mechanical engineering in 2005.
Daniel Knost has been promoted to a senior leadership position within SHR. As manager of vehicle dynamics, Knost will oversee a number of the organization's technical efforts, with a specific focus on track simulation and racecar performance. The 36-year-old from Charlotte, North Carolina, has been a crew chief at SHR for two years, spending 2014 with the No. 41 team of Kurt Busch and 2015 with the No. 10 team of Patrick. Knost joined SHR in 2008 when it was Haas-CNC Racing after earning Master of Science and doctorate degrees in mechanical engineering from Virginia Polytechnic Institute and State University (Virginia Tech). Knost graduated from North Carolina State University in Raleigh in 2001 with a Bachelor of Science degree in mechanical engineering.
Childers remains as crew chief for the No. 4 team of Harvick and Tony Gibson remains as crew chief for the No. 41 team of Busch.
"We made these changes after thoroughly evaluating our program to ensure that all four of our teams are consistently strong and competitive," said Greg Zipadelli, vice president of competition, SHR. "In this business, you can't rest and you can never be satisfied. You have to constantly improve. We feel these personnel changes enhance our strengths and shore up areas where we needed to be better."
"We have great people at Stewart-Haas Racing and these changes prove that," said Stewart, co-owner of SHR with Gene Haas, founder of Haas Automation. "We were able to promote from within while also adding new talent.
"Change isn't easy, and that's particularly true when it comes to my relationship with Chad Johnston. He served as my crew chief during two very difficult seasons. He was always supportive and he's become like a brother to me. I think very highly of Chad and wish him nothing but the best in his new opportunity."
"We've come a long way in our seven years at Stewart-Haas Racing, but there is always more to do and more to achieve," added Haas, founder of Haas Automation, the largest CNC machine tool builder in North America. "Bigger, Better, Faster, Lighter is what we strive for in the machining industry and it's what we strive for in motorsports. These new appointments seamlessly marry our engineering expertise with our collective racing experience."
About Stewart-Haas Racing:
Stewart-Haas Racing is the title-winning NASCAR Sprint Cup Series team co-owned by three-time Sprint Cup champion Tony Stewart and Gene Haas, founder of Haas Automation – the largest CNC machine tool builder in North America. The team fields four entries in the elite Sprint Cup Series – the No. 14 Bass Pro Shops/Mobil 1 Chevrolet for Stewart, the No. 10 GoDaddy Chevrolet for Danica Patrick, the No. 4 Budweiser/Jimmy John's Chevrolet for Kevin Harvick and the No. 41 Haas Automation Chevrolet for Kurt Busch. Based in Kannapolis, North Carolina, Stewart-Haas Racing operates out of a 200,000-square-foot facility with approximately 280 employees. For more information, please visit us on the Web at www.StewartHaasRacing.com, on Facebook at www.Facebook.com/StewartHaasRacing, on Twitter @StewartHaasRcng and on Instagram @StewartHaasRacing.
-SHR-