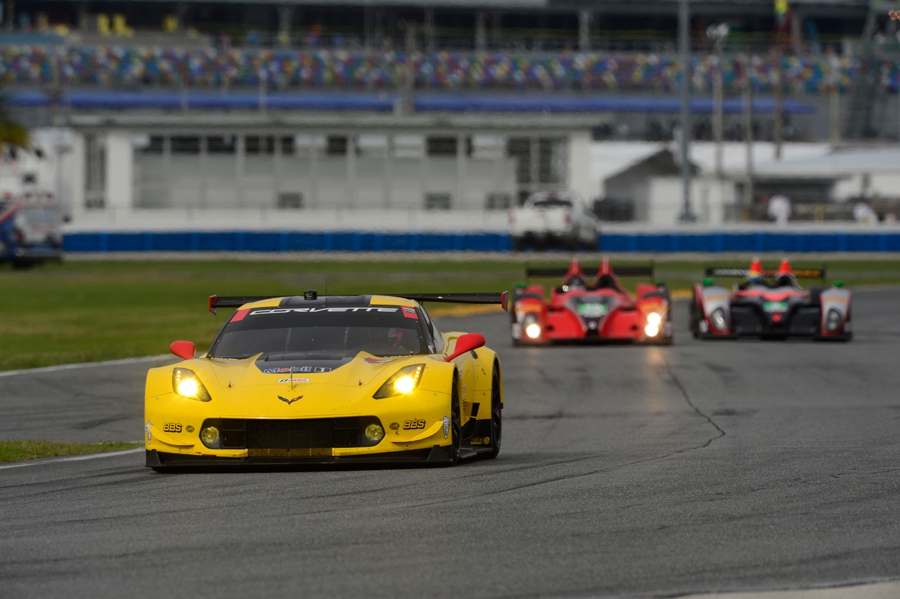 One of the biggest concerns when sports car racing was unified in North America in 2014 was whether or not the door to competing in the sport's premier event, the 24 Hours of Le Mans, would be closed off, especially to teams in the prototype divisions. For one thing, the Daytona Prototype form of car, which has won the first two IMSA WeatherTech SportsCar Championship series titles through Action Express Racing, is and has never been eligible for competition in the FIA-ACO sanctioned event and with the DP's domination, many in North America shied away from running a LMP-2 eligible car in IMSA against the DPs. With that roadblock formed, the majority of American-based teams at Le Mans the last two years have competed in the grand touring classifications of GTE-Pro, made up of mainly factory teams and professional drivers and GTE-Amateur, largely featuring privateer teams and amateur or hobby class drivers who are involved in other exploits outside of the sport of auto racing.
For most American teams in the prototype division, the lone option was to race overseas in either the FIA World Endurance Championship or the European Le Mans Series, the routes taken respectively by Scott Sharp's Tequila Patron ESM squad and Tracy Krohn's team to get into the 2015 race. That limitation however, could change a bit starting in 2016 and continuing into 2017 when new LMP-2 regulations will bring the rules in both North America and Europe to a more comparable and interchangeable compromise.
After just featuring seven entries from the United States in last year's race, this year's 58-car field could feature as many as fifteen representatives from the Stars & Stripes. The initial invitation list for the 2016 event will be revealed on February 5th in Paris, France, less than a week after the IMSA WeatherTech SportsCar Championship opens their season at the Rolex 24 at Daytona.
All seven of the red, white, and blue delegates from last year's race have filed entries to be considered for inclusion in 2016. In LMP-2, both ESM and Krohn will return with the Ligier JS P2 coupes, with both of ESM's cars using Honda turbo V-6 power and Krohn relying on a Judd V-8 power plant for its single entrant. In GTE-Pro, Corvette Racing's pair of factory-backed Chevrolet Corvette C7.Rs return, hoping to back up their victory in last year's 24 Hours of Le Mans. After reaching the podium in GTE-Amateur in its Le Mans debut last year, Scuderia Corsa returns with the all-new Ferrari 488 GTE, but moves up to the GTE-Pro category in 2016. While Corsa jumps up, Riley Motorsports-Viper Exchange's co-op entry with a Dodge Viper GTS-RT will stay put in the Amateur class.
As for the newcomers, the return of Ford to Le Mans through the efforts of Chip Ganassi Racing and George Howard-Chappell's Multimatic Motorsports squads could bring in as many as four of the brand new Ford GT in the GTE-Pro division. After missing the last several editions of the 24 Hours of Le Mans, Risi Competizione is expected to return to run a new Ferrari 488 at the request of the Italian manufacturer in an attempt to match the strength in numbers that Ford Motor Company is expected to have. Along with Risi and Corsa, semi-factory squad AF Corse is also expected to receive two entries in GTE-Pro.
In addition to the GT newcomers/returnees, two new LMP-2 runners from the U.S. could also be present. Michael Shank Racing, through an automatic entry presented to them by the FIA-ACO will make its debut at Circuit de la Sarthe with their Honda-powered Ligier. The Ohio-based car owner had switched to LMP-2 machinery last season with the hope of eventually being able to make the trek across the Atlantic to compete at Le Mans and now will make the dream a reality this summer. The other team hoping to be trackside also is a new entity formed by former sports car veteran Elton Julian. DragonSpeed will make its 2016 debut in March at the 12 Hours of Sebring with a Nissan-powered ORECA 05 coupe, the same car type that won the LMP-2 division in last year's 24 Hours of Le Mans. After Sebring, Julian's squad plans to race the car full time in the European Le Mans Series, taking the same route as Krohn Racing is expected to do likewise.
Shank and Julian are not the only prototype entrants in North America who have hinted at entering the action at Le Mans in the future. Wayne Taylor had hoped to participate in last year's race, but abandoned his plans after being unable to acquire a LMP-2 eligible car. Visitflorida.com Racing boss Troy Flis also looked at acquiring an ORECA 05 for 2016, but elected to continue with the Daytona Prototype car option as has Taylor for this season.
With the new regulations on the table for 2017, the question of whether another American entry increase at Le Mans will occur should be answered soon. Regardless of the outcome, it is clear that the road between North American sports car racing and the 24 Hours of Le Mans has been reconnected for many years to come.